Happy Monday my beady friends! I hope that amidst all the craziness and chaos in our world right now that you are still finding some time to create. I know that I've taken refuge and solace in my jewelry making even more as of late.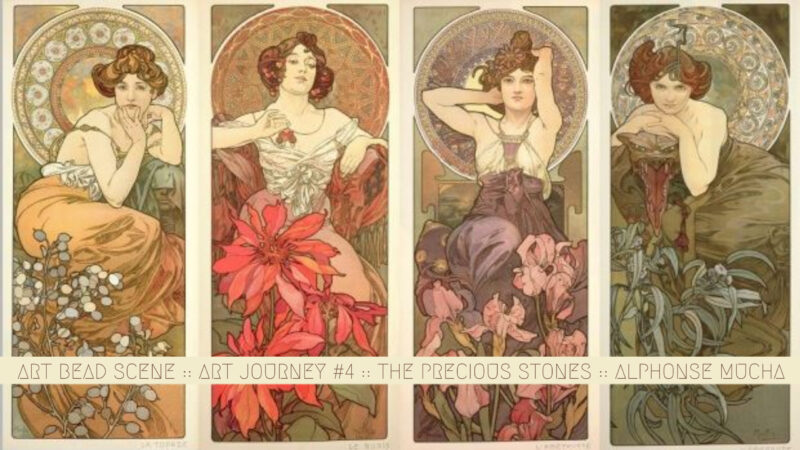 ---
In going through my art bead stash, I didn't have too terribly much that tied directly to Alphonse Mucha's The Precious Stones. As I shared in my last post, I did manage to recently snag two amazing polymer clay pendants from Jenny Davies-Reazor featuring Art Nouveau Muses. Score! So my first two designs focus more generally on the Art Nouveau style of Mucha's artwork.
This first necklace may be one I have to keep… largely because the Muse seems to be distilling. (My husband is a home brewer and we have a love for craft spirits and cocktails.) I'm guessing she's actually making perfume, as that is a distillation process, but I'd rather imagine she's making a lovely gin! I picked out Czech glass beads that mimic some of the motifs and colors in the pendant's frame. I had so many different beads that I wanted to use that I decided on an asymmetrical design that allowed me to fit them all in.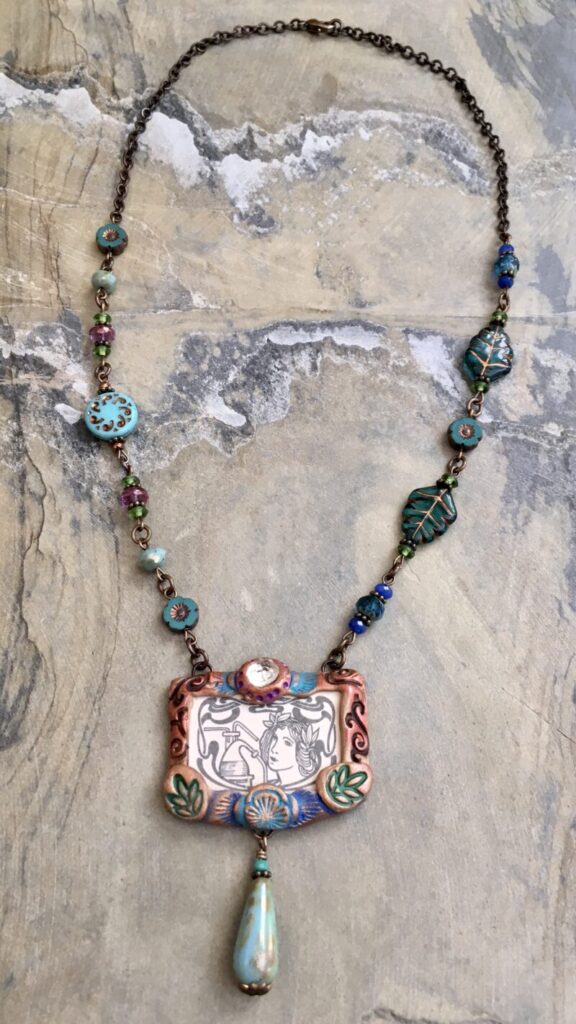 I went for a symmetrical design for my second necklace whose Muse is painting. This time I added a blingy crystal rondelle to the pendant's drop and used a mix of Czech glass and matte cuprite bead links.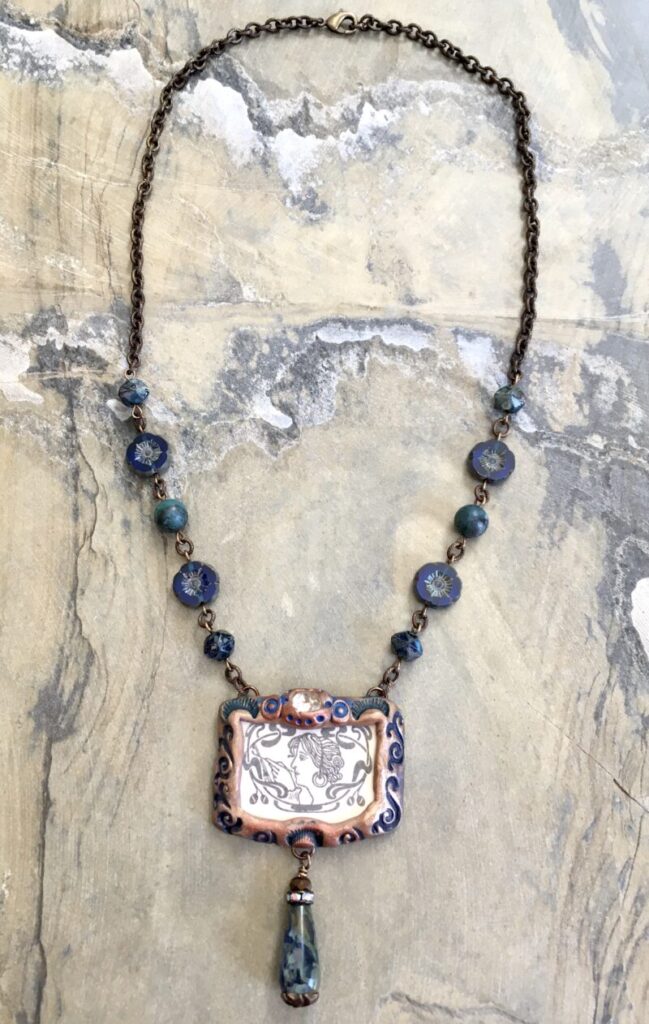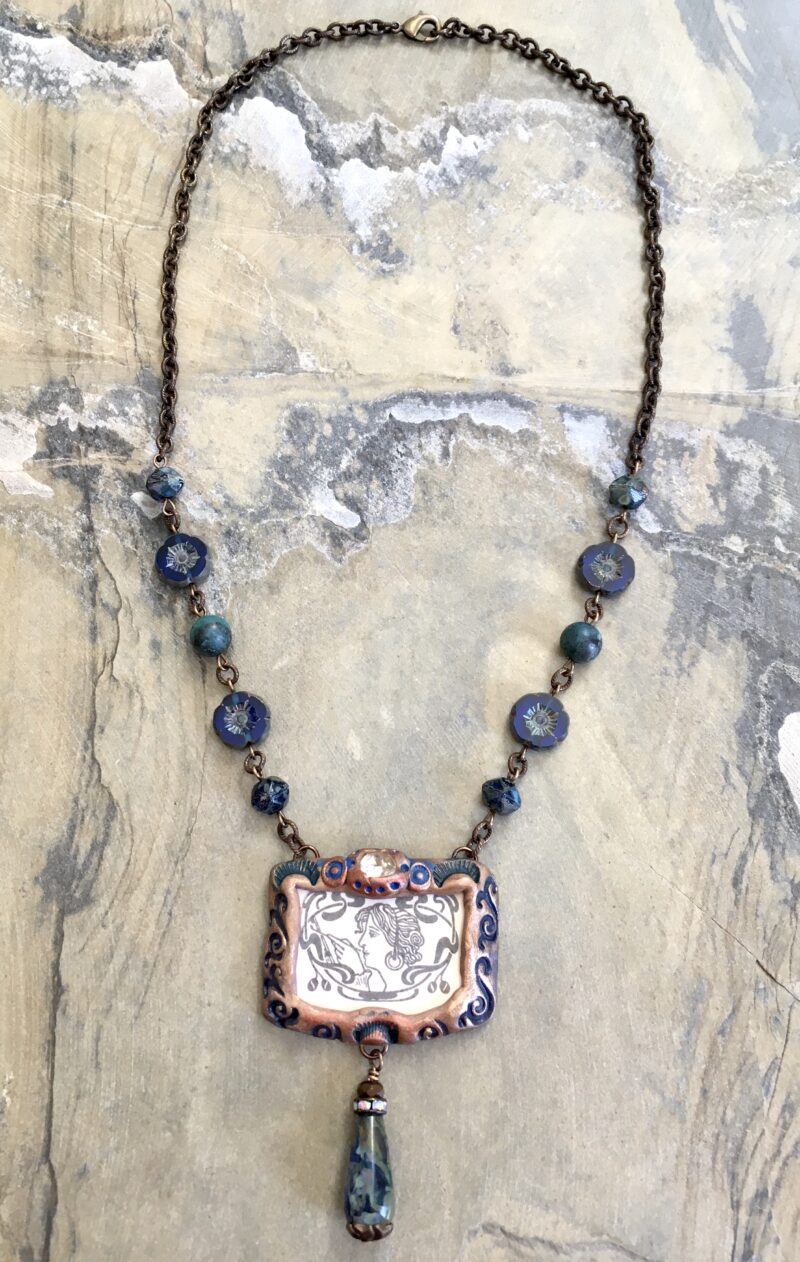 ---
Not satisfied to stick with the general Art Nouveau feel for this challenge, I dug deep into my bead stashing looking for something that I thought I remembered having… a lampwork bead with an iris on it. Luckily I found this little cutie gifted to me by my husband several years ago. The focal bead is by a lampwork artist who lives in my town who was one of my very first art bead crushes when I started making jewelry, Jennifer Ionta. I was on my way to making a design for the Amethyst panel from The Precious Stones.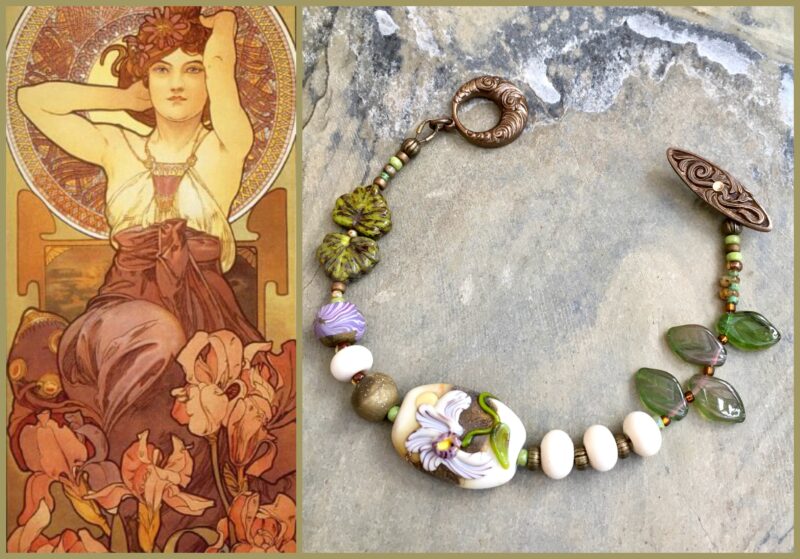 When I looked at the iris bead, I immediately decided that it felt too small to be a pendant, so I started thinking bracelet. I dug into my Humblebeads disc beads and found a couple of smaller sized orphans in my collection that worked color wise. From there I added in some cream colored wood beads to carry through the lighter tones in the focal. I finished the design off with a couple of different Czech glass leaf beads and an Art Nouveau feeling brass toggle clasp from Vintaj.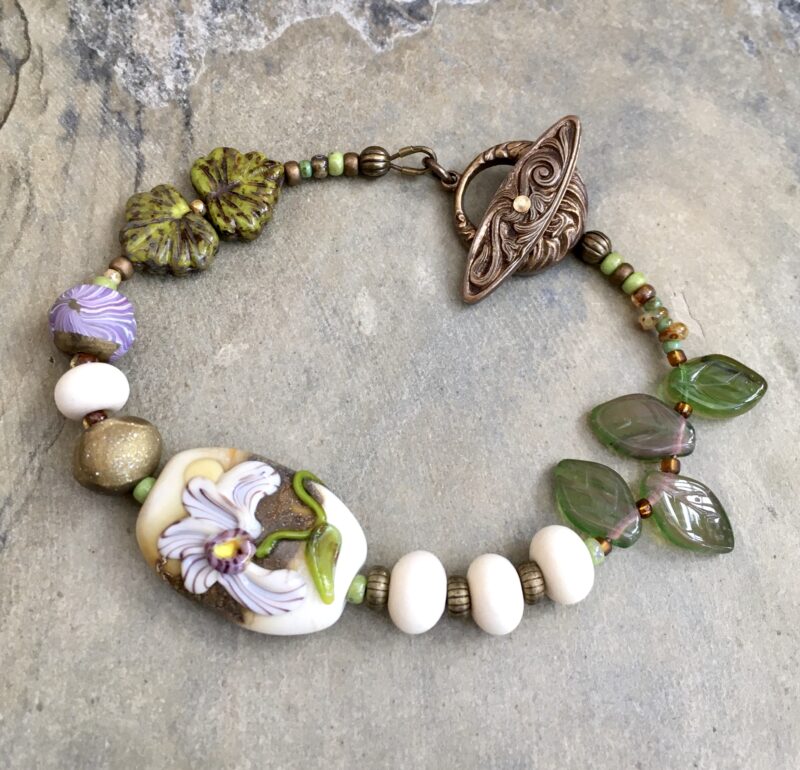 ---
Thanks for stopping by to see what I've been making for this Art Journey! I hope that you're inspired to make and share something for our fourth Journey of the year… Go to our Art Bead Scene Lounge Facebook Group to submit your creations for this Art Journey. Click HERE and then find the album for the current Journey to add your photo. Remember, you can enter as often as you like… the only rule is that you have to use at least one art bead or component. The deadline for entries is June 19th so you still have some time!
---
Sarajo Wentling, Your Monday Muse