A few weeks back I took a class with an artist in the Gallery Q Artist's Cooperative, of which I am a member, in a medium that is completely foreign to me: silk fusion. Mary Therese Murphy is the talented artist that taught the class, where we took colorful silk fibers and essentially made our own silk fabric, much like you would if you were making handmade papers with pulp fibers. Then we had the chance to embellish them with threads and ribbons and fibers and to make something totally new. As this was a completely new-to-me material, I decided mine would be more of a sampler of colors (drawn from the palette of our November challenge) and stitches (I have not touched a sewing machine since I was about 15 years old). It was a lot of fun!
I had this idea that I would cut apart the silk fusion and mount it in bezels to make really tactile pendants. Maybe stitch on some beads or charms. But this would take more time to fully experiment. I still might do that, but I wasn't satisfied with the direction…yet.
So I switched gears completely and spent a little time studying the painting closer. What struck me about this landscape was all the different colors of the fall foliage. The dominant part of the painting is the dark and brooding deep purple tree in the foreground. But there are pockets of bright green, dotted with red and orange set against a moody grey-blue sky.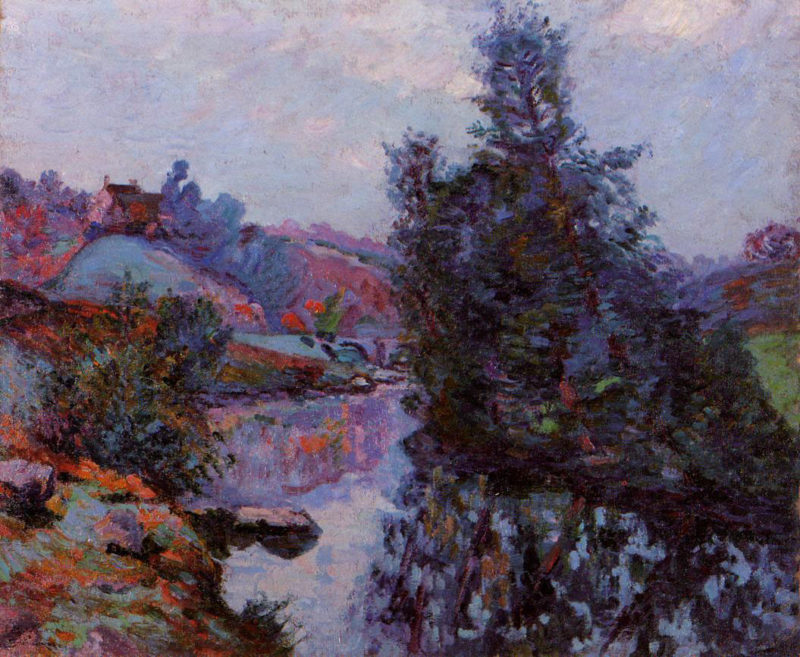 I was moved by the landscape. The hulking tree dominating the scene. The tiny house on the hill (I didn't notice that at first!). The reflection of the rocks and flora reflected in the water of the river. It came down to more of a study in colors and textures and abstracting the landscape into the vibrant leaf shapes. So what I ended up with was a study in leaves, set in bezels. I decided to use three different leaf skeleton textures in both black and white clay to see how that might affect the outcome once color was applied. But how to add the color that is essential to this inspiration?
Now, I like these pendants in this very simple and elemental relief state. But I also know that color is, indeed, my thing. And I wanted to get the oh-so-pretty palette reflected in the end product. Lately, I have been experimenting with different surface techniques, and have been playing with the look you get with a sort of glaze effect applied to the surface of the baked clay. I selected a few of my favorite colors from the painting and mixed up the "glaze" using alcohol inks and liquid polymer clay.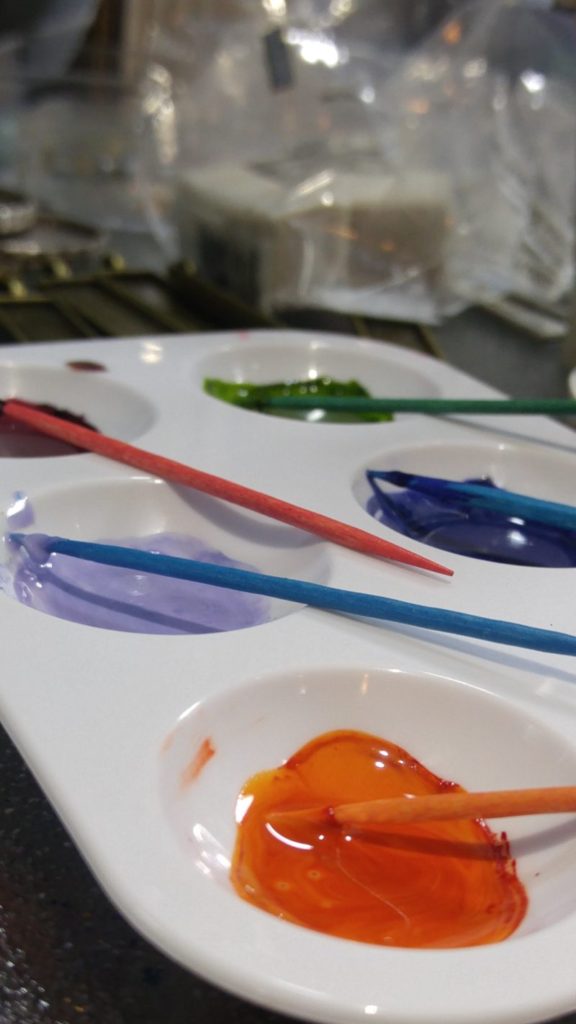 I know from my experiments with my 2017 holiday ornaments (more on those at a later date) that the "glaze" could come out being satin finish or semi-gloss depending on the formulation that I used. I decided to go for the satin. But I fell in love with the way they look before I baked them, all shiny. This is a shot of them before I baked the glaze. I like the way the glaze settles into the recessed areas of the leaf patterns and how it shows a bit of the underlying polymer clay. I do know that they won't come out this way…but I might have a solution for that.
Now it was really, really late when I popped these in the oven (after midnight late!), so I have yet to see the way they turned out once cooled. I did notice as I was baking them, the colors did not fare so well on the black clay, which is disappointing. It appeared through the door that the colors on black completely vanished. Obviously, this is a Work in Progress, so there will surely be more tweaking involved. But overall, I think that this is a step toward success, with much to learn and refine. Eventually, I will have something worthy of my Simple Truth Sampler Club members, and should there be any left, I will plan to have a little trunk show in my Facebook group, Treasures Found with Tesori Trovati near the end of the month (click the link to request to join).
Finding just the right thing to inspire me about the inspiration art always takes me the longest in my process. But then executing my vision once I find the inspiration is certainly the biggest hurdle I have. It's a good thing that I find joy in the journey.
Tell me…what do you find most inspiring about this month's artwork inspiration?