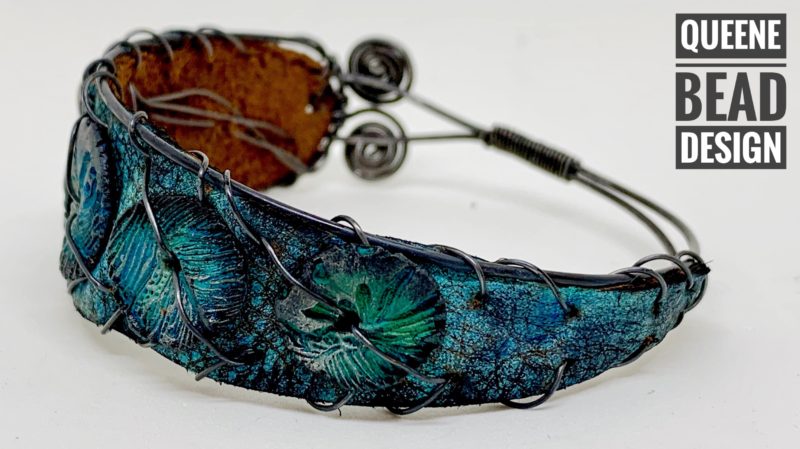 How many times do you sit down to create, with a clear vision of what you want to design? For myself, it works out to be about half the time. I've been thinking of this Journey and art inspiration since my last blog post. I already knew what beads from my stash I was going to use. I just haven't decided on the vehicle to display the awesomeness of the beads.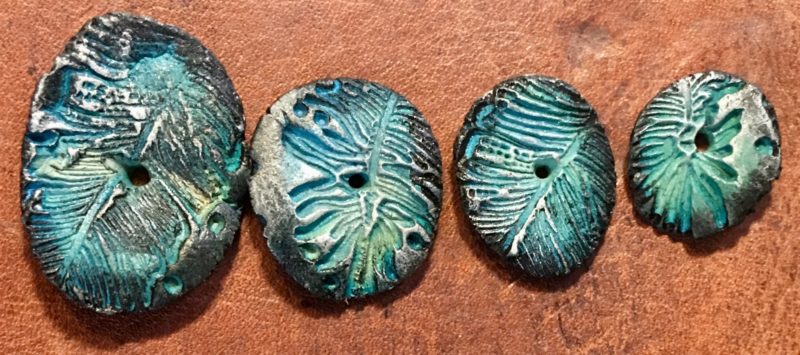 These artisan ceramic beads are from Jill Stoffregen, Foxpaws. The beads have leaves on one side, dragon scales on the other and are glazed in my favorite colors. I also chose steel wire, to represent the lines drawn in the forest. Our Journey Two is from: "The Fairy Tale World of Virginia Frances Sterrett".
I really loved the art for this Journey. It is so dreamy, yet the first (Blondine Threw Her Arms Around Him" offered such vivid color contrasts and strong geometric shapes. The second piece, titled: "Blondine and the Tortoise" was my inspiration. I love the colors and soft shapes. The third selection of our inspiration in this Journey is called, "Proserpina and the Sea Nymphs" imparts a sense of tranquility and friendship.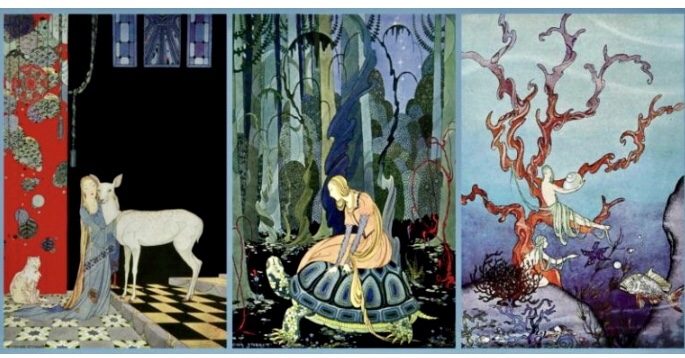 I decided to have a dragon represent the tortoise. After all, this is my Journey and my fairy tale. My first thought was a pendant, as a necklace is my go-to piece to create. I made several styles of frames, in an attempt to showcase these awesome beads. I decided to use my Jig, in this instance, as it gave me the needed the stability to build my pendant. And turns out, it also makes it easier to do multiples of the same thing. Which I did, with slight tweaks, trying to nail down the base for the pendant.
This was the Jig set up for the first attempt with wire. I added the built-in a bail on top. I'm using 18g steel wire for the practice run.
Back and forth I went. Trying to come up with a front and back of the pendant. Did I want to completely separate pieces? Did I want one continual piece of wire with a front and back, to create a cage. Dragons need cages, right?
More attempts.
More frustration.
I felt like I was forcing this pendant into existence. Do you ever start work on something and nothing seems to go right? Gah! I hate when that happens but figuring a way to work through it can lead to something better. At least that is what I tell myself.
As you can see, I've already changed the design, again.
I was not happy with the way things were going. I changed it up again, by removing the criss-cross on the back.
After I had the frame in place, I started wire wrapping the back, then the front. I wanted different spacing on each side to hopefully customize the size and shape for each leaf bead.
I just could NOT make this work. I guess that isn't exactly accurate. The frame/nest does work, just not for what I am envisioning. I will be able to use what I made in something else, along with the rest of my rejected attempts. The vision in my head was not going to work with these pendant design that I had decided on. I think my forehead is bruised from banging my head against that wall.
So…. what do you do then? I walked away. Gave myself some space. I went to the house and cooked dinner for the family. What do you do when you are blocked? Sometimes, I clean the studio. (That always needs doing.) I try to move into a meditative kind of free flowing dream state. I'm pretty sure other people call it other things but for me, it's a day dreaming state where my creativity, that thing inside of me that drives me to make, takes over. It's where my best ideas come from, where out of the box thinking occurs.
I came out of through with an idea for a bracelet. I used the Bracelet Sizer puck for the base form. Wrapped the wire around a 3/4 inch peg , then the puck to give me a big gentle curved shape. I took the wire ends and coiled them into nice tight coils. I used them for the "clasp". Although this bracelet does not open, it is a bangle. I folded the coiled ends over and wire wrapped the two pieces together. I think it looks like an owl.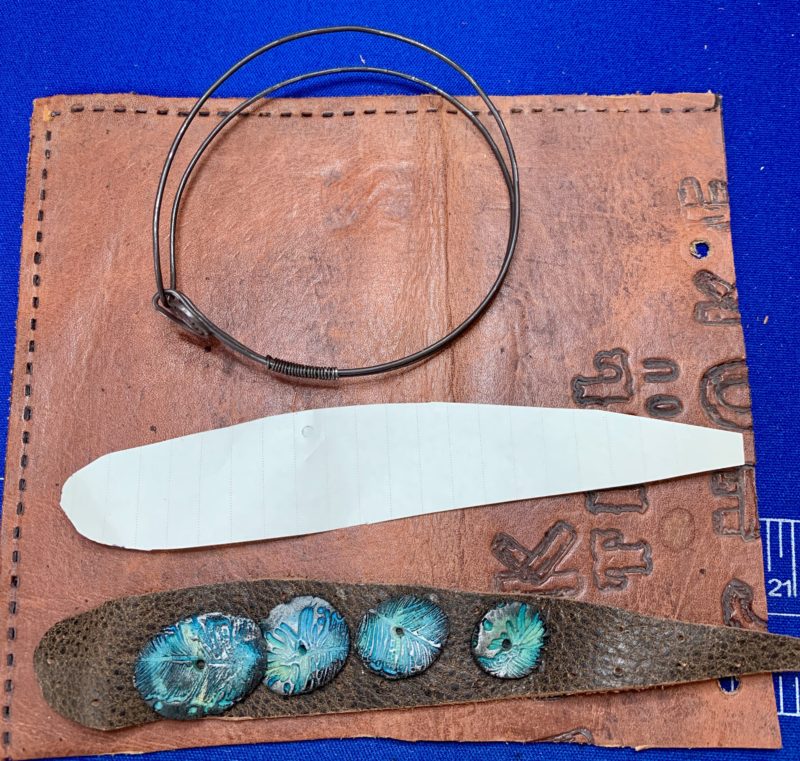 I decided to attached the beads to leather. Then the leather to the bracelet. I chose a medium brown, pebbled leather from my scrap pile.
I laid the beads on the leather. Organizing them from large to small, to fit the shape of the bracelet.
I drew a template on paper, of the shape I needed. Using a waxed linen, I sewed the leather to the bracelet.
Welp, I didn't like that.
Luckily, the bangle is still in good shape. I decided to paint the leather to match the beads. I actually used Guilder's Paste to add the colors, patina and iris blue. Using more wire to "sew" the leather on turned out great. It added stability to the bangle frame and I thought the wire was reminiscent of vines.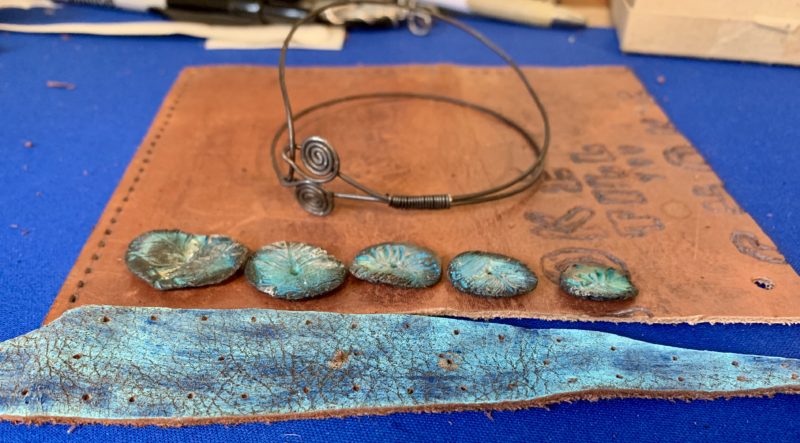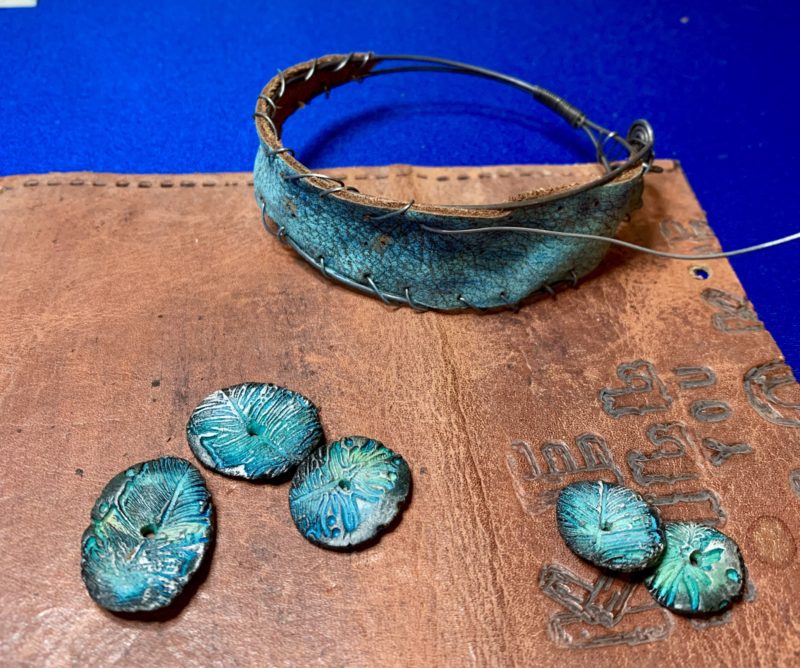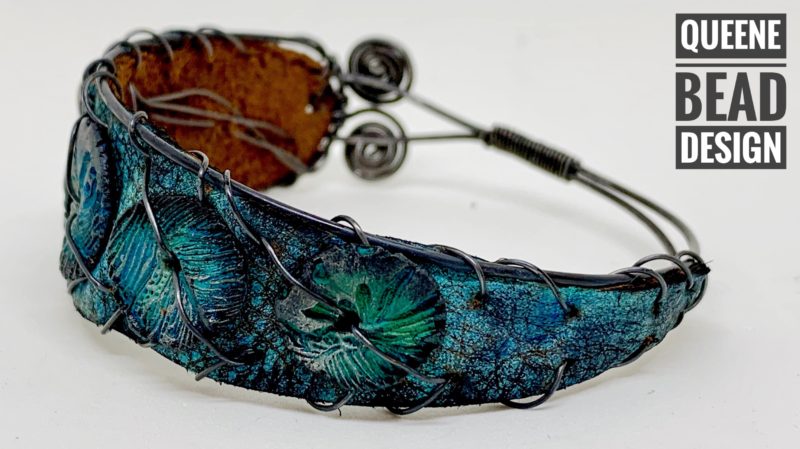 Not every design flows smoothly. When I have to sweat and strain and work to give birth to a piece of jewelry, something that is out of my comfort zone and really pushes my creativity…. I learn from those times. This certainly was a lesson in frustration and also perseverance. I'm always glad when I push through to the end. The feeling of satisfaction is immence.
Of course, nothing ever flows smoothly. In the middle of working on this bracelet, during my day dreaming faze, I had an idea for a pair of earring that I HAD to do. My husband had given me a couple of pieces of copper tubing, left over from a plumbing project. I cut one in half, shaped it in the dapping block. Balled some sterling wire, added the Czech beads. The earrings turned out so fun. Lightweight and kinetic.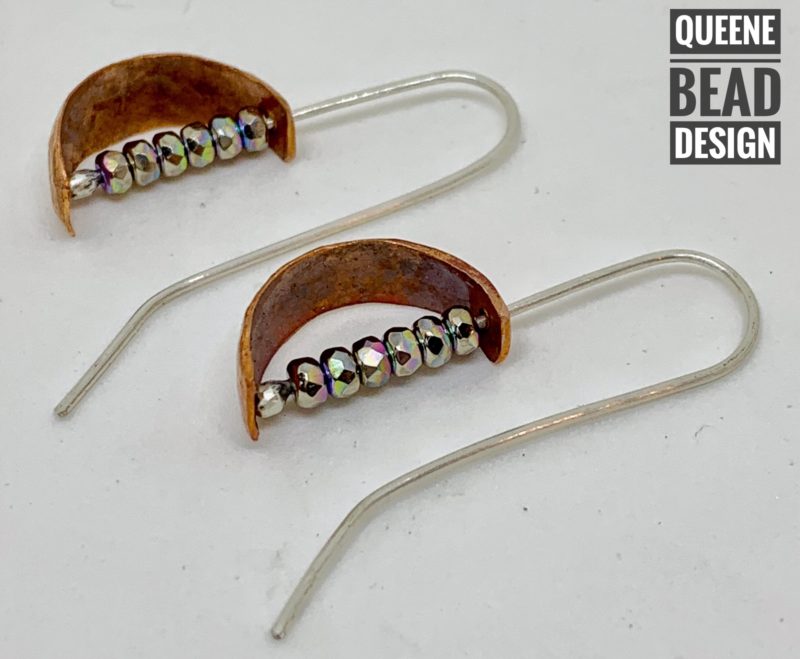 That's all for now. I hope you enjoyed MY journey, through THE Journey Two. I'll be back soon with something new. Have a wonderful day!
Thank you,
Susan LeGuyader
Queene Bead Design