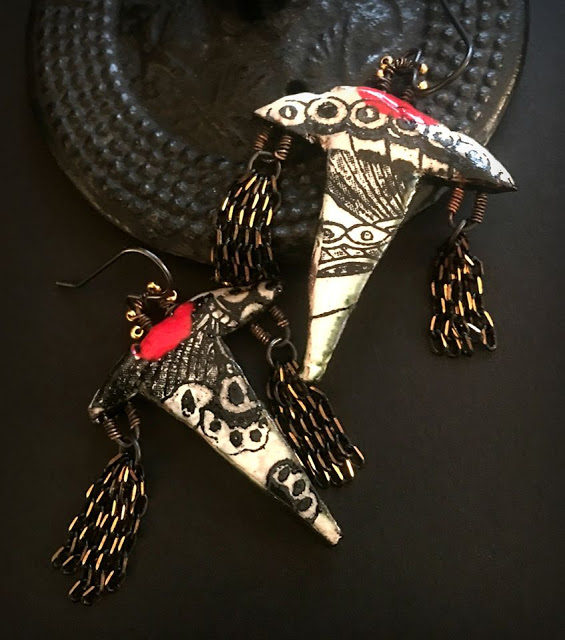 Hello, 2017 Greetings! I am new to the Art Bead Scene team, my name is Loralee Kolton. I wish you all a wonderful, bright and creative New Year!
I was delighted to find that Chinese New Year falls in January this year, so I thought, how lovely for my first monthly feature to have an Asian touch!
I have to say, I'm pretty crazy about these; they have lovely movement and shimmer! Sexy stuff! They are bold and yet easy on the ear. Comfort and balance is always important.
Supplies:


1 pair, ceramic artisan charms with multiple connectors .
8, 3 mm vermeil seed beads.
4, 4mm oxidized jump rings.
20 pcs., .75″ black and gold chain.
6 pcs. of 2.5″ – 3″ 26g. oxidized copper or brass wire.
2 oxidized brass or copper earwires.
Earwires and jump rings by Vintaj.
Vermeil seed beads and
chain
: Many shops on Etsy carry these items.
Directions:
1. Taking the ceramic charm and one piece of 26g wire, thread it through a connector loop, leaving a small tail to hold down with your thumb.
2. Begin to coil the wire around the loop, going up as high or as low as you'd like. Snip the wire with cutters and press the end tail with your chain nose pliers until smooth. Repeat on all connector loops.
*Small vermeil seed beads were added to the top loop by slipping them on one at a time as you coil the wire.
3. Take two open jump-rings and add 5 pcs. of chain to each. Attach the jump-rings to the connector to form a tassel.
4. Add earwire to the top connector.