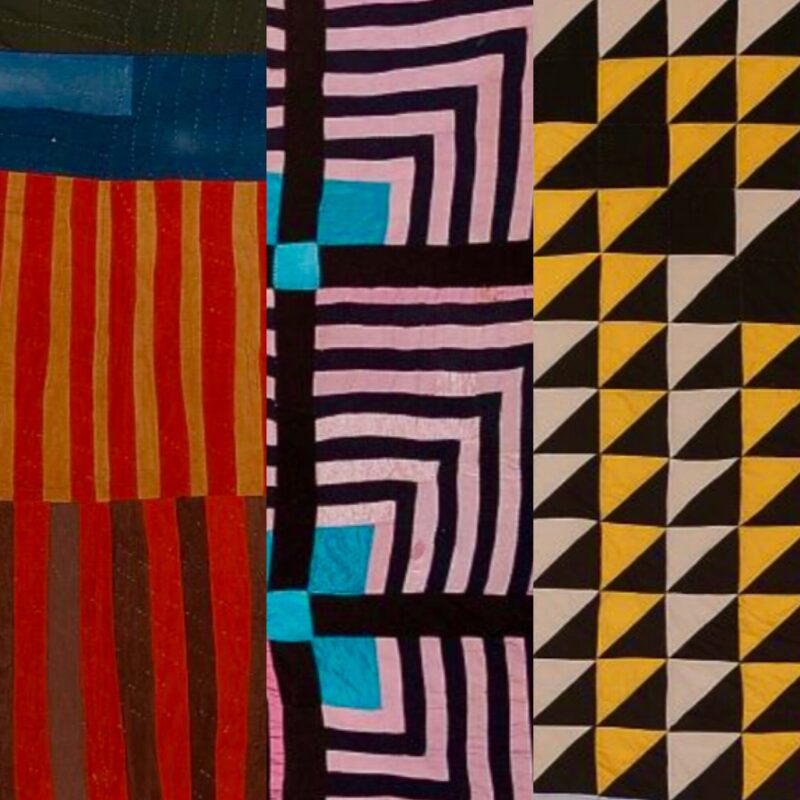 I started this journey with a fantastic enamel piece by Anne Gardanne. I had thoughts of making an asymmetrical pair of bold earrings, but after sitting on my worktable for a couple of weeks and trying a multitude of designs, I felt it was a better served as a pendant after all.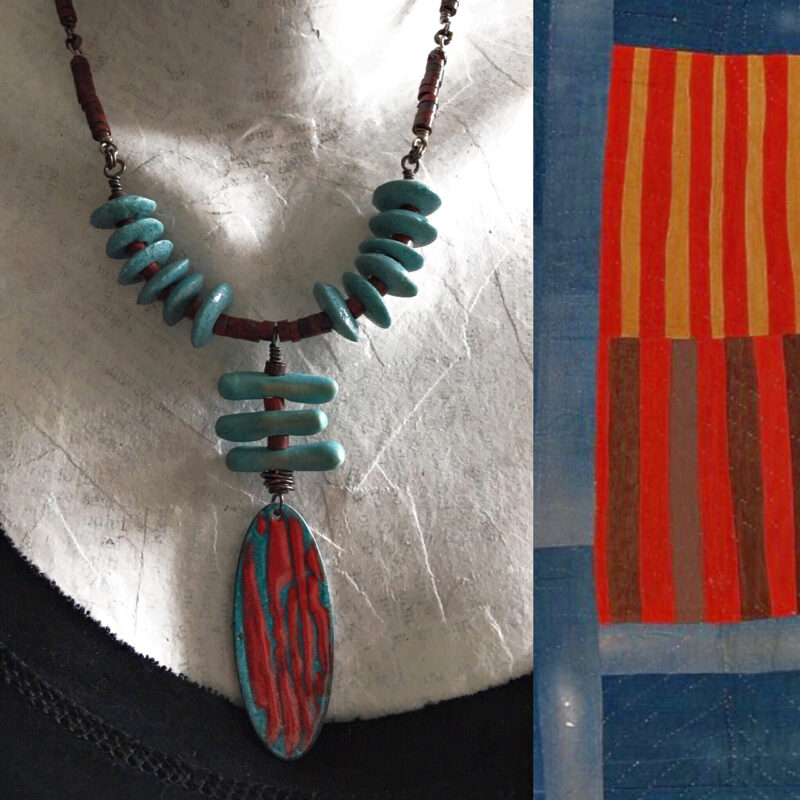 Purely by coincidence, I happen to purchase some African glass discs which looked great stacked and loosely gave the impression of stripes. I also came up with some ceramic bars with a center hole which gave the design a new direction and even more prominence to the pendant. The ceramic bars are by Michelle McCarthy.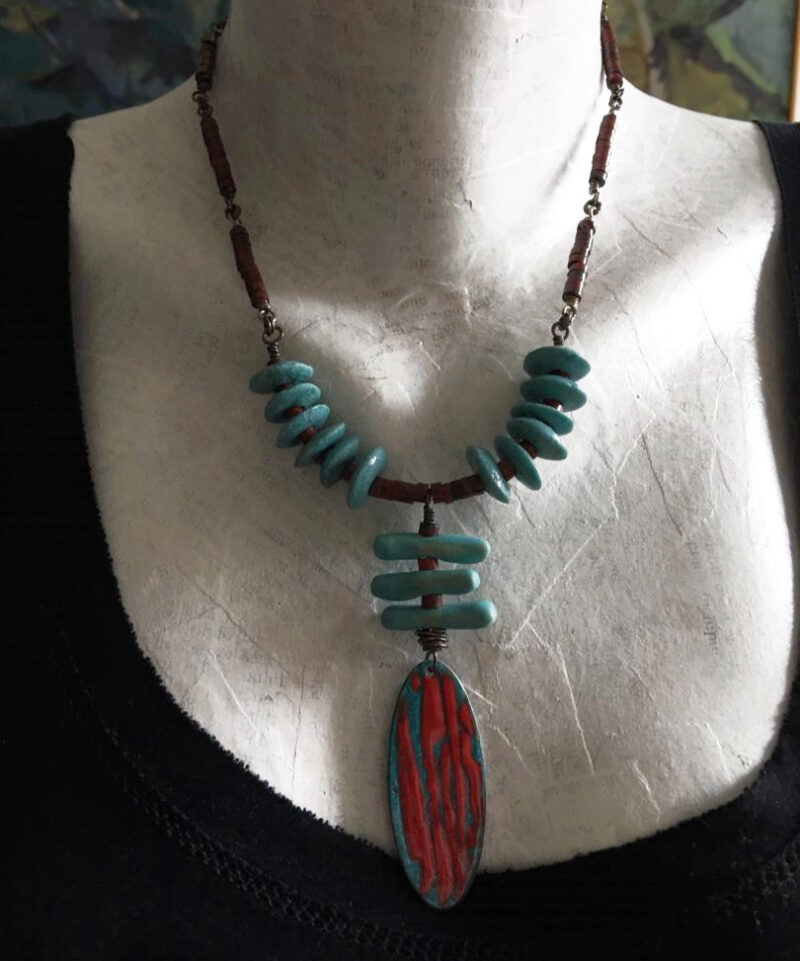 I used annealed steel wire throughout for a sturdy frame and also for the clasp giving a nice primitive feel. I made short stacks of natural stone wiring them together to form the chain.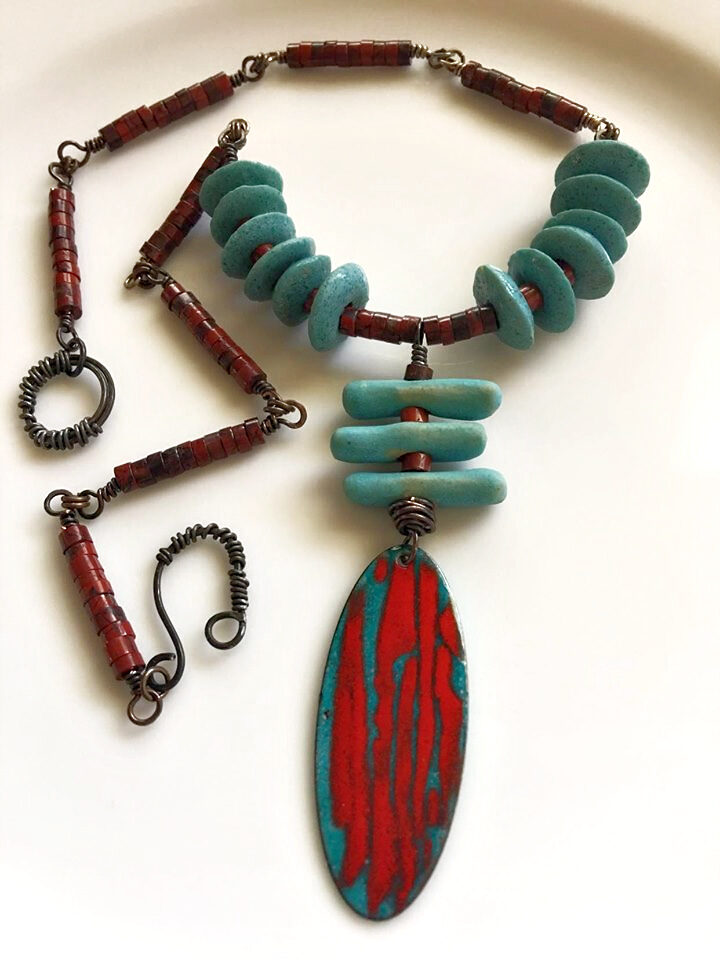 Now for some earrings!
Once again enamel work by Anne Gardanne – how perfect is this color and pattern! This time I paired them with some old vintage bass stampings with a gorgeous mellow aged natural patina. In my opinion, vintage stampings are far superior in quality to most things made today. I feel every single component used should be amazing and stand on its own, even down to the tiniest of jump-rings.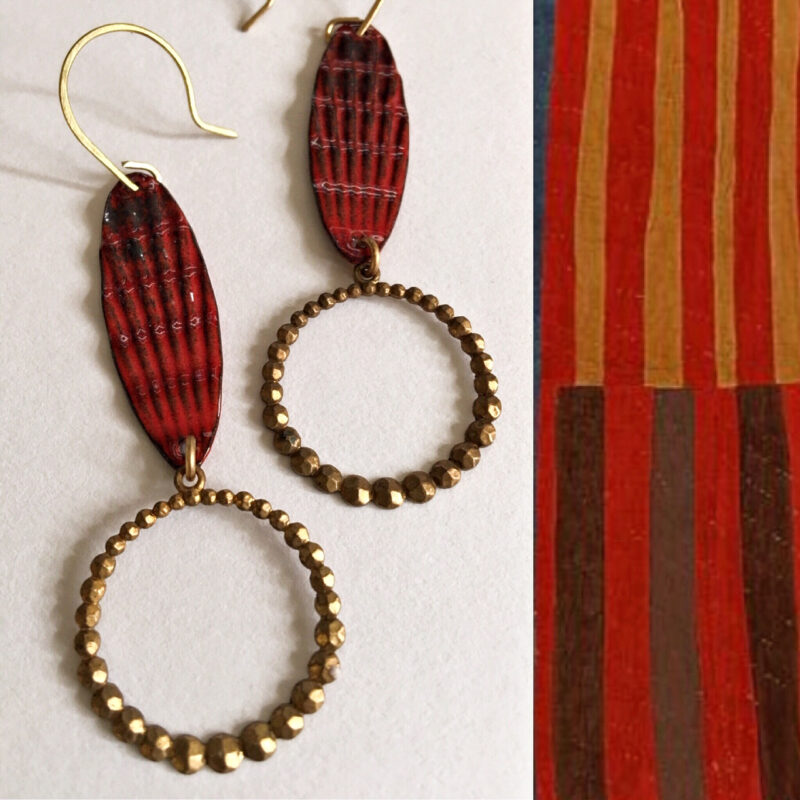 The earrings below are just packed with art beads! Tribal porcelain and ceramic earring charms by Nadia Terra, ceramic bars by Gaea, polymer accent beads by Heather Powers strung primitively with wax linen cord.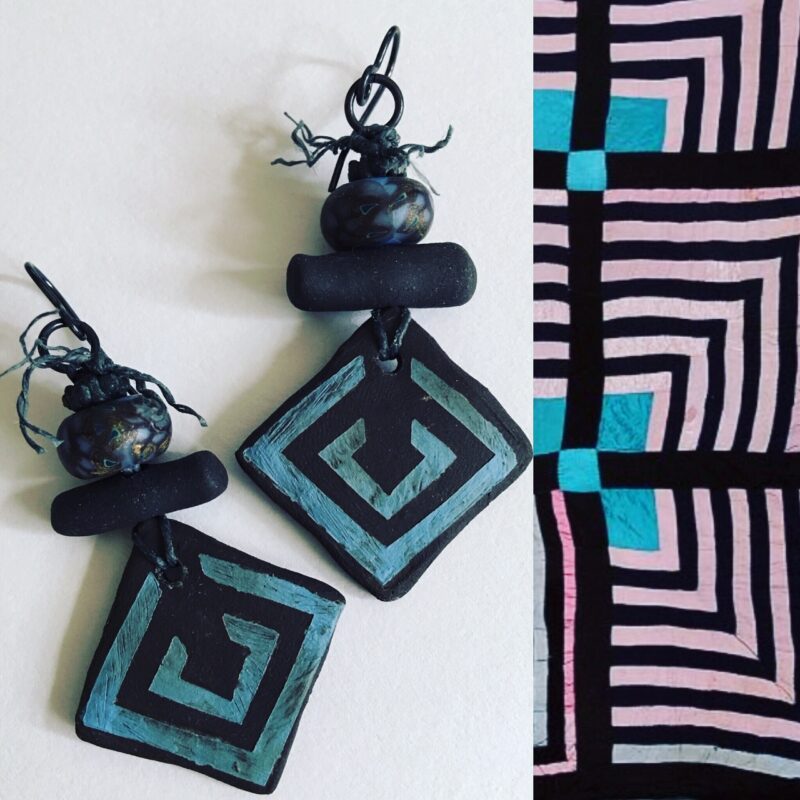 Below are pinwheel-like puff discs by Melissa Gabelle of The Clay Hen. I was in love with this bold pattern from the very start!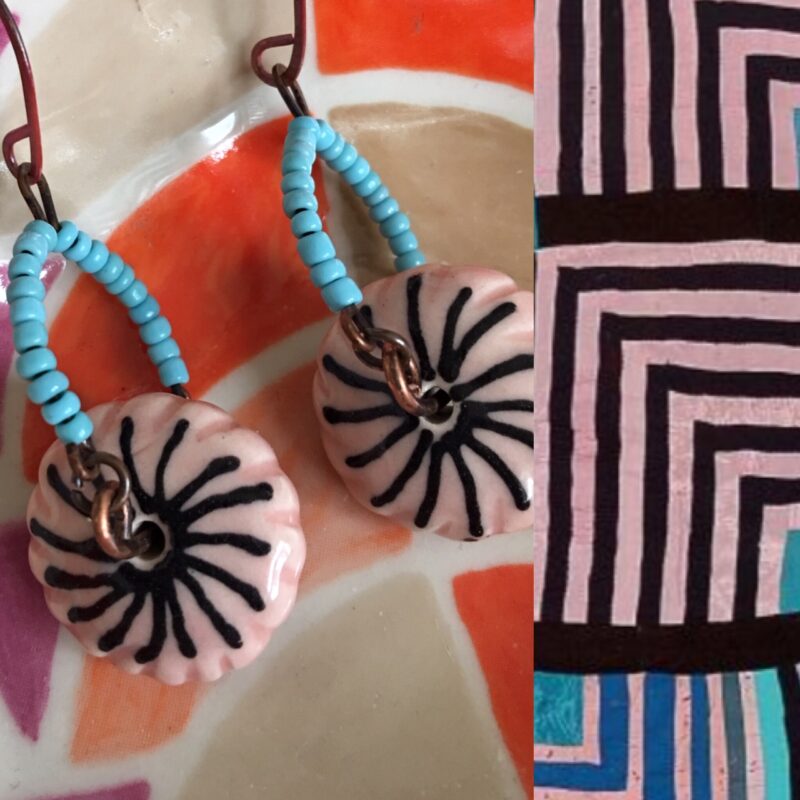 Anna Pierson of SagaHus Components had given me these beaded connectors to play with a year or so ago and although it took me a while, I found the perfect project for them! I love how they enable a view of both sides of the disc.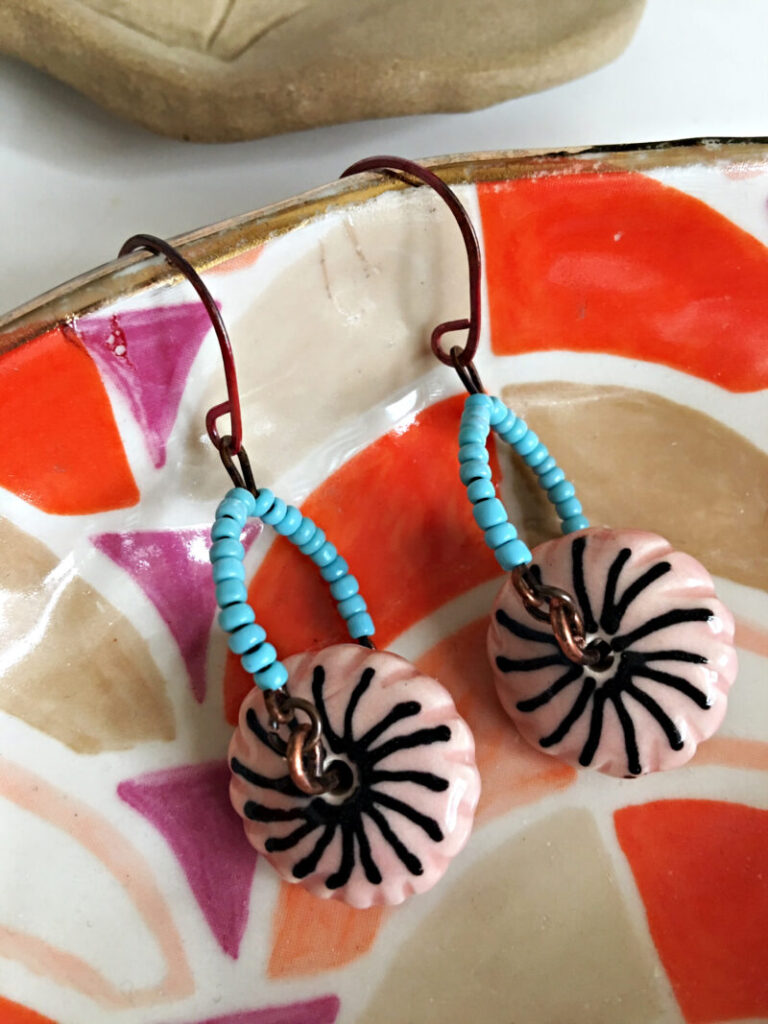 Vibrant and primitive are these wonderful beads by Golem Design Studio and look how nicely they worked with this quilt design! I added some vintage flat discs and rounds to form the bead caps. I used annealed steel for the color alone, I wanted to keep that strong black and yellow vibe.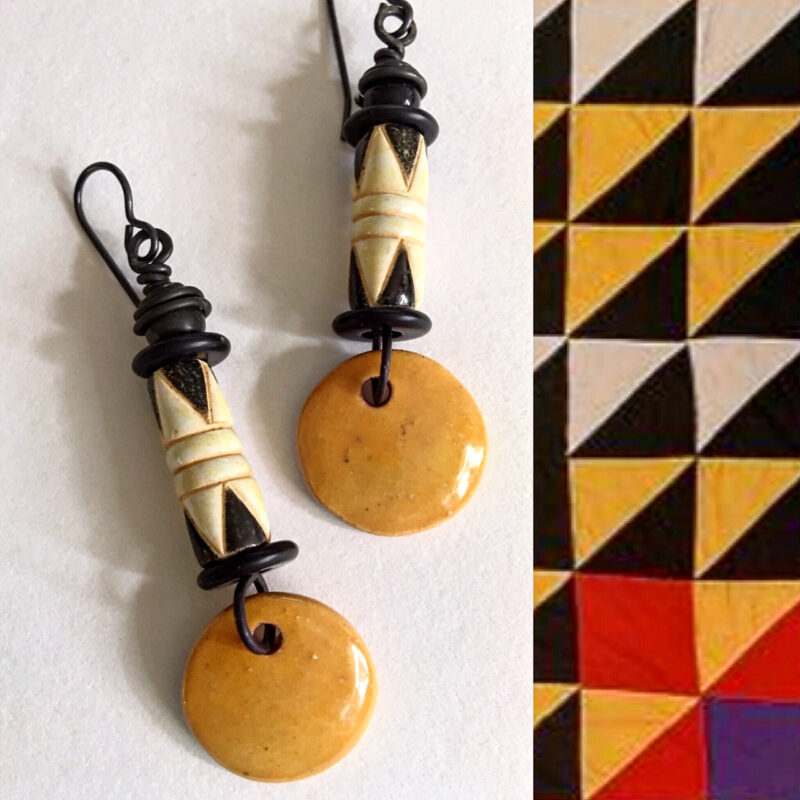 Thank you so much for joining me today and I hope you found some inspiration to work on Journey 3!
Loralee xo