Enameled little houses are some of the newest creations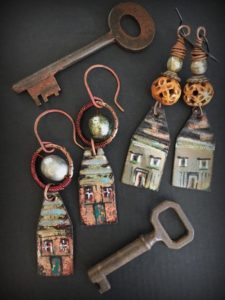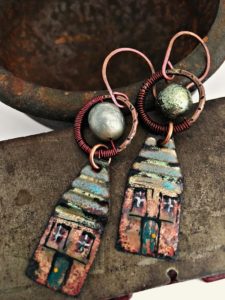 One day while chatting with Cathleen about her enamel work, I mentioned to her (random thoughts..ha) that I've always loved the ending to The B52's song, Love Shack, when vocalist, Cindy Wilson sings, "Tin Roof, Russssted" and how I've always wanted to do earrings with a rustic tin roof inspired theme. Well, guess who surprised me with some corrugated metal little houses! In true Cathleen style, she took an ordinary theme and made it extraordinary by layering magnificent colors and details!
There is beautiful depth and shimmer to these houses that I doubt I was able to fully capture with my camera. For the pair above, I  wanted to play up that soft blue/green in the roof so I used large baroque vintage pearls with texture and 'floated' them in forged copper rings using red-rusted color wire.
∴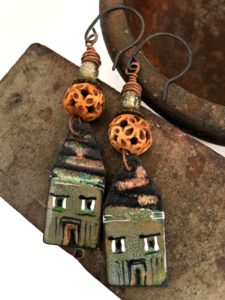 These have such personality; I see little faces, do you?!! Being slightly wider, I gave these more substantial carved bone accent beads with oodles of detail and character.  To me, they are little cheesy moons going overhead 😀  Then, added some vintage style accent beads which look like mercury glass to play up that subtle green.
∴
These enameled crescents were already in my stash from Blue Hare. I adore the texture, they look as if they were cut right from a corrugated tin dollhouse roof!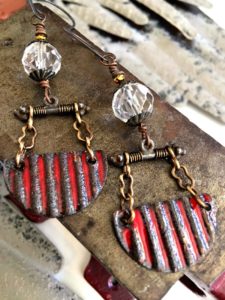 I wanted the crescents to swing freely, like an old fashioned pub sign on the outside of a building. I felt hammering out my own bars would be a nice look, but, wasn't going to give the movement I was after; I needed sturdy, but rounded bars. So, I had the idea of using the individual parts of toggle sets…and, wow, it worked beautifully! The bars also had decorative ends which kept the chain from slipping off. I did wire-wrap the bars to keep the chain at the outer ends for balance. I also added large faceted vintage crystals on top which remind me of antique glass doorknobs, for a finishing touch.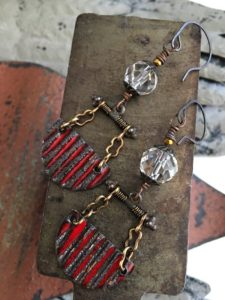 ∴
I torched and soldered some of my own components, too! Ta-da!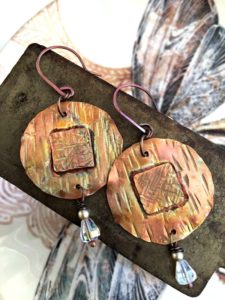 I made these textured soldered copper discs at a Bead and Button class year. I loved working with the torch! I'm looking forward to continuing my metalworking and see where it takes me.
Thank you so much for stopping by today!
If you'd like to get some of your own houses, Cathleen will be having a Facebook Group sale on March 20th with a sneak preview of designs, today!
You can follow this link:  Blue Hare
 ♥
Loralee xo