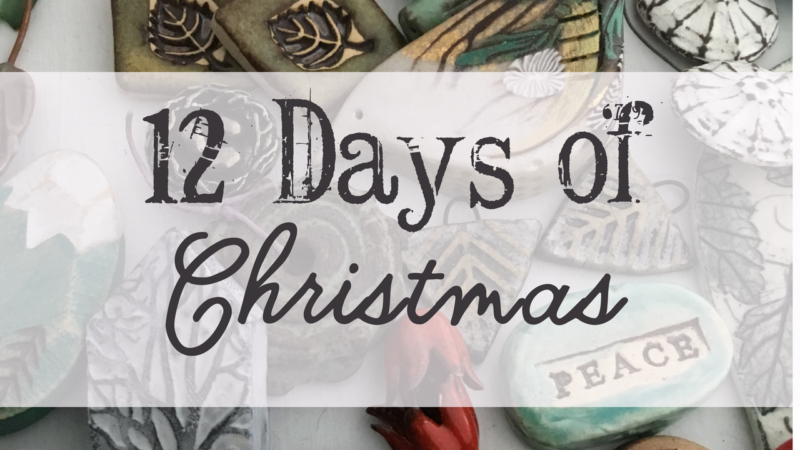 A Note From the Editor:
Today starts our annual series of free projects as a holiday gift to our readers. From now until Christmas we'll bring you a free project from our contributors. Some are holiday themed, some will make great gifts and some are just for the pure joy of art bead adornment! Thank you for being part of our creative community. Our series starts off with a whimsical project from Michelle.
Happy Holidays! 
Since I have lived in Florida over 25 years, I only have childhood memories of playing in the snow and building snowmen.  So this time of year, I enjoy making snowmen out of ceramic clay, shiny glazes and glitter.  My art has a whimsical feel to it, and this snowman pendant is no different.  He is reaching up into the air to grab this red heart.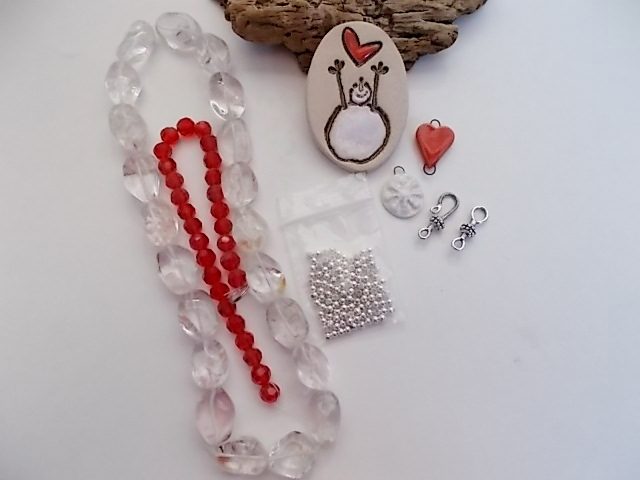 I also made a red heart connector and glittering white snowflake charm.  The rest of my supplies to make this necklace came from Cherry Tree Beads.  I thought the chunky crystal quartz beads looked like ice and the 8mm red crystals added a pop of color.  I have a silver clasp and 4mm silver spacer beads, too.  Not pictured in 3 ply red waxed linen that I purchased from Royalwood Ltd.  It is my favorite stringing material.  When you knot it, the wax seals itself and you don't need glue so it's super strong!
Make the necklace: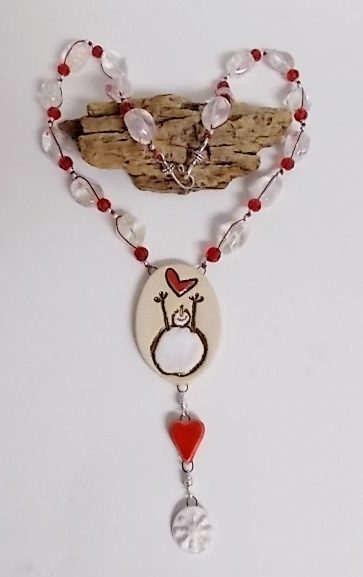 Using 20g silver wire (I used Parawire brand), make a wire wrapped loop connection of the snowflake charm to the bottom loop of the heart connector.
Repeat the above step, but this time connect the hearts top wire loop to the bottom loop of the snowman pendant.  Dangle is finished.
Cut 2 pieces of red waxed linen 50″ in length.  Take one piece and find the middle of it, string it through the right upper wire loop on the pendant, and make an overhand knot right next to the wire loop.  Now the pattern is a silver spacer and red crystal with the double strand of waxed linen going through the holes, 1 strand going through the quartz and both strands going through another silver spacer bead.  Make another overhand knot right next to the last spacer bead.  Repeat this pattern 8 times total.  At the end, tie 3 knots around one section of the clasp and trim the waxed linen about 3mm from the knot.  Repeat this entire process on the left side of the pendant.
Necklace measures 22″ long with a 4″ pendant and dangle.  Fun to wear all winter long!
Now let's make an ornament!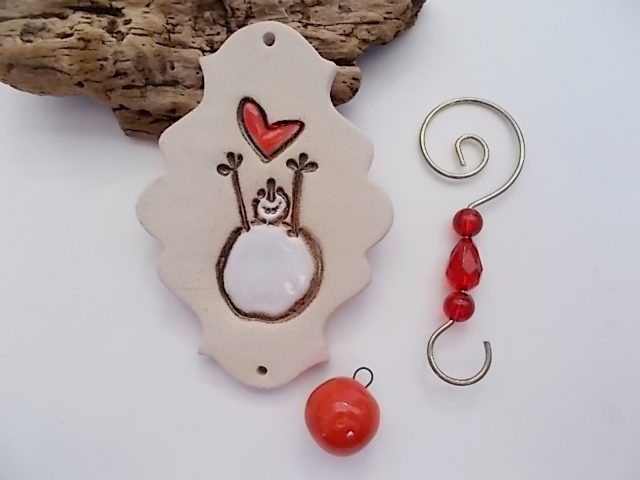 Here is another variation of the snowman pendant.  This one is much larger with double holes instead of wire loops.  I also made a 22mm round red charm to dangle off the bottom.  I cheated and purchased these cute beaded ornament hangers from Hobby Lobby.
 Using 20g gold tone wire from Parawire, I made a wire wrap loop connection to attach the red charm dangle off the bottom hole.
Simply attach the ornament hanger through the top hole and you have a super cute gift or decoration for your own tree!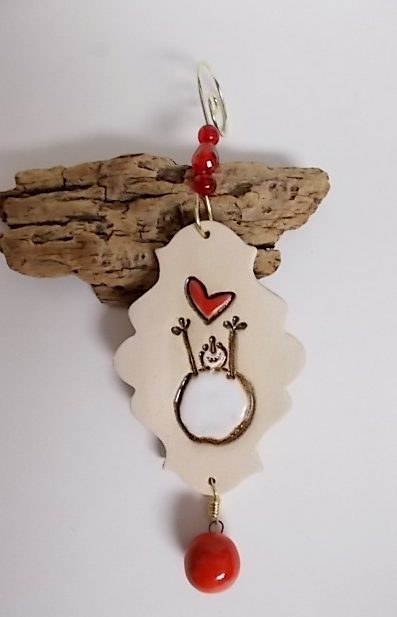 I hope you have a wonderful holiday season and very happy 2018!
Resources:
ceramics – Firefly Design Studio http://www.fireflydesignstudio.etsy.com
wire – Parawire http://www.parawire.com
waxed linen – Royalwood Ltd http://www.royalwoodltd.com
beads – Cherry Tee Beads http://www.cherrytreebeads.com