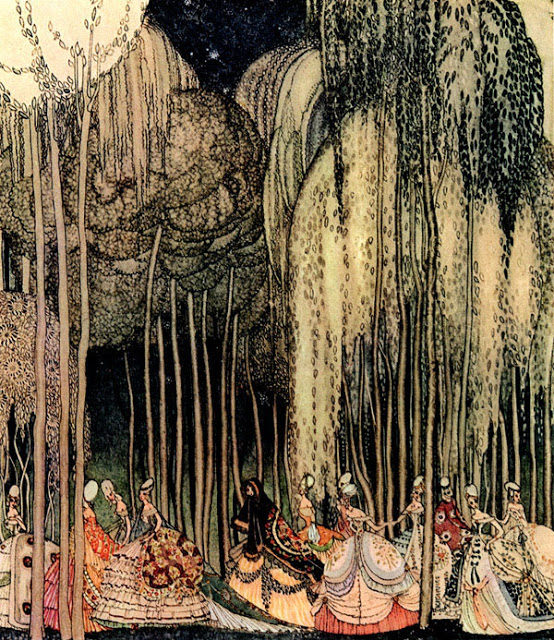 The illustration for August is such a charming one, with a hint of magic. I love the length of it, the way the height of the trees magnifies the mysteriousness of the twelve princesses disappearing into the woods. I love the colors of the ballgowns and the golden leaves and branches. I decided to abstract this month's inspiration, rather than trying to make a concrete representation of the royal finery. So I needed to break it down.
I started with a base of graphite pearl, a really lovely and rich charcoal color with a hint of shimmer. I painted a layer of patina and made it crackle with heat and pressure which gave me the effect of the golden shadows from the trees. Below that I layered different canes to mimic the tulle and lace and fine silk and satin of their ball gowns. Then I cut out the shapes in elongated rectangles to play up the feeling of the tall trees in the forest as they danced. I did a lot of hand finishing on these to give them a very soft sheen.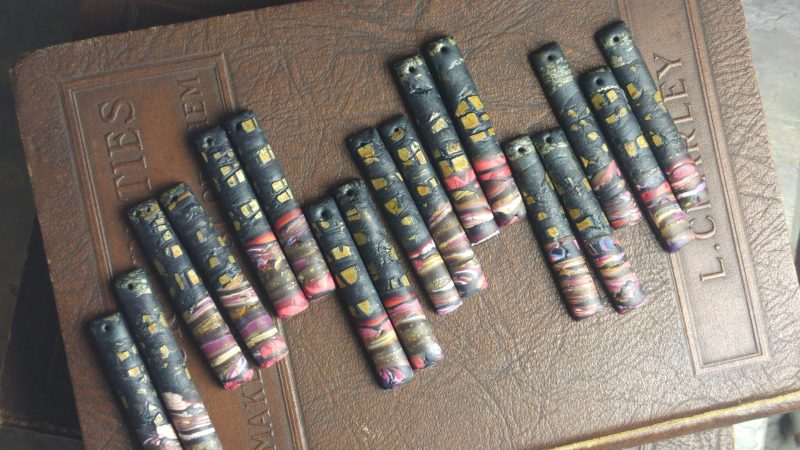 At two inches long they are quite large, yet lightweight. My husband came by and thought they would be heavy for earrings, until I handed him one and he couldn't believe how light they are. That is why I work in polymer, I told him! They would be great just simply wired up on some ear wires or at the bottom of a necklace. But I wanted to see what else I could do.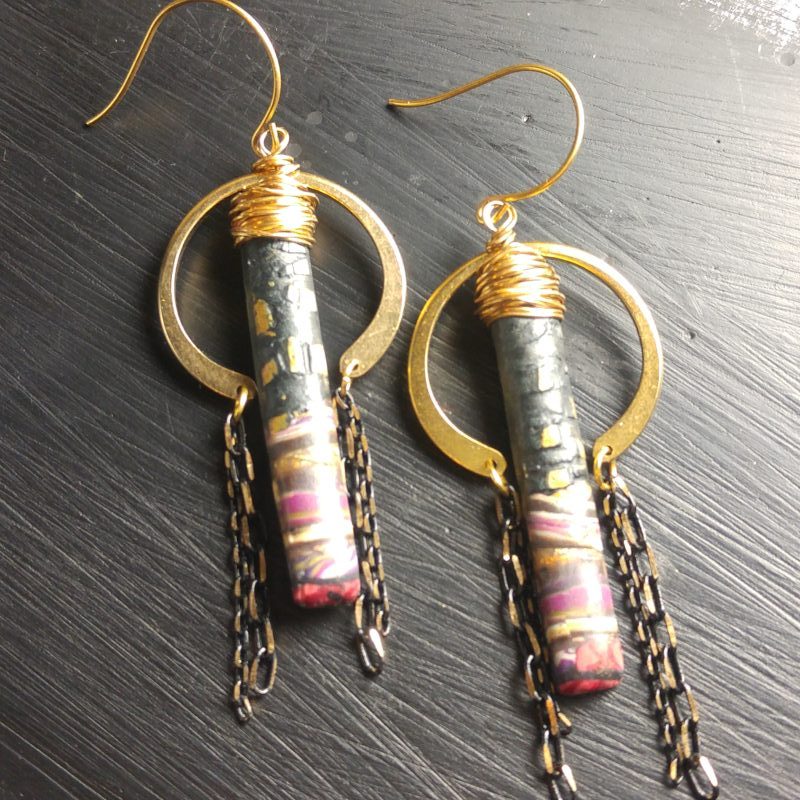 I recently got some of the new bead frames from Nunn Design and thought that incorporating the golden round shape would be like the crescent moon that they were dancing under. I added some random bits of one of my favorite chains, a lovely black and gold faceted chain. Swingy, twirly fun!
I discovered by accident that you can get a different presentation by positioning the moon shape off to the side for a bit more avant garde look. These are not shrinking violet type earrings, and I also think that this would make a great pendant on a chain if super long earrings are not your thing. I call these "Dancing All Night" in honor of those dancing princesses and the fact that I am typically in my studio late at night "dancing" my way around the beads!
We are looking forward to seeing your entries in the new gallery on our new and improved site!
Enjoy the day!