Oh the glorious, succulent colors and themes in this new Art Journey #2. We are celebrating the art of Viktor Ivanovich Zaretsky. A Ukranian artist born in 1925. Brilliant. Colorful. Luminous. Intense. Beautiful.
The four paintings that are featured in this Art Journey are of women and nature. Study them closely. Absorb the richness of color and theme. I am so drawn to this art. If you look in my Pinterest, under "Drawn To Art" you will find many pieces of art that are similar to Zaretsky and you know I'm going to start adding his art to my boards.
As I contemplate these paintings, I think about what jewelry I've made and art beads that I have in my collection . I feel the poppy necklace above would represent each painting, as the floral theme is strong in each selection. With bold color and strong lines, Zaretsky's ladies would love to wear it.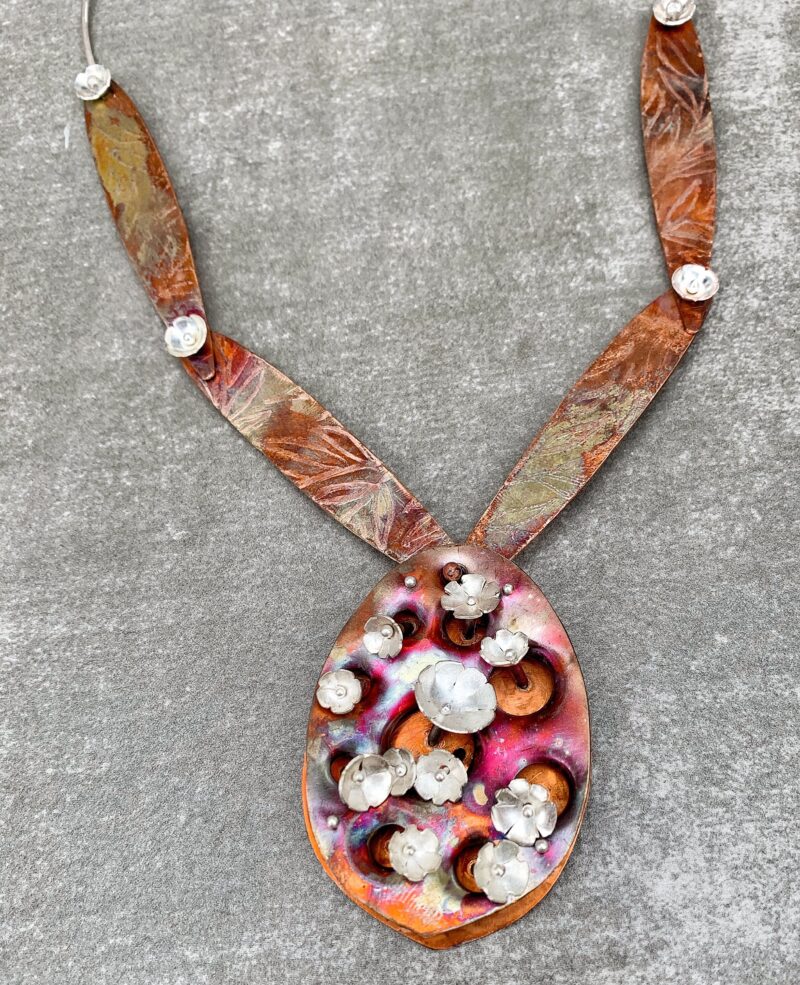 I finished this necklace last week. It is all handmade from sheet metal, wire and tubing. And while it does not use any art beads, being completely handmade by myself, makes it art jewelry. The flowers are representative of the nature themes of the painting and the colors on the copper, painted on by my torch are just as glorious.
In the above photo's, I did a quick run through of my bead collection. I truly love all of Golem Beads creations. The strong graphic lines and styles and the colors are divine. Any of these beads would work for jewelry inspired by Zaretsky. I also included beads made by Nayda Laritus from Russia. Her color palate is always divine. The poppy above is from her as well. I think the addition of gold accents elevates her beads.
And, of course, I've included Terri DelSignore in my selection. Terri has always been one of my go-to art bead designers, when I want to create something special. The earring charms I chose work well with the graphic qualities of Zaretsky's paintings.
I hope that I've offered you some inspiration. Really, though, all you need to do is take a walk with Zaretsky. Absorb his beautiful art. Let your dreams and creativity take you on your own Art Journey. I can't wait to see what you create!
Are you going to enter our Art Journey Challenge? We have started doing things differently this year. NEW! Entries will now be posted at our Art Bead Scene Lounge page on Facebook! Go to the Albums, find the one corresponding to the current Art Journey challenge, and post your images there. Remember that each entry is a chance to win! Be sure to add the hashtag #artjourneytwo to your post.
Thank you for stopping by and spending some time with me.
Blessings