I have been a fan of artist, Nicole St Laurent, for a few years now.  We are both Florida girls that love a nice mermaid pendant, and Nicole's are gorgeous!  She also has a funky side that I dig, as well!  I will be showing you a nice variety of Nicole's art, but first, I got to ask her some questions about herself and her art.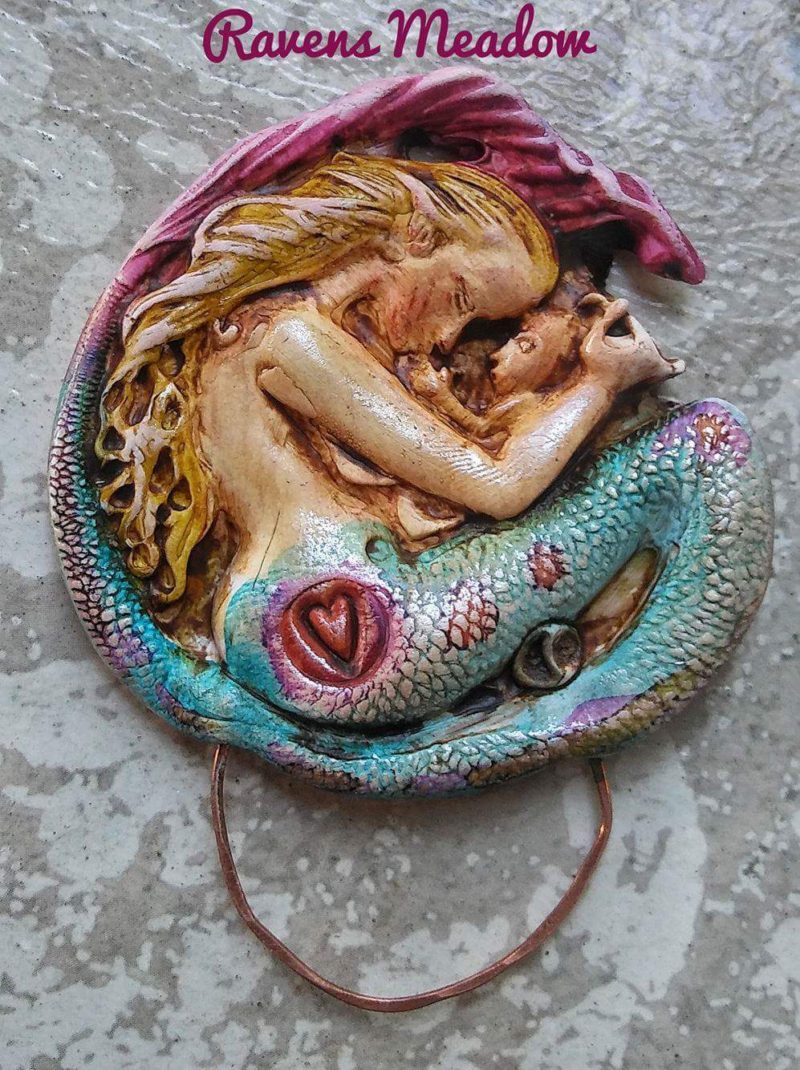 •How did you get started making and/or selling your products?
I actually met a girl who was sixteen years older than me when I was twenty-two. We became friends and I learned she was an artist and also created some jewelry. I recall seeing a necklace one evening that she had on display and I thought, "I can do that!". I went to a craft store the next morning, and that was that. Over the years I've researched and practiced new techniques and styles. I settled into the organic and rustic genre.  I had sold here and there when I was younger but I really didn't get serious until my thirties. That's when Ravens Meadow was born. I now do several online sales a month and I am in two local galleries in Florida.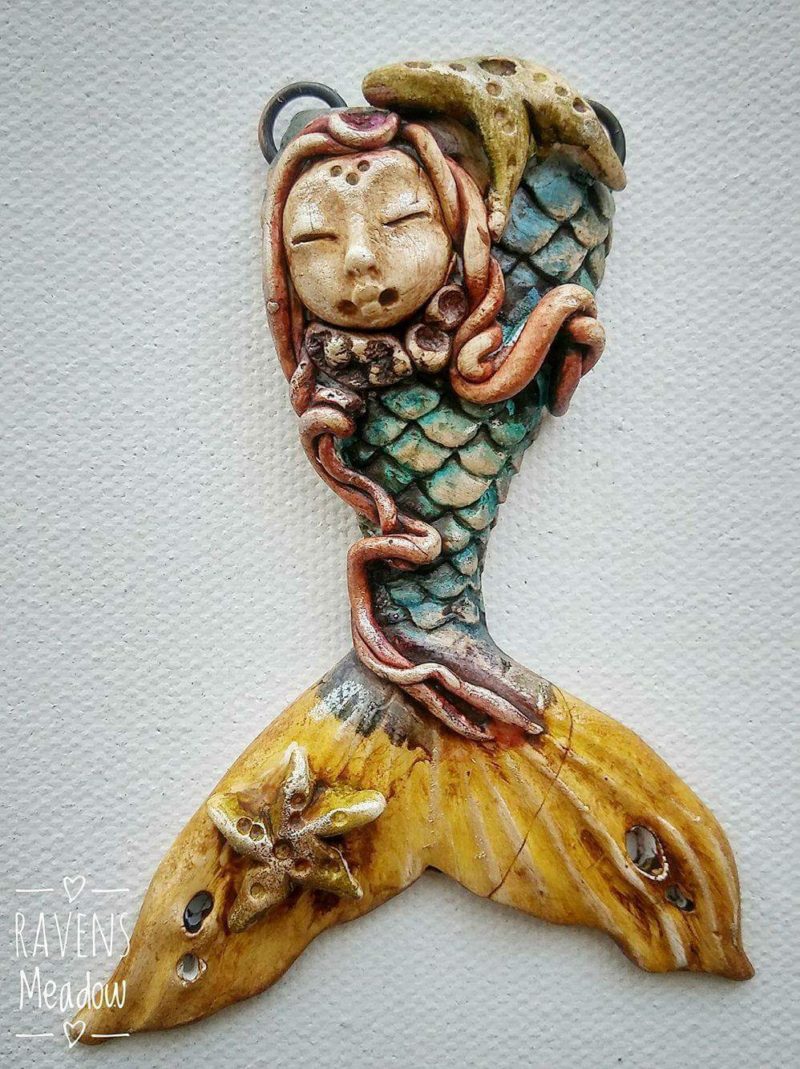 •How long have you been making and/or selling your products?
I've been making my artisan components for about seven years, however, I've been selling jewelry and paintings for twenty years. Until recent years, it has been only at local festivals and markets.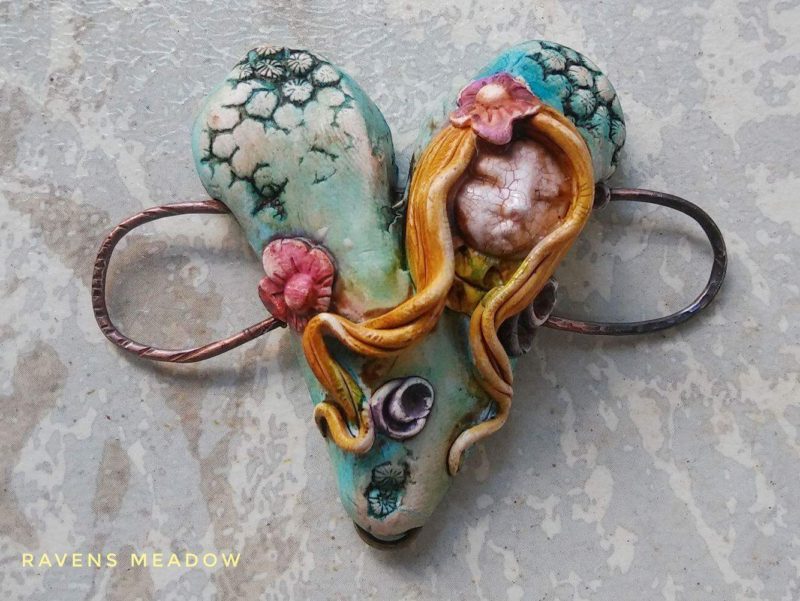 •Which is your favorite product to make and/or carry and why?
That is a no-brainer! I absolutely love polymer clay. I can manipulate it and paint it so many ways. The possibilities are truly endless.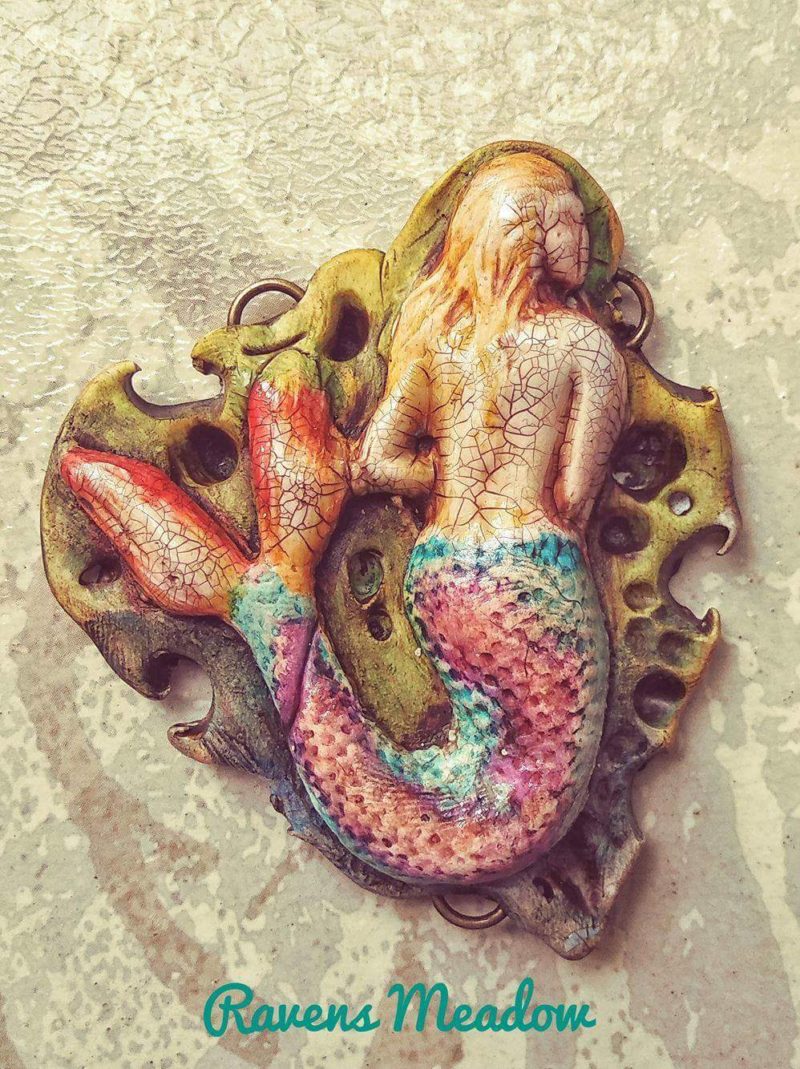 •Can you give a brief explanation of how the products are made (if you make them)?
I always start with a Zen moment of conditioning a few pounds if clay at a time. I let myself fall into a zone of enlightenment. I imagine what I'm about to create and kind-of just let it happen. From there I knead the clay and begin sculpting, shaping and texturing. Sometimes I use molds, ones I've made from items I've found or ones I've purchased. I texture with shells and fossils etc…after curing, the painting begins. I use several techniques in that area. Mostly ink and acrylic, though. I am drawn to antique-looking components.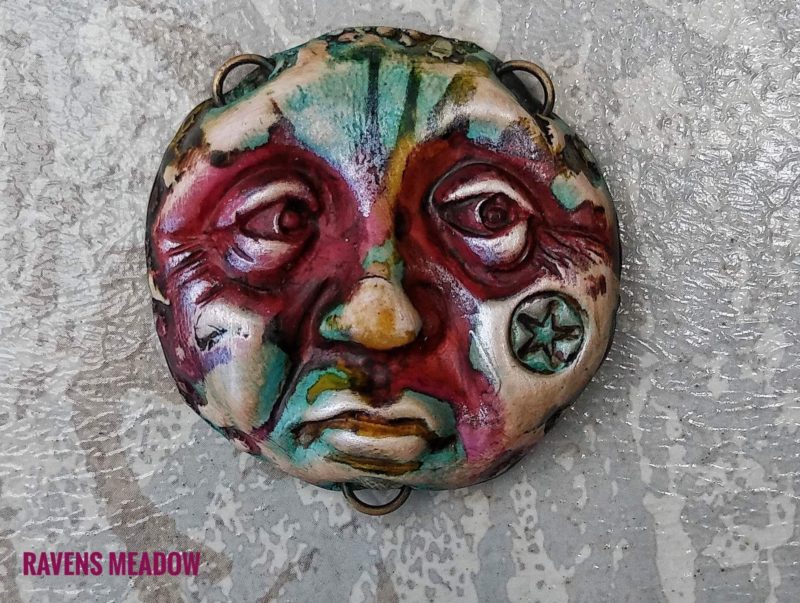 •Do you have any formal training in your creativity or business practices?
Business yes, I am trained in several areas of accounting. Creativity, no! Totally self- taught. I love learning new things. I research a lot online now-a-days and I'm inspired by a of things and people.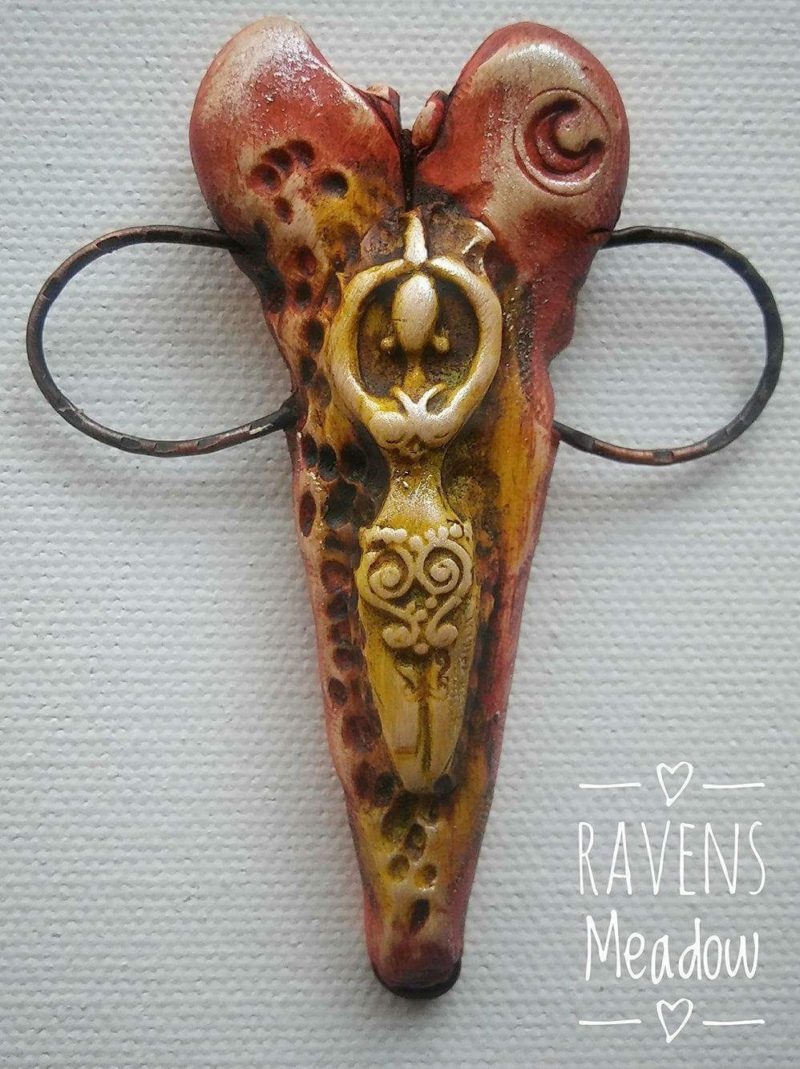 •Is there something specific you would like the customers or future customers to know about you and your product?
Absolutely. I am a single mother of three young boys. James, Hunter and Devan. They are the reason I am in my studio every day. Even when I'm sick or tired. Maybe sick and tired! Haha. I want them to understand hard work and responsibility pays off. You have to find a passion and stick with it no matter what influences come your way in life. Also, all of my pieces whether components or finished jewelry are one-of-a-kind. I guarantee all of my work as well. No matter how much time has passed.  I'm originally from New England. I moved to Florida when I was eighteen. I enjoy our lifestyle here. We are able to go hiking in the woods or swimming at the ocean. Fishing in the salt or in fresh water. With a short drive in any direction, there is so much to do in Florida. I have many interests, but the most prominent are American Indian and Viking history. I find their cultures fascinating. I also enjoy yoga and weightlifting. When I was younger I went to cosmetology school and owned a nail salon for a bit. I closed that towards the end of my surprise pregnancy at fourty(yikes! Lol) and solely focused on Ravens Meadow. I wanted to be home with my new baby etc..Now-a-days my life consists of ink stained fingernails, tons of cooking and copious amounts of laundry. I wouldn't change my life ever!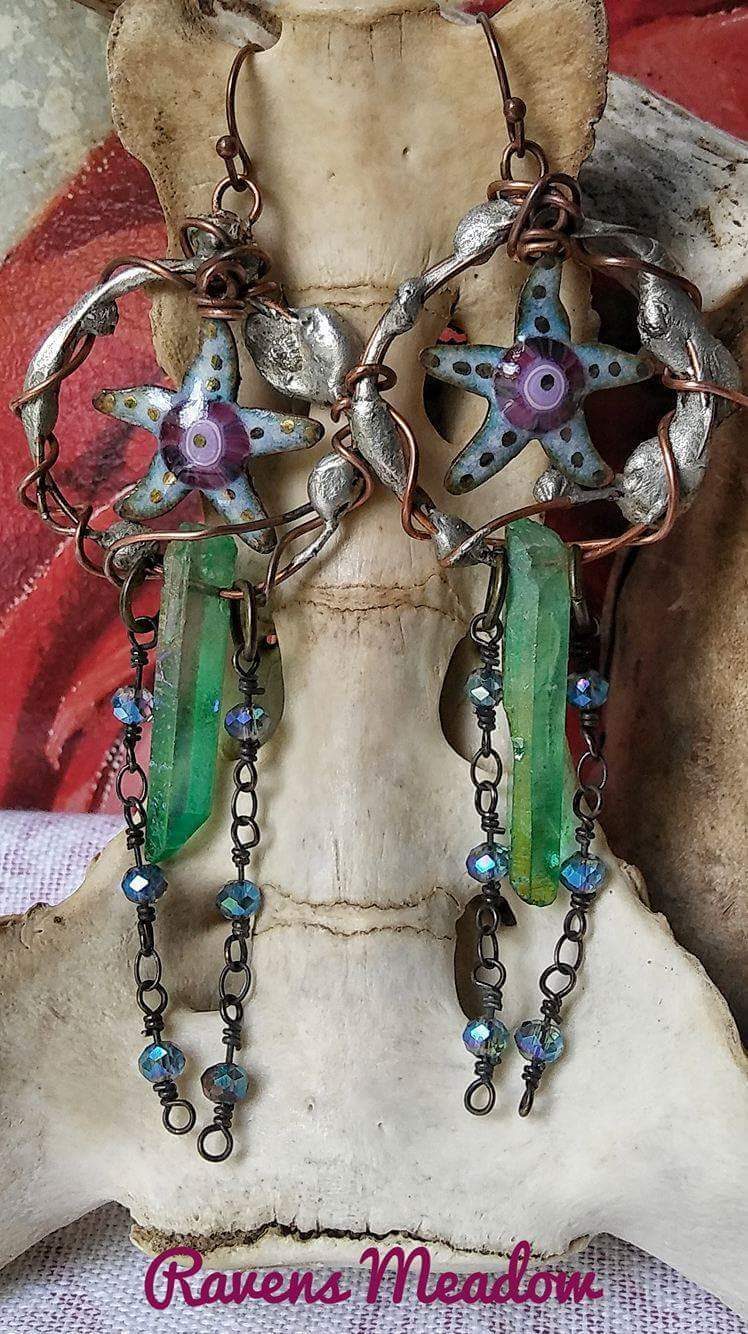 •Do you do made-to-order or custom work or do you sell solely inventory?
Yes. I do all. I strive to make my customers happy in every way.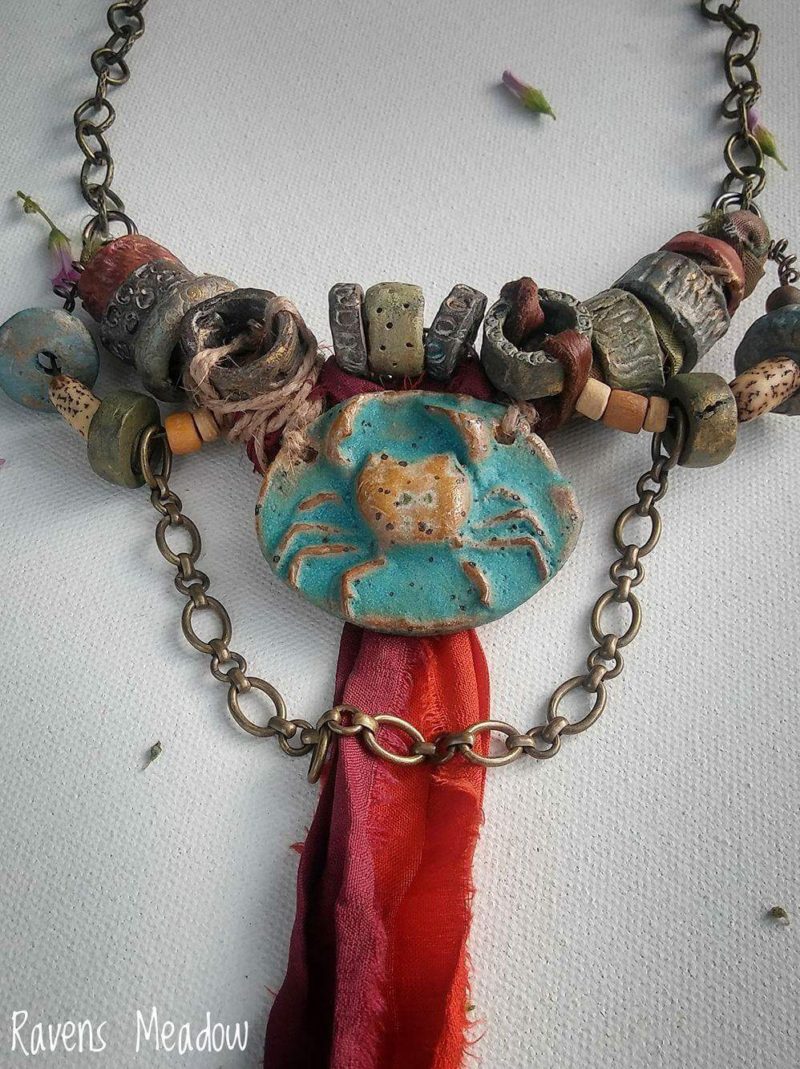 •Do you also make jewelry?
Yes I do make necklaces and earrings. Most are created with hand-forged copper, fiber, glass, and of course, my polymer clay work!
•Have you won any awards?
Yes. In Florida indie markets. I have also been juried to be in gallery exhibits.
•Where else do you sell?
www.etsy.com/shop/Ravensmeadow