Alphonse Mucha (24 July 1860 – 14 July 1939) is the man whose art – "the Mucha Style" – ushered in the Art Nouveau period. His intricately detailed, subtly hued, and moody illustrations of the female form in lush botanical presentations were outstanding in their time, and are so iconic that we don't realize how impactful they really were. Mucha was a visionary Czechoslovakian artist who was known for his posters and illustrations which served to elevate women into icons of what it means to be fierce and feminine.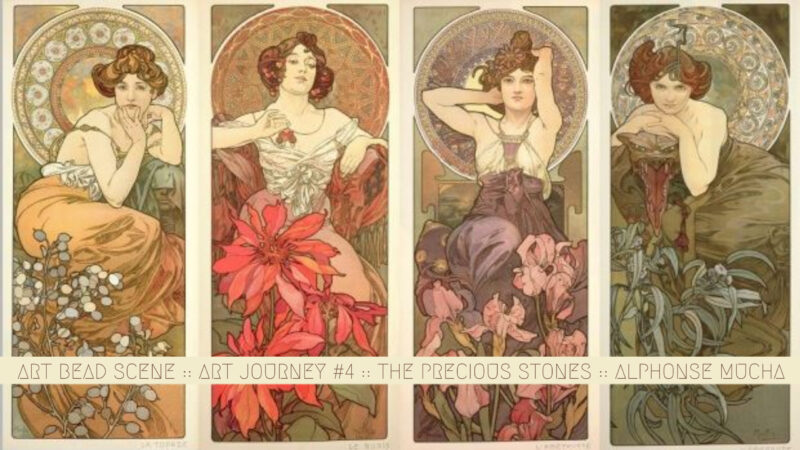 Mucha's women were beautiful, sensuous, and natural. His Muses were suggestively posed with their long luxurious locks of flowing hair, loosely robed or provocatively disrobed. But they seem not to be just posed for voyeuristic tendencies, for he realized there is a power of visual images to sell things and he used these idealized goddesses to great effect to promote periodicals, cigarettes, champagne, chocolate, beer, biscuits, baby food, and bicycles. Talk about the seductive power of advertising!
Notably these women are strong. In the iconic advertising posters they are doing things like smoking and riding a bicycle by themselves. Their piercing gaze over their languid bodies is as if they are looking right through you. They are alone, and loving it. The subjects are always depicted in all their feminine glory, the images powerful studies in the beauty of the female form.
Mucha's palette is serene, generally pastel, and taken from the natural world. Sage greens, pale blues, rich lavenders, and a full array of cream, beige, apricot, soft corals and tan color his world, with a few well-placed jewel tones of green, red or blue.
Which leads us to our inspiration for Art Journey #4.
The Seasons (1896) are arguably some of the most famous poster images Mucha created for the legendary printer Champenois, who devised the concept of decorative panels ('panneaux décoratifs'), posters without text that were created just for the sake of decoration. He gave Mucha a generous monthly salary in exchange for the rights to publish all his works. These works were published in a variety of forms, from art posters on expensive Japanese vellum, to calendars and less expensive postcards. Truly a marketing genius!  But it was Mucha who elevated the poster to a whole new art form, making them accessible to the masses and creating an appetite for his seductresses. Mucha created other series, like The Flowers (1898), The Arts (1898), The Times of the Day (1899), but it is his series, The Precious Stones (1900), that really intrigued me when choosing the images – for these were purely about semi-precious stones and what is more perfect for those of us that create art jewelry!
The four decorative panels of The Precious Stones each personify a different gemstone, and this larger format version is exceedingly scarce: only three or four full sets are known to exist. The Precious Stones not only claimed the top sale at auction – $192,000 – but also set a new world record for sales of Mucha's work. The 1896 set The Seasons were sold at auction in 2017 for $45,600. Mucha's celestial 1896 design for Sarah Bernhardt, La Dame aux Camelias was sold for $31,200. Clearly, Mucha's appeal only grows with time as more and more people appreciate the value of his art.
The Precious Stones (series, 1900)
In this series, women personify four precious stones. In each panel, the upper part of the composition is dominated by the female figure, while the lower part features a realistically drawn flower whose color echoes that of the particular gemstone. The color scheme of each panel – including the flowing robes, the hair decorations, the mosaic halos and even the color of the woman's eyes – recalls the color of the stone. This lends a pleasing harmony to each image. (from MuchaFoundation.org)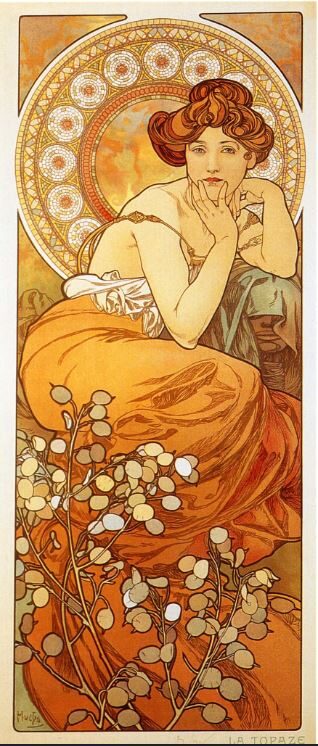 The Precious Stones: Topaz
The dreamy expression of Topaz recalls Mucha's poster for his solo exhibition at the Salon des Cent. Mucha's use of flat colour and bold outlines, as seen in the honesty plant (or silver dollar plant) in the lower half of the composition, reveals his debt to Japanese prints.
(from MuchaFoundation.org)
LAUNCH PAD
topaz stones
orange, yellow, golden tones. sage green, cream
honesty plant/silver dollar plant
medallians, circles, mosaics
---


The Precious Stones: Ruby
Ruby holds a provocative pose, playfully touching her ornate ruby necklace. Mucha's composition is dominated by red, a symbol of love and passion.
(from MuchaFoundation.org)
LAUNCH PAD
ruby stones
rust, red, apricot, cream, sage
poinsettia flowers
necklace, pendant
medallion, circle, mosaic, triangles
---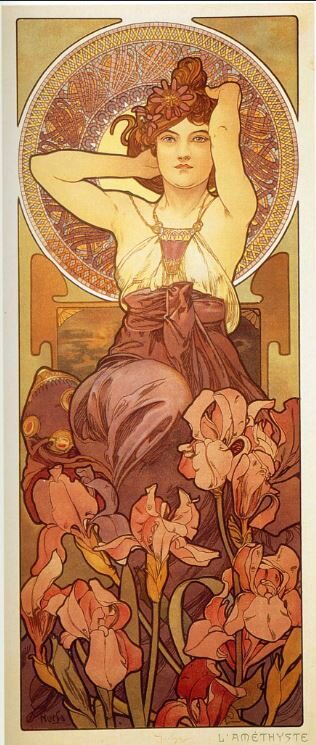 The Precious Stones: Amethyst
Mucha breaks the symmetry of his composition by foreshortening Amethyst's left arm as she lifts her hair with her hands, her left elbow pointing towards the viewer.
Mucha's preliminary sketch and correspondence show that he originally planned to depict the figure naked from the waist up but Champenois requested that her breasts be covered lest there be objections on moral grounds.(from MuchaFoundation.org)
LAUNCH PAD
amethyst stones
purple, red, brown, pink, cream
irises
medallion, woven, mosaic
---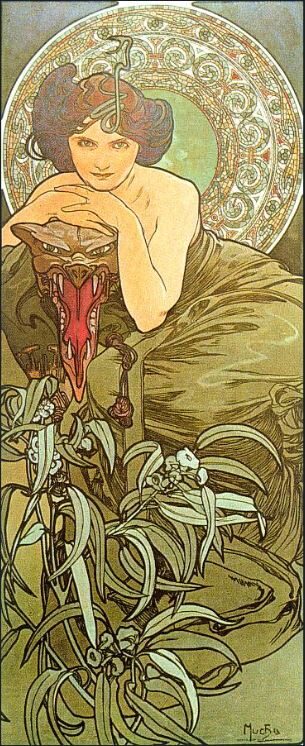 The Precious Stones: Emerald
Emerald is portrayed as a mysterious and menacing precious stone. The armchair with animals heads on each arm rest is inspired by one of Mucha's own chairs. It can be seen in many of his drawings and photographs.
(from MuchaFoundation.org)
LAUNCH PAD
emerald stones
green, sage, moss, mint, red
dragon, gargoyle, snake
lily, grasses
medallion, circle, mosaic
Tell us….which Precious Stone do you love the most?
---
What is the Art Journey Challenge?
Every six weeks or so we will challenge our readers to create jewelry inspired by the featured artwork or collection of art or theme. Use any or all of the artworks as your guide to the challenge: color, theme, motif, style, etc. You have until the end of the Art Journey period to share your work and then we pick one winner to receive beads and jewelry-making supplies from our editors and sponsors that will work with our NEXT Art Journey to hopefully inspire you to continue joining the challenges. Our only rule? You must use at least one art bead in your piece!
We need to emphasize that all art provided on the Art Bead Scene is for inspiration and education only. No art may be downloaded or replicated in your art. Please bear that in mind.
How to Enter the Monthly Jewelry Challenge:
Create something using an art bead that fits within our monthly theme. This challenge is open to jewelry-makers, fiber artists, collage artist, etc. The art bead can be created by you or someone else. The challenge is to inspire those who use art beads and to see all the different ways art beads can be incorporated into your handiwork. An art bead must be used in your piece to qualify for the monthly challenge. Upload your photo to our photo album. Include a short description, who created the art beads and a link to your blog or shop, if you have one.
NEW! Entries will now be posted at our Art Bead Scene Lounge page on Facebook! Go to the Albums, find the one corresponding to the current Art Journey challenge, and post your images there. Remember that each entry is a chance to win! Be sure to add the hashtag #artjourney4 to your post.
Deadline to enter is Friday, June 19th.
You may upload as many entries as you like per Art Journey, as long as they follow the guidelines. (Please be patient as they are approved by one of our editors to post in the Album). Our prize for Art Journey #4 will be given away from a random draw of all entries on June 19th with our prize package donated by Sarajo Wentling that will be perfect for use with the Art Journey #5! We hope this will encourage you to play along!
Monthly Challenge Winners
• One prize winner will be selected at random from all pictures posted in our new Facebook albums!
• The winner will be randomly chosen from all the qualifying entries on June 19th.
• Be sure to point out all the art bead artists in your work in the description of the photos when you upload to the new gallery. Links to their website or shop are appreciated. That way we can all find new art beads to love!
What is an Art Bead?
An art bead is a bead, charm, button or finding made by an independent artist. Art beads are the vision and handiwork of an individual artist.
***A bead that is handmade is not necessarily an art bead. Hill Tribe Silver, Kazuri ceramic beads or lampwork beads made in factories are examples of handmade beads that are not considered art beads. Beaded beads, stamped metal pendants or wire-wrapped components are not considered art beads for our challenge.***
Bead Artists
Feel free to share beads that you made inspired by our challenge in our gallery. You can enter multiple submissions for each challenge. We love to promote new artists and share what you've created! Be sure to add some links so that we can know where to find more of your art beads!