I hope this post finds everyone well and feeling creative. The inspiration for Journey #4, Mucha's work consists of four panels, each of which depicts a woman and flower. The color of each panel represents a different gemstone. The works are beautiful, but fairly monochromatic with soft colors and lines compared to what I would usually be drawn to.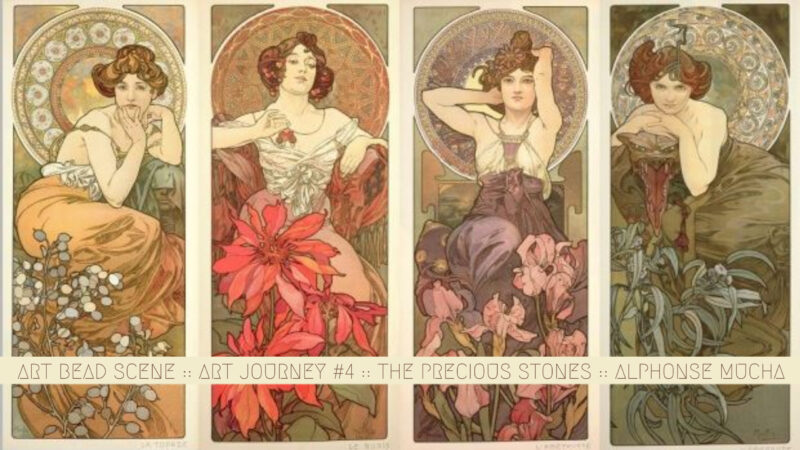 However, I had a cool pendant by Jeni Houser Alasad of Auntie Moons in my stash that I thought would be great for this. I love the uniqueness of the materials. It is a polymer clay base with an image transfer on silk. It has a yummy rustic, frayed edge. The Arthur Rackham Water Sister illustration on the pendant isn't from the same Art Nouveau period, but the subject, a woman in a flowing gown, certainly reminded me of the inspiration.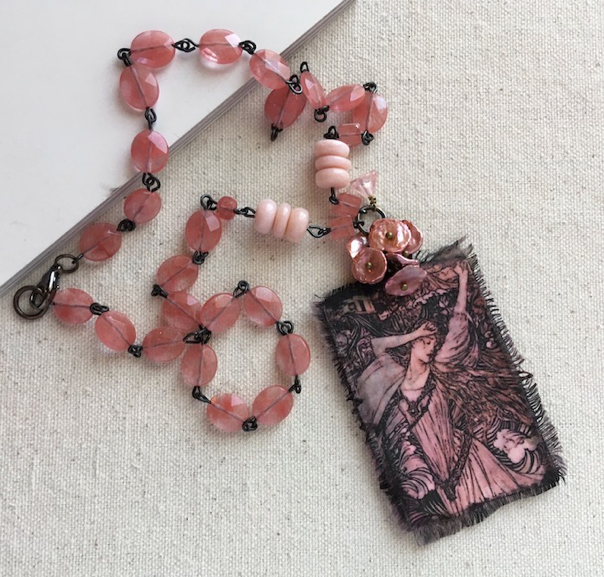 I wanted to keep my piece mostly monochromatic too, so I looked in my pink gemstones and found this (I think?) strawberry quartz. The little bag of beads also contained the pink disks. I liked having those to use, as well as the smaller quartz cubes and one rondelle, to add a bit more visual interest. I also thought it would be nice to bring in the floral element, and I spied these cornflake pearl dangles I got from Miss Fickle Media. I felt like there was a bald spot, so I added an extra Czech glass flower. I chose black wire to keep in the black and pink color scheme of the pendant.
I thought that might be the only thing I would make for this Journey, but then I thought of a bracelet bar I have with flowers and lines that reminded me of the inspiration. It is a hand drawing on shrink plastic by Bethanne (Rebekah Payne's sister, who sold them in her Tree Wing Studios shop).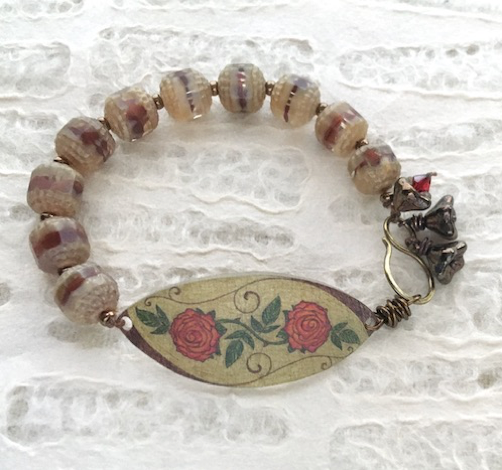 I found these Czech glass beads in my stash with a similar color to that of the bracelet bar, including a brown accent like the bar's swirly lines. They have a lovely translucence with the color in the middle. Bronze seed beads, Czech glass flowers (one with a red crystal as an accent) and a clasp by Miss Fickle Media round this out. I've had this bracelet bar for quite a while but hadn't made any projects with it work. I love that this Journey helped me make a success of it.
Art Journey #4 challenged me, and I met the challenge! I hope you will join in as well. You can see what others have made and post your own makes on the Art Bead Scene Lounge Facebook page in the Art Journey #4 album.