♥
Heart and Soul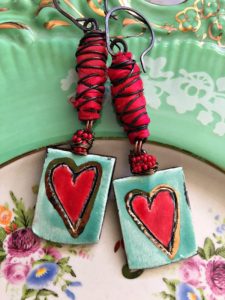 How do I love Diane Hawkey?  Let me count the ways!  Her work speaks to my heart,  sometimes in the most subtle ways.  Her choices of color, whimsy and added hints of gold make me feel  warm and loved.   These sketched hearts bring me back to a sweet Valentine I may have exchanged as a child or perhaps a pattern on my grandmother's handkerchief or tablecloth.
I added some very vibrant silk wrapped connectors by Sagahus.  They are the same vibrant red in the charms, which was so important.  The contrast of the blackened wire really makes them pop and brings your eye back to the dark outline of the hearts.   I didn't want to clutter up the design with a lot of this and that.  I wanted that retro blue-green and red color to be the main focus.  I messy-wrapped  tiny faceted Charlotte seed beads to the loops keeping the look casual, but also for continuity and a nice finished look.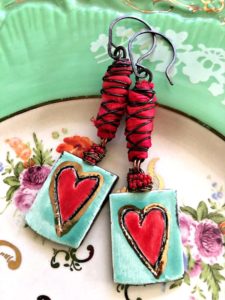 ♥
Lucky in Love
In the past, I've used this small "Lucky" pendant by Diane Hawkey  in necklaces, but this time, wanted it to stand alone as a pin.  It's perfect as a small statement piece.  I wire-wrapped some rhinestone chain to the loop for a bit of bling and make the loop more substantial.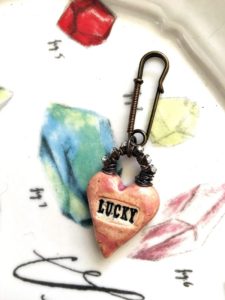 ♥
Show your heart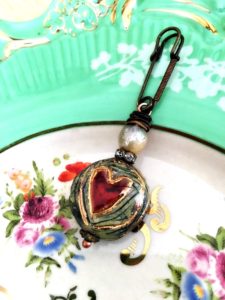 Pairing Diane's artbeads with vintage beads, is like a dream!  I used a lovely baroque vintage glass pearl with a wonderful warm hue .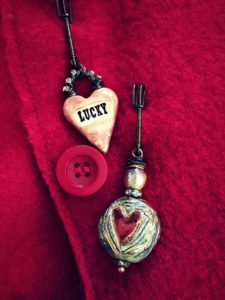 ♥
Love Letters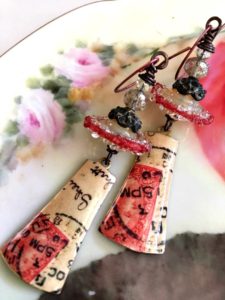 These sealed paper on brass charms were made by French bead-maker, Valarie of  Poppybis.  The color of the stamps are a subtle, more off colored red.  While digging in my stash, low and behold, I found sugared spacer discs by Silverfish Designs with the same exact earthy red trim!!  Omgggg, I did a little spin in the studio for that one!    I used heavily oxidized spacers for the pop of black to bring out the script print and postal markings.  Sometimes things just fall together amazingly…yay for those days!  lol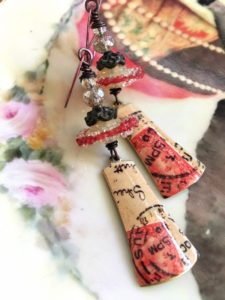 ♥
My Tainted Valentine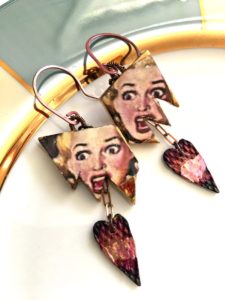 So, maybe Valentine's Day isn't your favorite holiday??…lol   Maybe, it makes you wanna scream??!!  Well, I've been there, and have I got the perfect pair for you, with a two sided heart no-less!!…lol
Screamers with an elegant finish of gold on the back by Petra of Scorched Earth and hand-finished, two sided hearts by Inviciti!!  Yeahh!  I particularly love this retro drawing- it has a great sense of humor yet, very glamorous!  I love her hair with the gold leaf accents and those red lips! ♥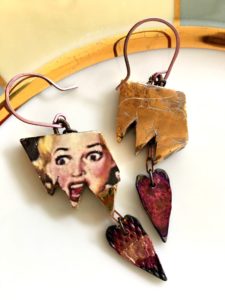 Thank you for stopping by, I hope you've had a little fun and feel inspired!
Loralee
x
o
♥