I've been filled with anticipation for the Halloween blog post! To quote Morticia Addams: "When we're together, darling, every night is Halloween." For some of us, it is indeed!  So, I thought I'd make earrings that are fabulous crossovers for Halloween night, or, any night! ~ Can I tempt you?
Woman Of Mystery
She's a vintage reproduction of the 1920-30's, I'd say. The connectors are ceramic and were made by Kiyoi Design. I also have this same image in charms because I was so crazy in love with her. I added glamorous vintage crystals because I imagined it's something she'd love to wear. It's a wonderful color combination!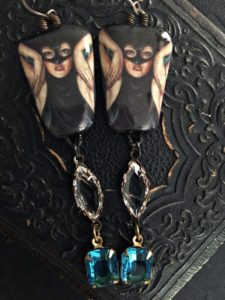 Once In A Blue Moon
These lovely bats were made by Jana Bližňáková of Happy Fish Things! I was so excited when I saw those spacious framed loops at the top! So much room to play with! The blueish /white moons are Opalite from Allegory Gallery. I wire wrapped the entire frame and added tiny AB clear Swarovski  crystals on each side. They have wonderful movement, the moon glides back and forth easily but it took a bit of engineering to get things just right.  In person they have a wonderful glow!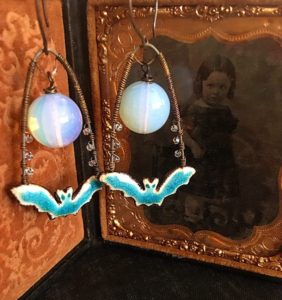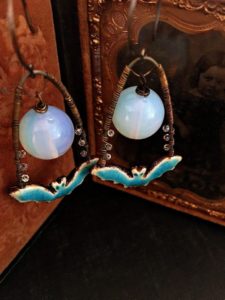 Something Wicked This Way Comes
Textured headpins by Kimberly Rogers of  Numinosity Beads. Kim always puts a generous amount of wire on her headpins which opens up so many possibilities. This time, instead of stringing or stacking the beads, I decided to make a large simple loop and carry the pattern around. I added extra wire to the base for extra thickness and continuity. The headpins, although substantial, are made from very light polymer clay.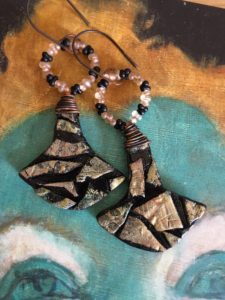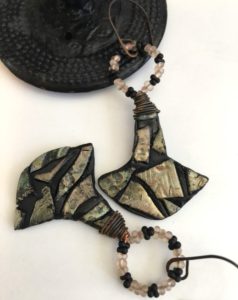 Trouble Maker
One of my most favorite charms by Kathrin Kneidl of Donnaperlinplin. I don't normally redo designs but I loved these so much that I did! The most perfect spacers by Heather Powers of Humblebeads, which lends the beautiful pattern to this Gothic pair. To soften the look I added a couple of peeled, mellow, vintage glass pearls at the top.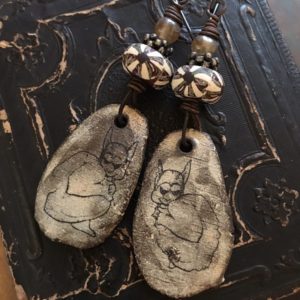 Fangs For Everything
To die for pinstripe, lampwork, spikes, by Patricia Larsen . They are beauties! I added amazing vintage Cherry Brand 'spider web' beads in glossy black, along with rhinestone spacers. This is a great example of how well mixing vintage beads with modern art-beads can work- so cool!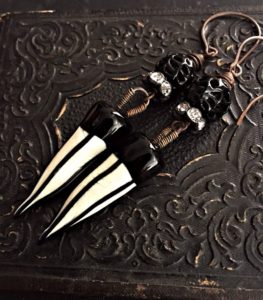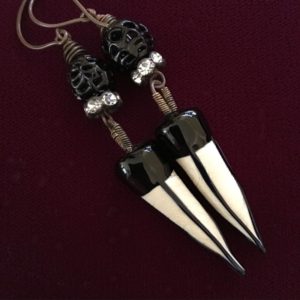 What's Up Is Down – What's Down Is Up!
Pink Skullies by Gaea Handmade and spiral discs by  Tom Grownwall. Skulls, retro candy, stripes! …it also reminds me of Beetlejuice, Beetlejuice…Beetlejuice!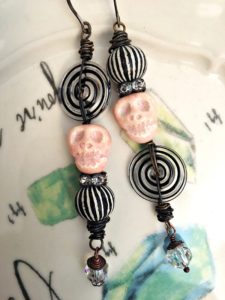 High Anxiety and just a bit Psycho
I don't know about you, but I think I could wear these every other day! The office; parent teacher conferences; traffic; holiday shopping?!! Super-duper screamers made by Petra Carpreau of Scorched Earth  and spiral discs by Tom Gronwall of Jewelweaver. I made the wire wrapping a bit gnarly for a little extra edge  😉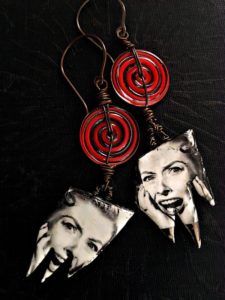 I hope you've found some designs that inspire you!  It's good to look beyond the typical themes sometimes.  I've always found that the best movie thrillers are the ones that just tweak what's "normal", just a bit, leaving more room for the imagination.
See you next month with some new things to share! This week I'm heading to Michigan for a workshop retreat on faux vintage tin that Heather Powers is hosting.  That might just be a topic of my next posting! Very excited!
Happy Haunting!  ** creaking door, shuts **
~ Loralee
Loralee Kolton Jewelry – Artful In Beads