Each week one of our contributors gives you a sneak peek into their studio, creative process or inspirations. We ask a related question of our readers and hope you'll leave comments! As an incentive, we offer a prize each week to bribe you to use that keyboard and tell us what you think. The following week a winner is chosen at random from all eligible entries.
*********
Hello all! It's my turn at Inside the Studio once again – I have had to search back to see what I posted about last time, and even though it was a mere 2 months back, SO much has happened since then for me! I've had a jam-packed summer. Having said that, I kind of told you all about that in my last post – in a 'what's coming up for me next' kind of way. 3 weeks of contemporary opera down in England – check. 3 week craft fair back home in Edinburgh – check. Making lots of jewellery and not getting enough sleep – check!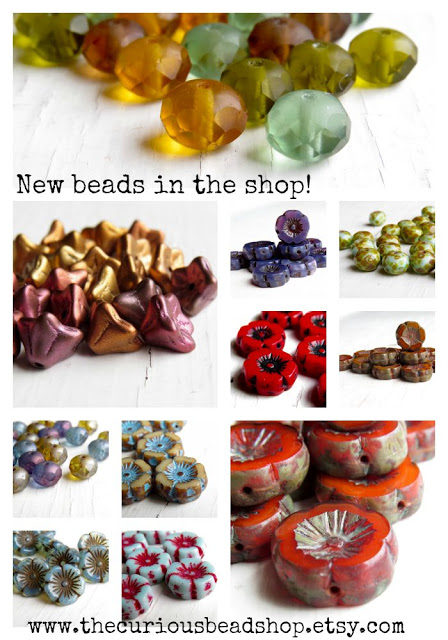 I'm ready for Autumn colours if not Autumnal weather – can you tell?!
But rather than rehash all of the past few months, I thought I'd, again, give you a sort of preview of what's coming up for me. I thought I'd share with you some of the rather delicious art beads which I've treated myself to over the past month or so. I always do slightly indulge during the fair – it's the time of year when I sell the most jewellery and so it feels sort of justified. Right? (Right?!) It was also a pretty tough 7 week schedule for me and so I figured I deserved a treat or seven…And really, who doesn't like a bead eye candy post?
Yep, I kind of went to town, didn't I?! Let's just hope I can turn it into jewellery! It's nice to have a good old splurge once in a while.