As I mentioned in my last post, the lack of color in this Journey's inspiration artwork by Aubrey Beardsley posed a creative challenge for me. Yes, I could have stuck more to the Art Nouveau and floral motifs, but these Art Journeys are all about stretching myself out of my comfort zone! As an added bonus, this means I'm creating some more neutral designs to offset the riot of color elsewhere in my jewelry collections.
While I did have a decent number of art bead possiblities, what I didn't have was a ton of time. With a trip to Walt Disney World with my hubby, the Bead Cruise, and some personal things going on, I didn't have much time at my bead table… but I did manage a few new designs to share today!
---
The first thing that I made for this Journey is a necklace featuring a ceramic keyhole pendant by Melanie Brooks of Earthenwood Studios that I've had in my stash since my early days of making jewelry. (Technically it's an escutcheon but I'll go with keyhole for ease!) As luck would have it, I received a package from my friend Anna Pierson of Saga Hus that included the perfect pair of sari silk cocoon beads to go with the pendant. From there it was pretty quick making some other bead choices to round out the design.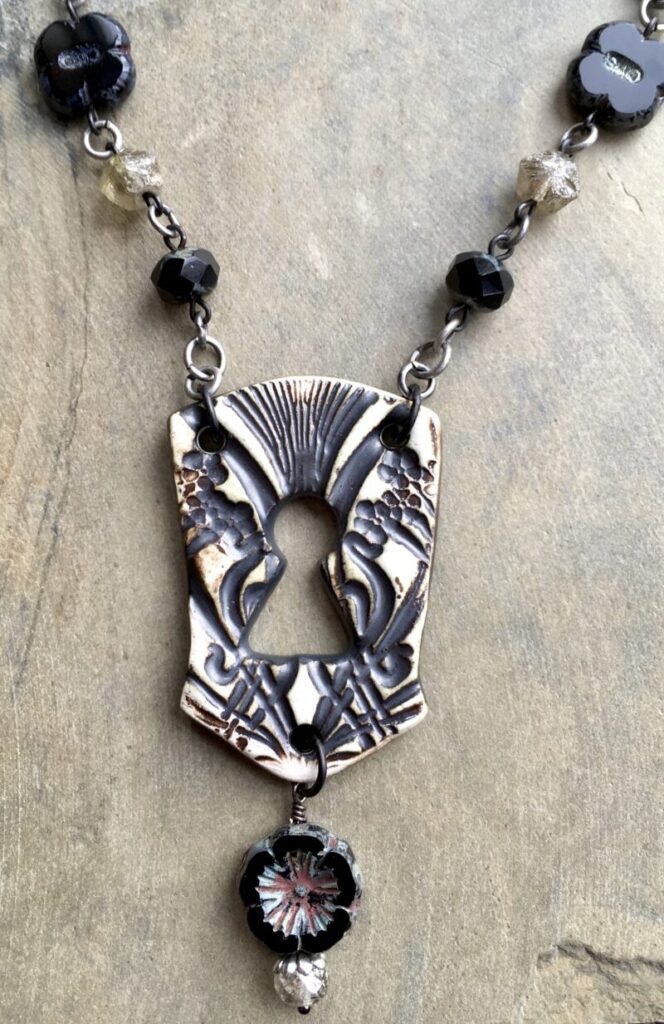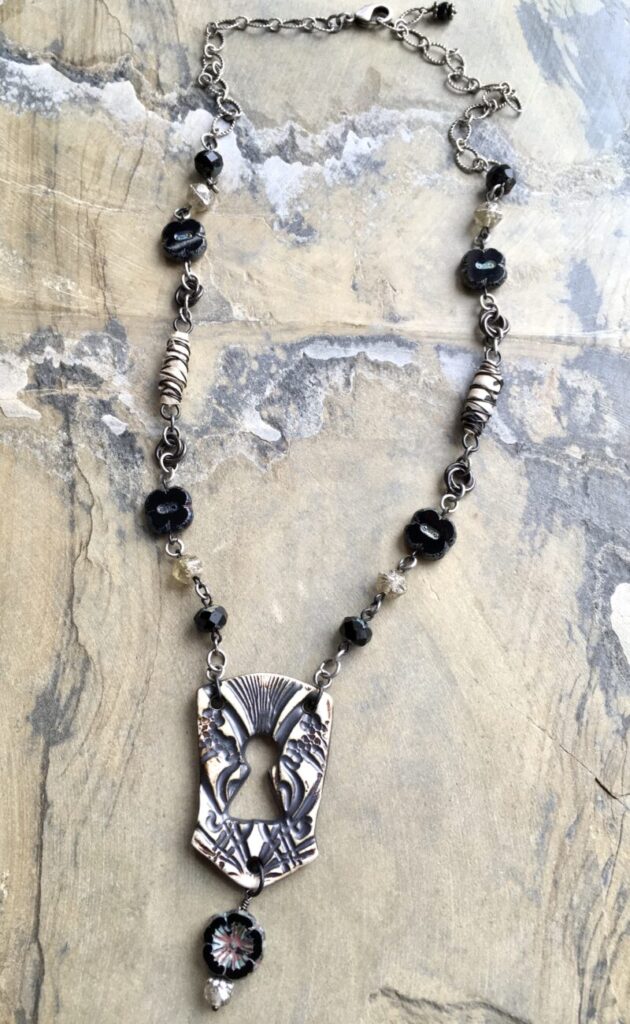 ---
Shockingly, I actually made a couple of pairs of earrings too! This first pair is a little bigger than I usually make, but the charms and most of the beads are polymer clay which keeps them SUPER lightweight. The charms are from Areto and are paired with disc beads from our own Heather Powers of Humblebeads and some Czech glass. Shockingly, I actually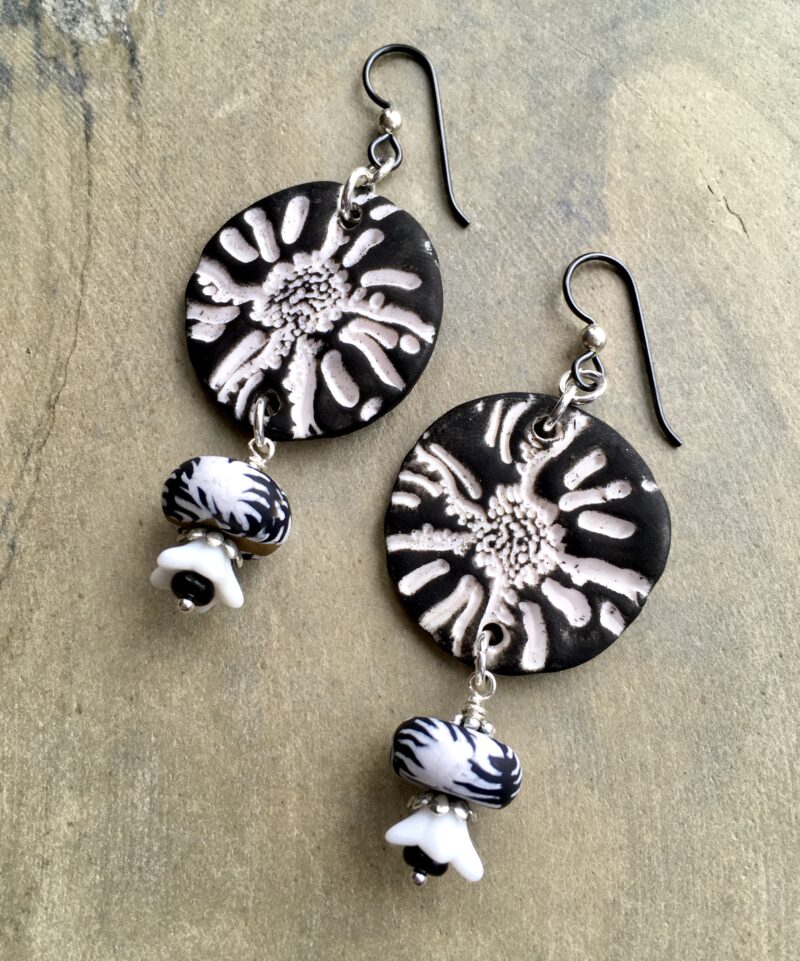 My second set of earrings also has some of Heather's disc beads (and some more Czech glass flowers… but that's where the similarity ends! The star of this show are the lovely chocolate clay floral charms by Golem Design Studio. Blackened findings and black niobium ear wires with antiqued copper accents seemed like the best complement to this subdued design.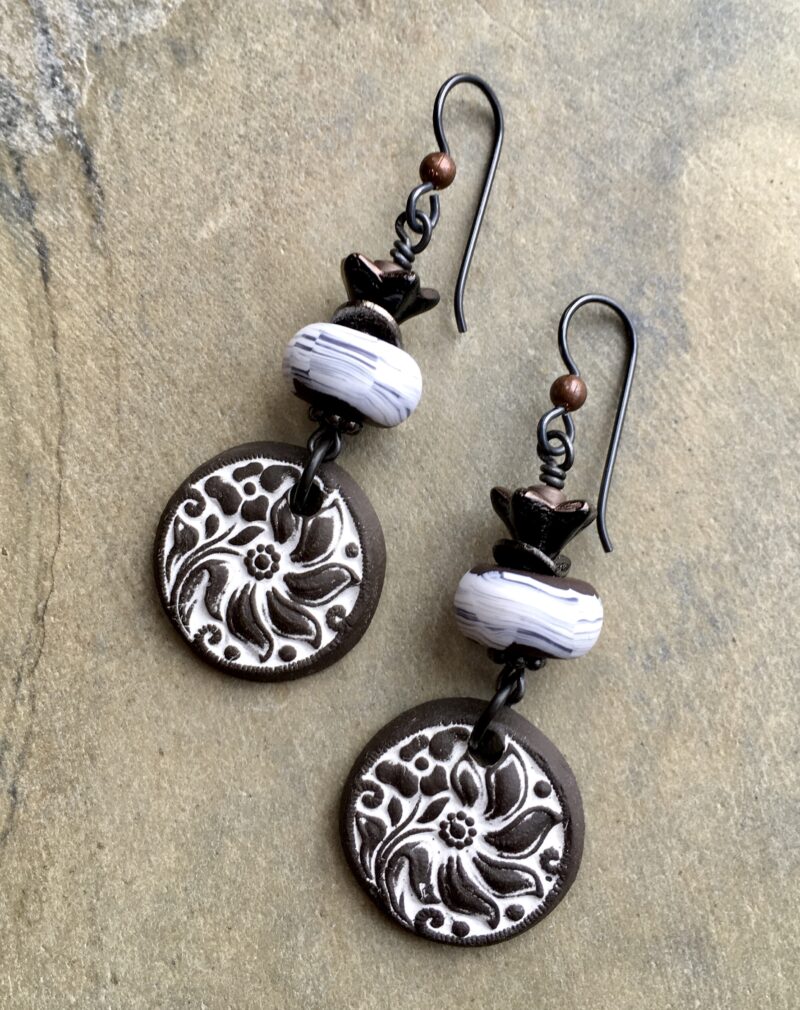 ---
I hope that you enjoyed seeing what I've been up to for this Art Journey! I can't wait to see what you all make. Don't forget to add your creations for Art Journey 1 over in the dedicated album in the Art Bead Scene Lounge Facebook Group. Check out / join the group HERE.
---
Sarajo Wentling, Your Monday Muse