Happy Monday! I hope you all have been enjoying some wonderful holiday times with those near and dear to you. I know I have! Despite lots of socializing, cooking, and eating and just a tiny bit of work outside the house, I did get in some creative time. Apparently my muse wasn't quite done with this last Art Journey of 2019. When I sat down at my bead table Christmas Eve, I had to make a couple more snowy designs! Let me show you what I've been up to!
---
Birds and Fruit in Snow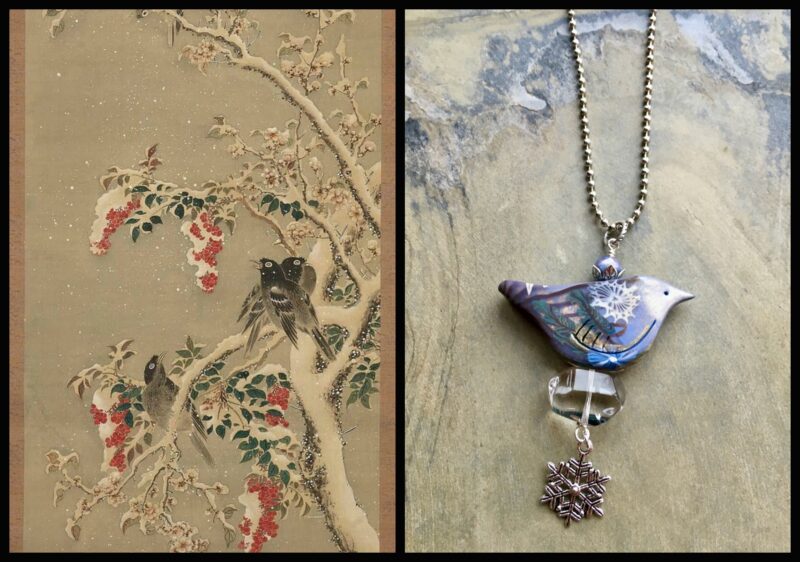 I just couldn't pass up the chance to make a snowy bird necklace with one of Heather Powers' amazing polymer clay birds. (As always you can find her goodies on her Humblebeads page HERE.) I love how the design looks like a snowflake at the top center of the birdie. I had picked up a few snowflake charms from my local bead store that I thought would work nicely as the dangle for my pendant. To continue the snowy winter theme I picked out a nice chunk of rock crystal for the bird to perch upon! A long silver plated ball chain allows this little guy to be slipped right over your head.
---
Evening Snow at Asakusa
I finally got around to creating something for the second piece of inspiration art. Somehow I got super inspired at the final hour and set about making several pairs of earrings inspired by Evening Snow at Asakusa and it's bright blue swath of color. All of these designs focus on the multiple patterns of the kimono and that bright blue instead of the snowy elements. Now I feel complete having made something for each of the inspiration pieces.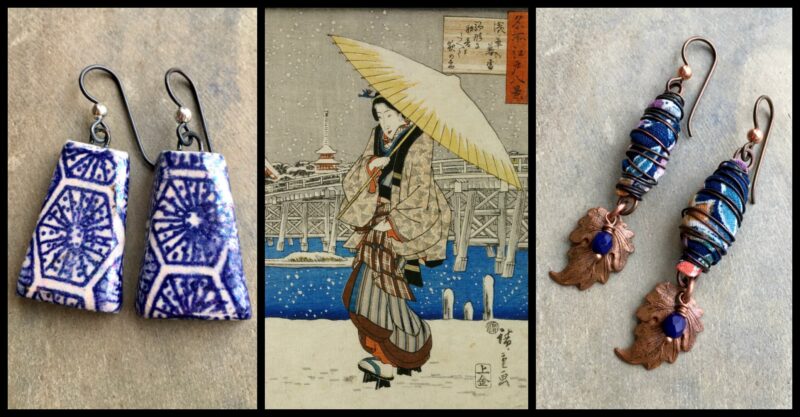 The first thing I made in this burst of activity is by far the most simple… way more simple than I normally do. The charms in the lefthand pair by Kiyoi Design were relatively weighty and fairly busy. I thought they really stood on their own and didn't need further embellishment. The picture doesn't do them justice but they have a lovely iridescent sheen to them! The pair on the right features some fun patterned cocoon beads by my friend Anna Pierson of Saga Hus. Instead of just having the copper charms at the bottom of the cocoons, I brought in an extra pop of blue with some small Czech glass beads in a great matte navy.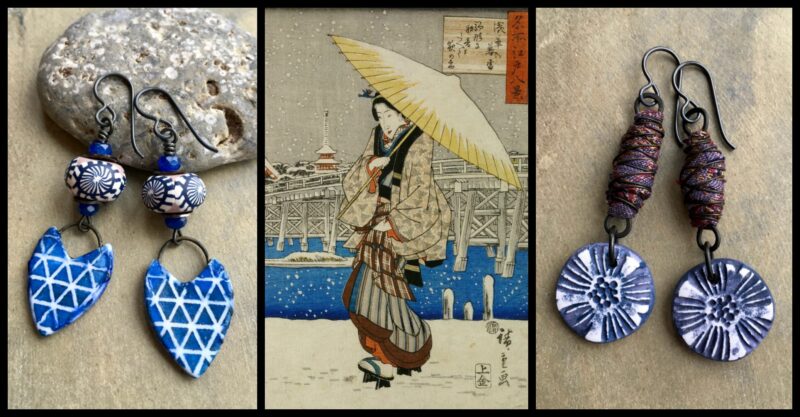 The lefthand pair in this set may be my favorite creation this time! I really love how it all came together. The ceramic charms are from my fellow ABS team member Terri DelSignore of Artisticaos. The blue and white pattern was so striking and the color very close to the water's. To complement the charms and play with the layers of pattern in the kimono, I picked some really fun polymer clay discs from Humblebeads making this a serious ABS collaboration piece! The pair on the left again features some fun cocoons from Saga Hus coordinated with blue and white charms from Humblebeads.
---
Snow at Zojoji Temple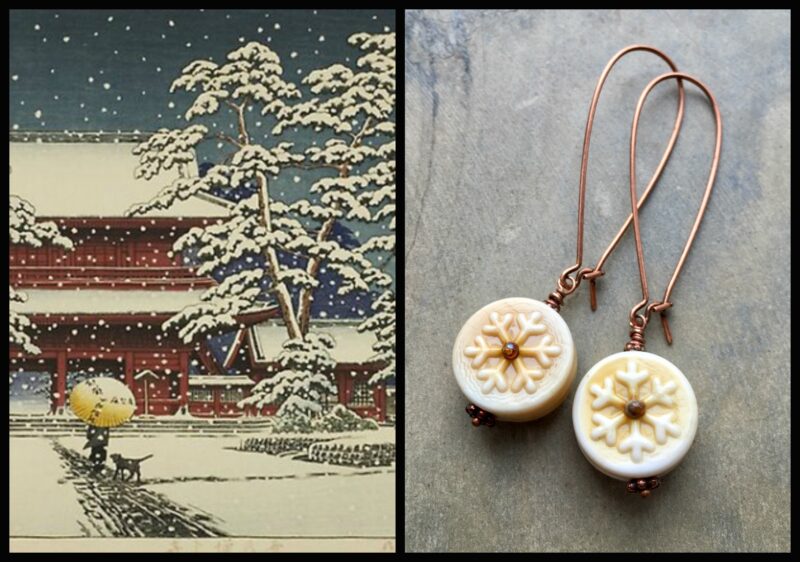 Last but not least… I had actually shared these Donna Millard snowflake beads in my Art Bead Inspiration post earlier in this journey, totally forgetting that I had a pair in my stash! As often happens in my oh-so-not-organized world, I rediscovered them while looking for something else. I whipped up a simple pair of earrings which have already blown off to a new home. I just added a couple of copper plated beads and let the lampwork shine. I really love how the color of the shape of these beads mimics the umbrella in the inspiration artwork in addition to being snow themed.
---
I hope that this Art Journey has inspired you to get creative too! You still have until tomorrow to submit your designs for a chance to win a fun prize package. May the odds ever be in your favor as we head into a shiny new year!
---
Sarajo Wentling, Your Monday Muse