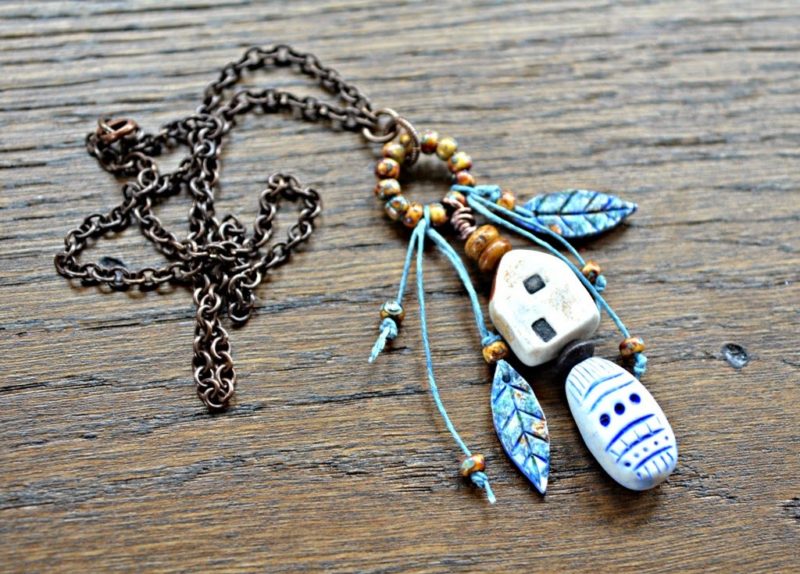 The adventure that Emily Carr embarked on in the wild woods of the remote landscape of British Columbia intrigued Miss Karen of Ditsy Blue so much that she made all the main beads in her totem talisman style necklace to reflect this rich historical inspiration. Blue and white carved headpins, the tiny house and the added touch of the simple feathers all tied together on a linen cord with some earthy Czech glass beads make for a wonderful interpretation of the Haida Totems art for March.

~~~~~~~~~~~~~~~~~~~~~~~~~~~~~~~~~~~~
Just a friendly reminder… We
have a slightly new format for uploading your pictures for consideration
for the Perfect Pairings each Wednesday, as well as the Monthly
Challenge Recap post.
We are now using Pinterest!
You can find more details in this post about the exciting new changes
, including a board devoted to art beads inspired by the monthly challenge! (Ooh! Look! More pretty beads to lust after!)
Pretty please make sure that you post a
link in your Pinterest description so that I have someplace to attribute
the picture to! And don't forget to tell us about those art beads!
Deadline to get
your pictures posted to the Pinterest boards for the creation of the
Monthly Challenge Recap post is Thursday, March 26th!