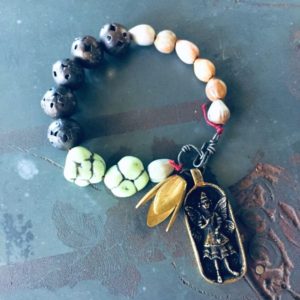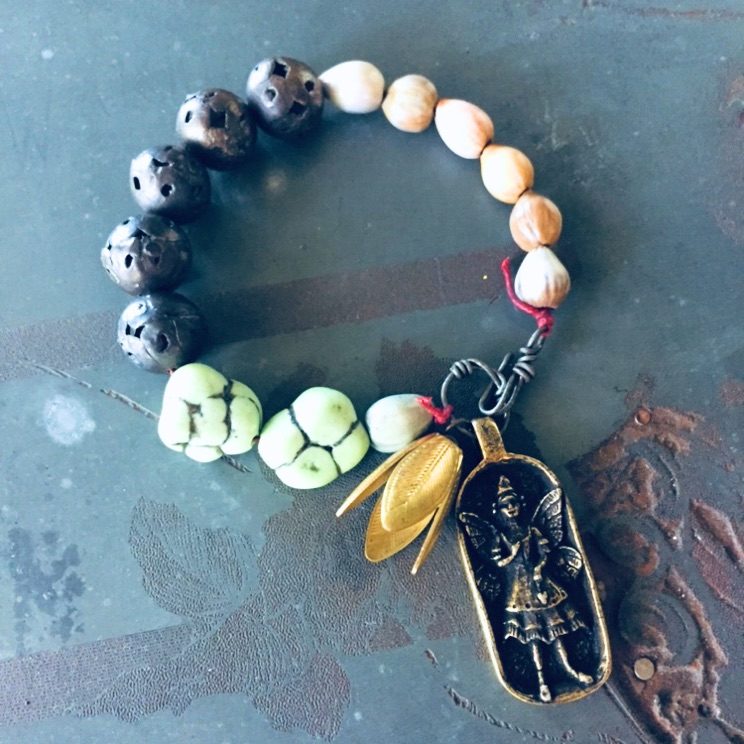 Do you remember that excited feeling in second grade when it was time for art class? Blank canvas, no fear, time to make something beautiful. While music class felt like it lasted two winters, art class always ended too soon.
Creating pieces inspired by Joseph Cornell was the easiest and funnest journey for me yet. I got out pretty bits from my studio stashes (depraved pillaging has got to be the best part of creating) and made three pieces before I took a break. I felt free. Unfettered by design constraints, just stringing and assembling til I loved what I made. It was what studio time should feel like – art class as a kid!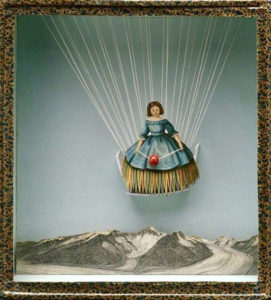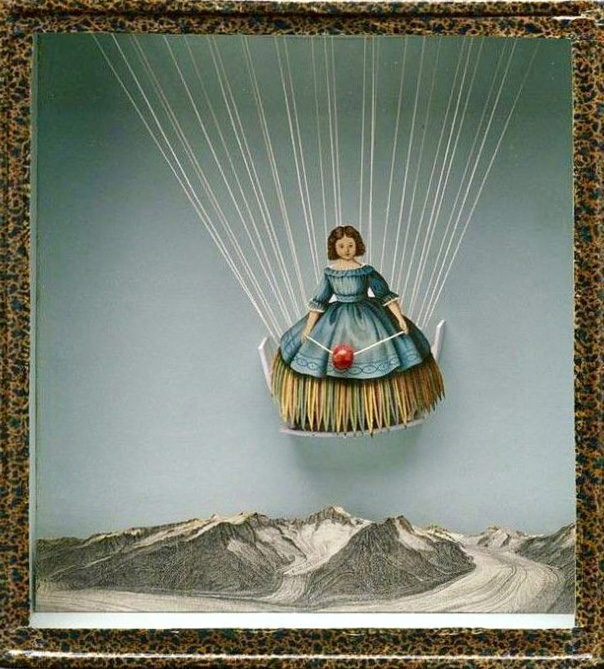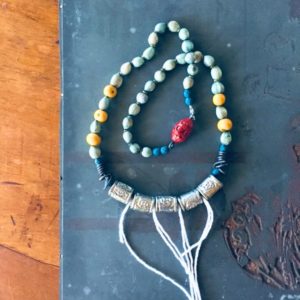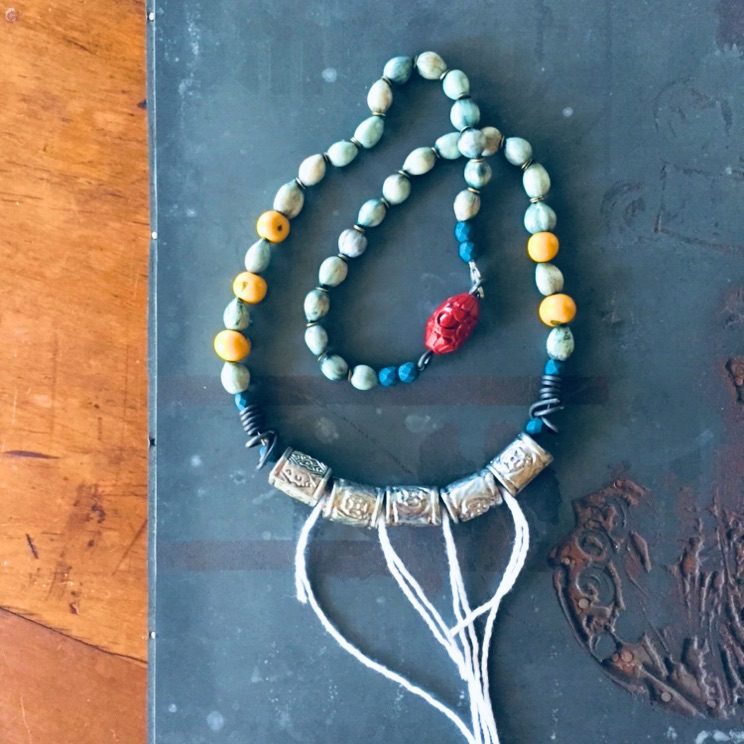 For this first piece, I borrowed the serene-circus color palette of Tilly Losch along with the a literal interpretation of strings. I used my beloved blue-dyed panyas (Job's Tears) for the base, accented with acai beads for a pop of ochre yellow, along with Indian hollow metal barrels. (I promise not to use panyas for the next journey. Nope. 'Shan't make that promise.) Heavy gauge annealed wire makes for sloppy wrapped beads – a nod to my first published design when I used sloppy-wrapped wire to cover a poorly executed crimp! – and white cotton string mirrors Tilly's suspension get-up.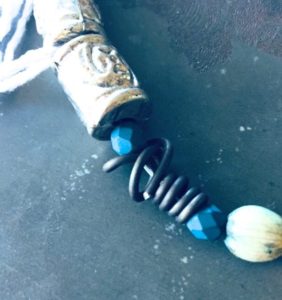 Close up detail of annealed sloppy wire beads.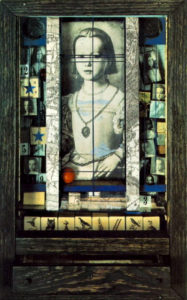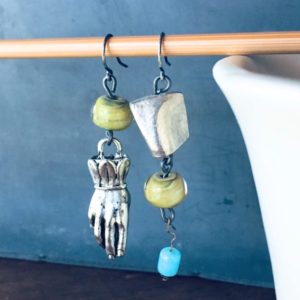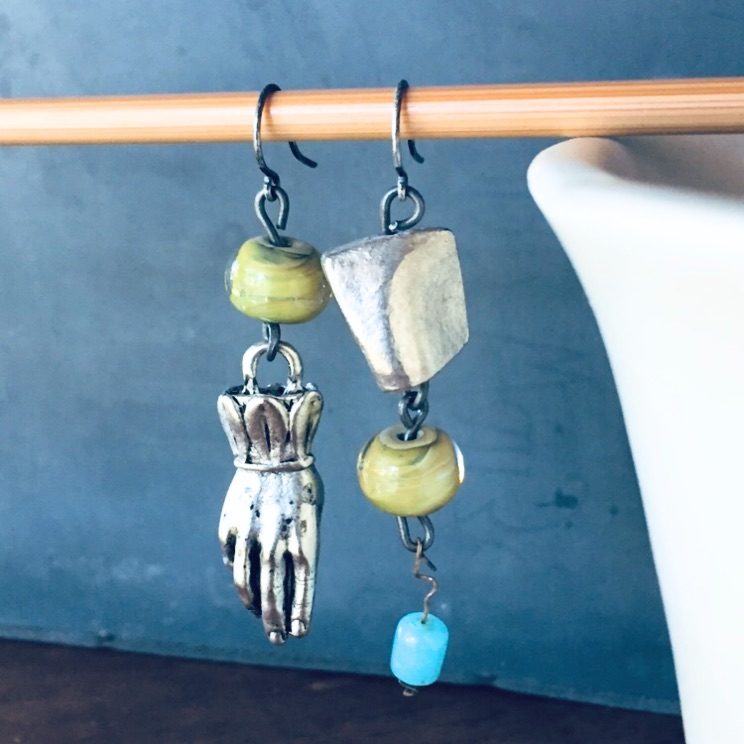 Inspired by Medici Princess, these earrings combine classic elements – a simple hand element by Green Girl Studios – with a dynamic composition that copies the busy borders of this piece. I don't usually do asymmetrical earrings but it sure felt right here; the unexpected arrangement plays with Cornell's free assembly style. Lampwork rondelles by Unicorne Beads.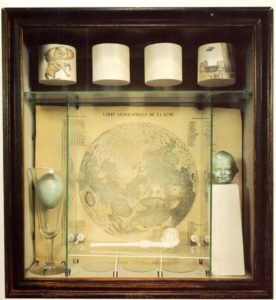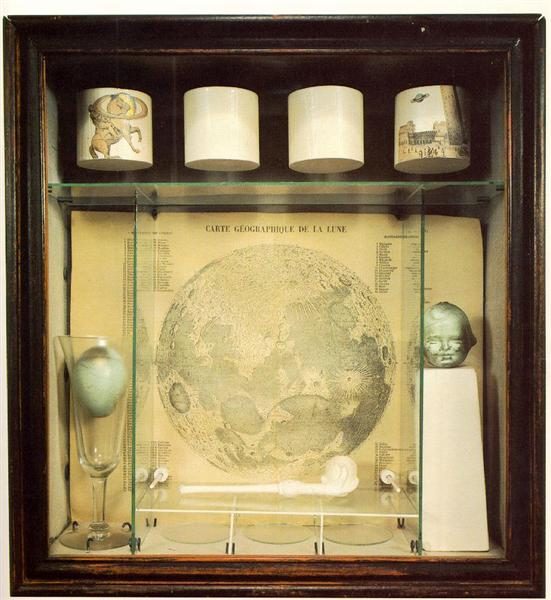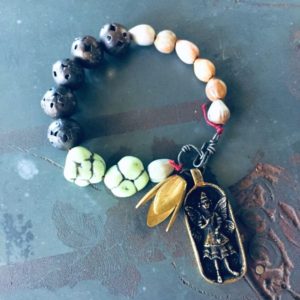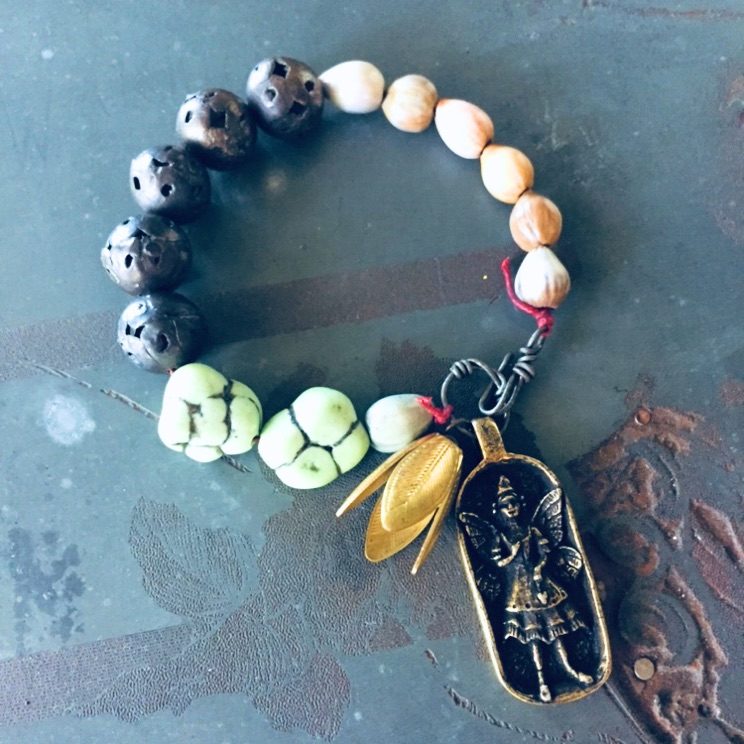 The bracelet I made for Cornell's Soap Bubble Set was my favorite, I think. Green Girl Studios' Thousand Wishes Fairy pendant was an easy starting point, to which I added vintage blackened silver coin metal beads, lumpy apple-green howlite nuggets and a raw brass flower bead cap. I hand-wrapped a quick wire clasp from annealed wire to match those pretty coin metal beads. Yum.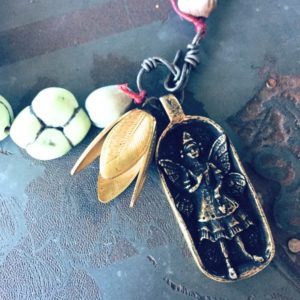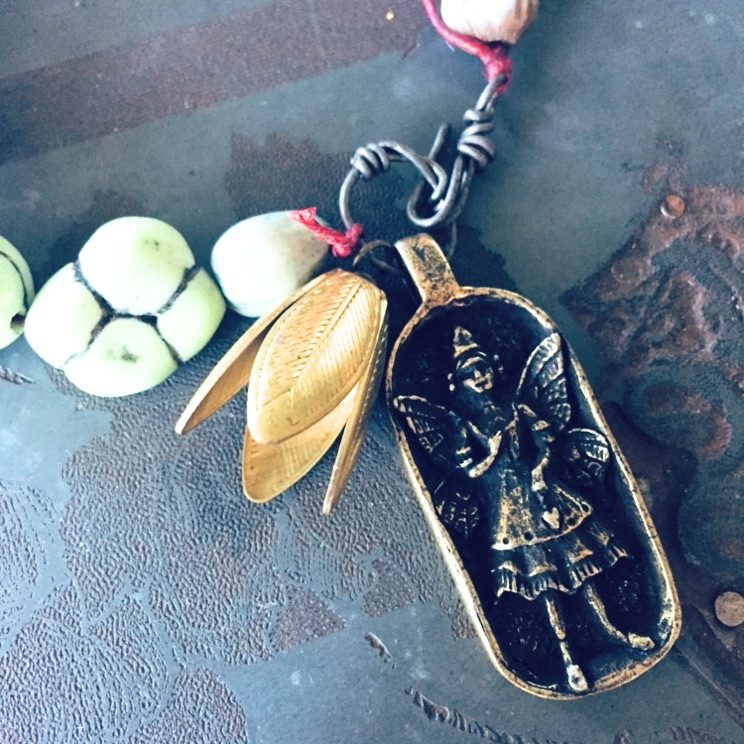 Close-up detail of Green Girl pendant.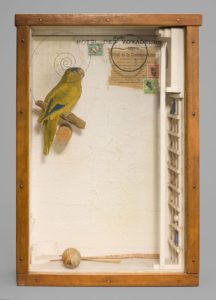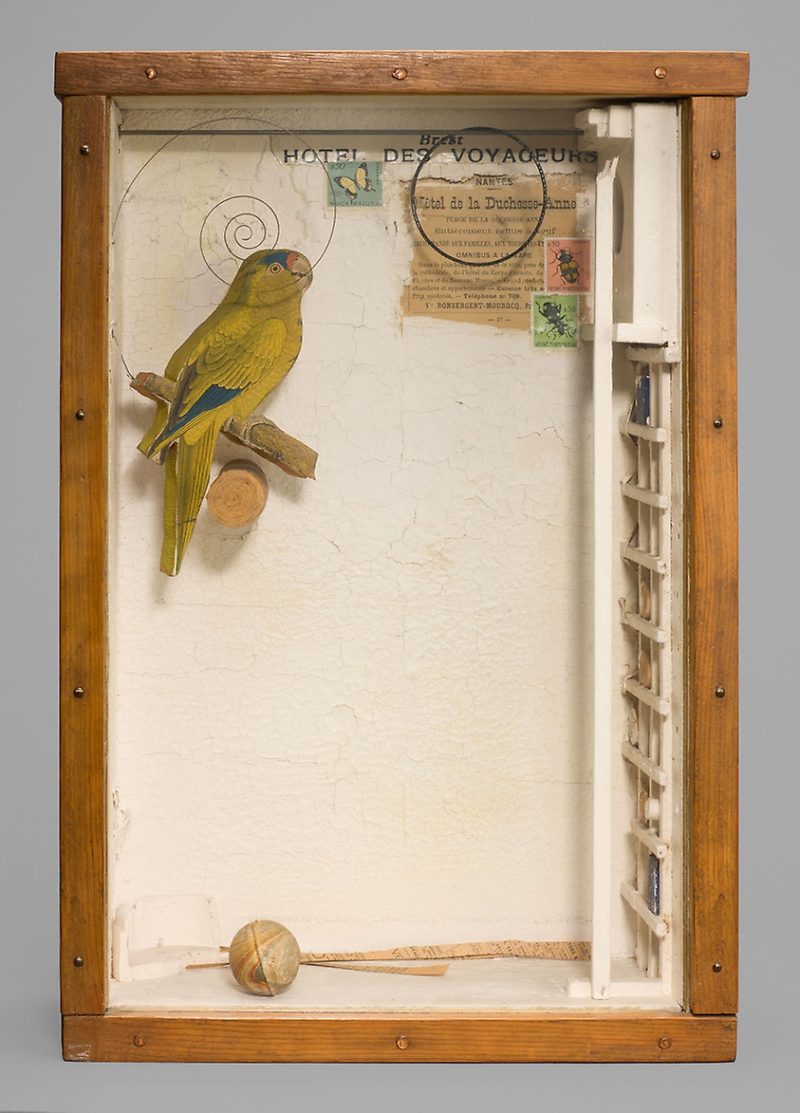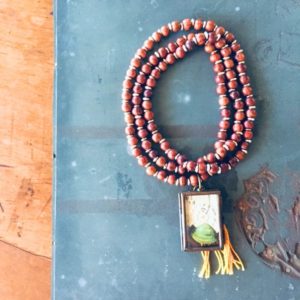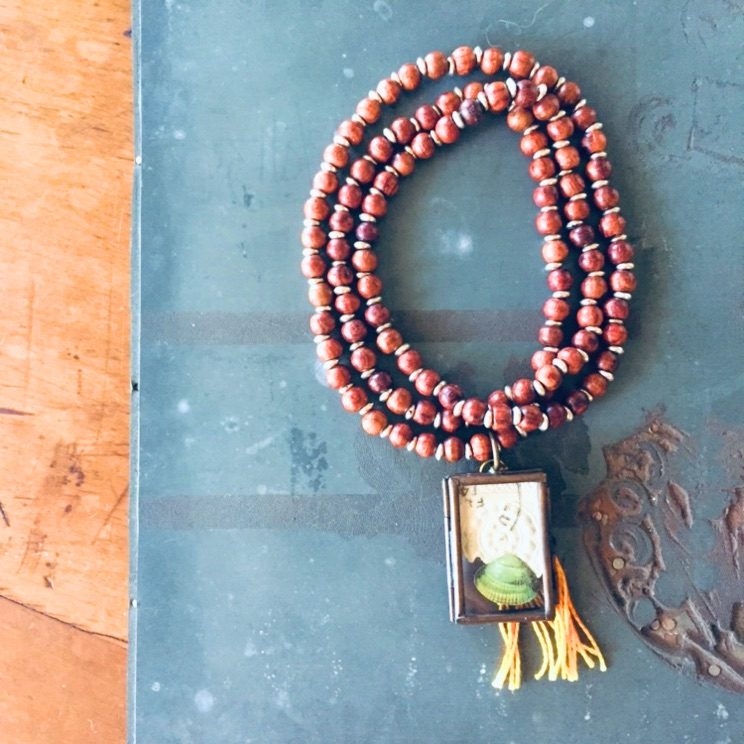 I really loved the stark composition of Hotel de la Duchesse-Anne. The negative space felt calm and the writing paper background reminded me of the cool optimism that comes with a blank page and a fresh idea. Using a glass locket pendant from HHH, I made my own collage using a bit of antique stationery and a shell sticker. The necklace is a mala-style beaded strand (with silver spacers for a little elegance). Because I needed some yellow to match that bird, I made a quick-tie tassel from yellow cotton crewel thread and painted it with an orange Crayola marker to get the hue I was going for.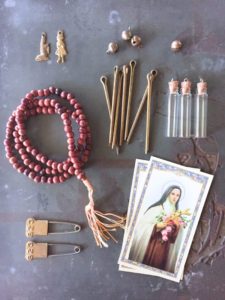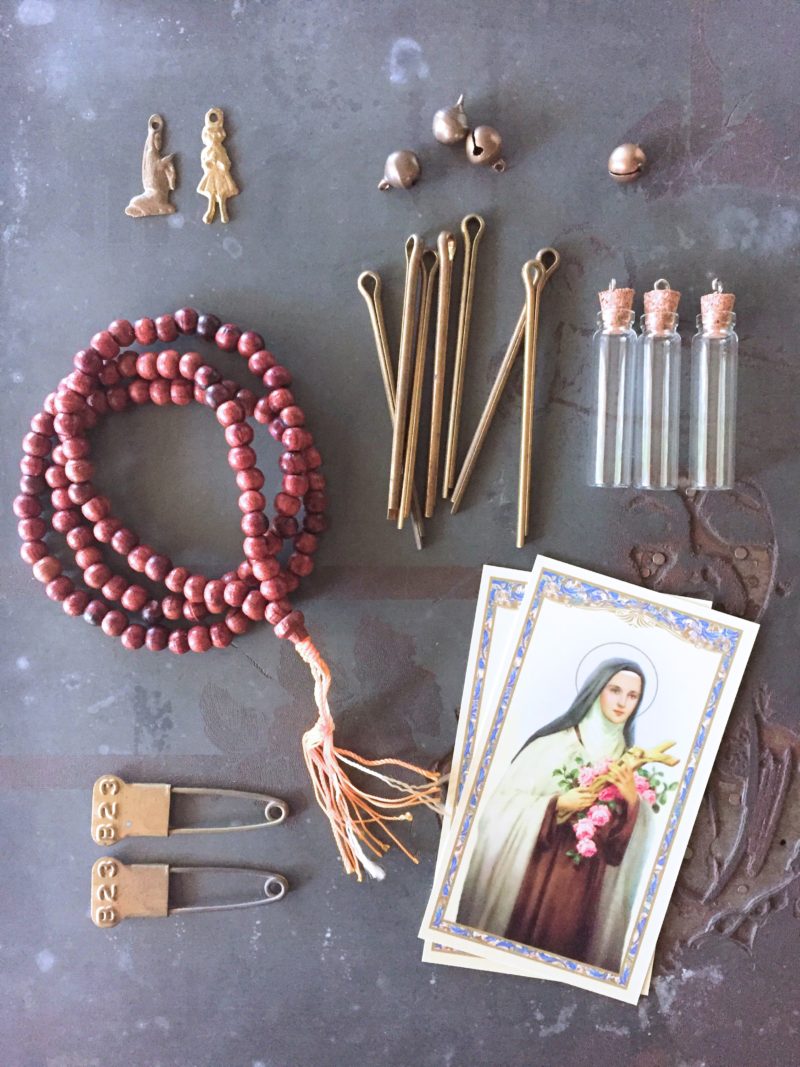 Assemblage components available at St Katherine's Supply Co.