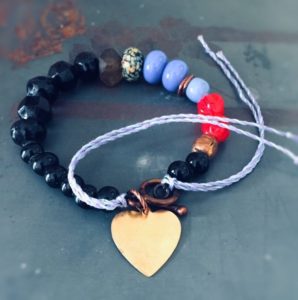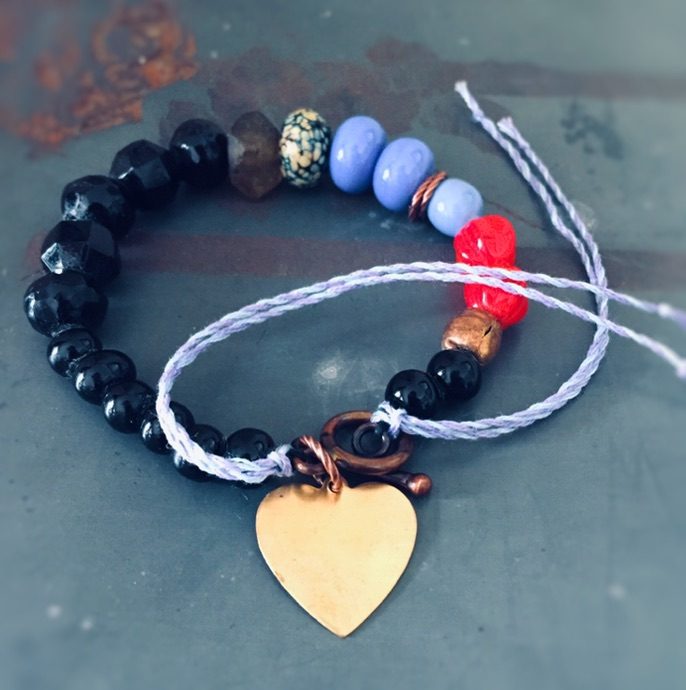 I've enjoyed this journey, studying Virginia Frances Sterrett's pieces because they're pretty, but mysterious, too. She composes her pieces with a graceful hand. The soft-lined, Art Nouveau detailing is romantic and dreamy, but bold styling makes each illustration dynamic, as well. And there's drama in each one. Each piece stages the subject against an endless background, creating an edgy, slightly anxious feel. Take "Blondine Threw Her Arms Around Him": by setting this sweet scene against such a vacuous black void, she creates drama and mystery. ("What's back there?" "What lurks?") Or look at "Proserpina and Sea Nymphs." Such a charming scene looks idyllic, except for the vast and endless ocean that stretches beyond the reef! Lovely illustrations, with each with an untold story, a certain tension.
As I gathered beads and components for this journey I noticed a color story developing on my bead tray. Periwinkle purples, cornflower blues, teal greens. A separate pile of vintage volcanic black glass. It was a cohesive, cool-toned palette. But something was missing. This was too tame, too analogous of a palette, and didn't quite reflect Sterrett's work. But what was I missing?
Red.
Just as Sterrett composes her illustrations to belie a deeper story just out of view, she uses a shock of red to stir each placid scene. I love that! So I grabbed red coral and red thread and red vintage glass to make my designs more evocative, and add an element of interest to each story.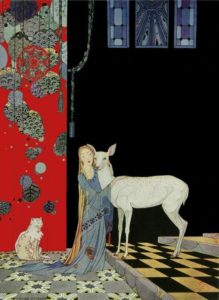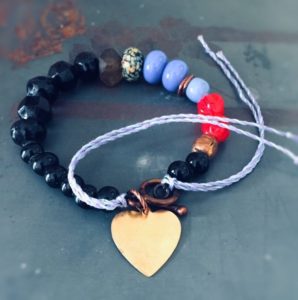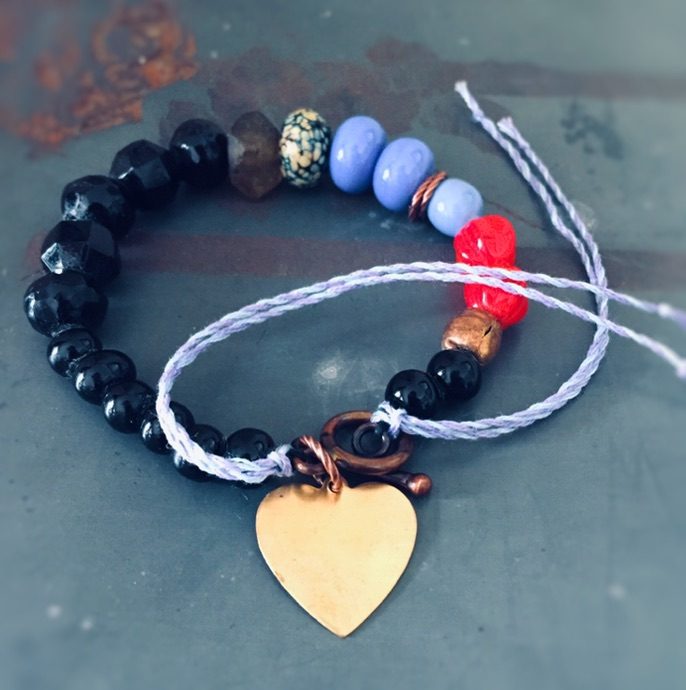 Vintage volcanic glass beads are stone-cold black like a shark's eye. To this counterpoint I added a collection of colorful lampwork rondelles by The Spacer Bead Shop. I use Vintaj raw brass heart blanks like I throw confetti: liberally. They're a bright, happy note that I love to use in my designs. As a nod to the lavender curtain cord in the illustration, I added decorative cord that I twisted from periwinkle cotton embroidery floss. Finally, Robert Jennik's copper toggle clasp gives the mark of artisanal quality and will continue to age beautifully.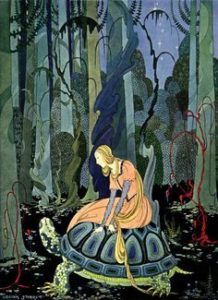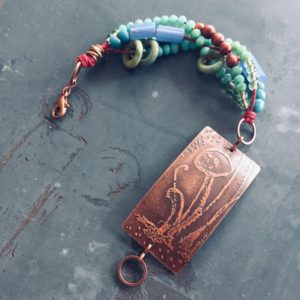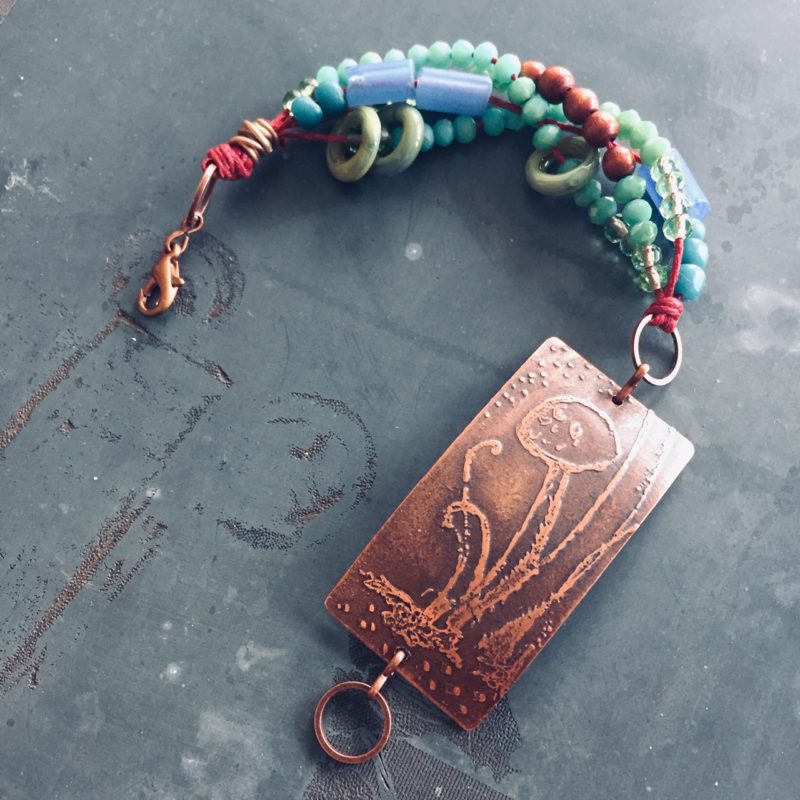 This copper bracelet link from Miya Beads does all the work in this design. I thought the mushroom motif nicely captured the forest feel of Sterrett's illustration with its soft lines and wild, organic form. African blue cane glass from Bead Paradise and celadon green glass Kazuri donuts nicely reflect the soft lines of this sylvan scene.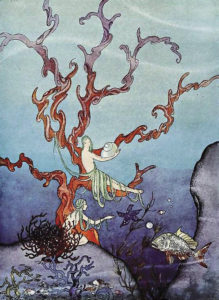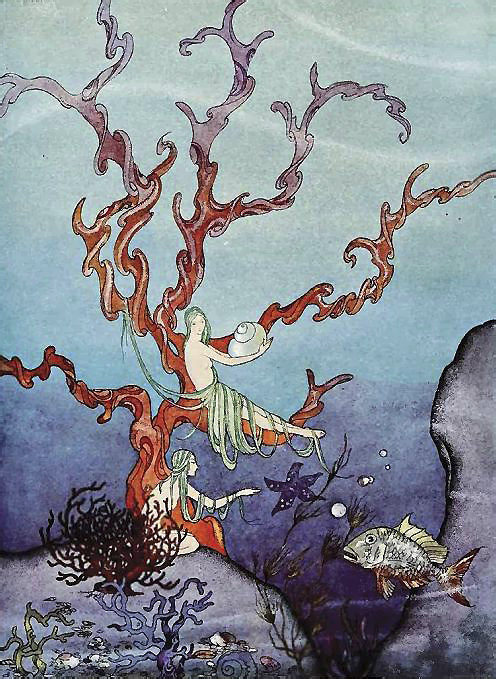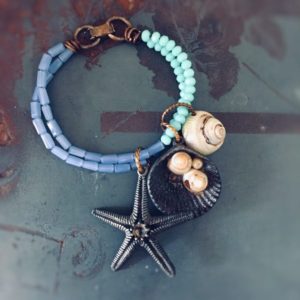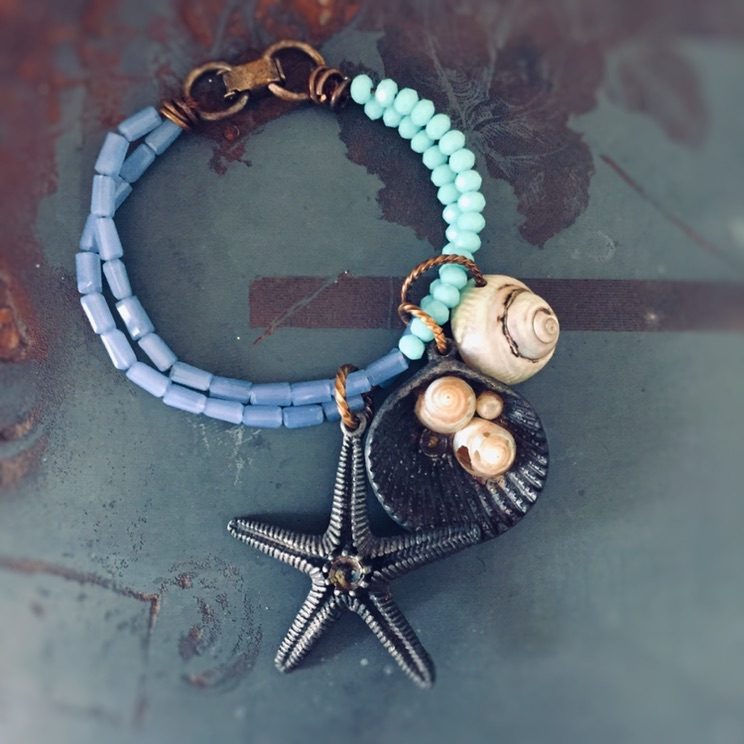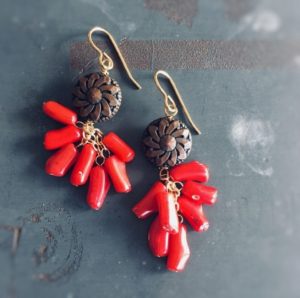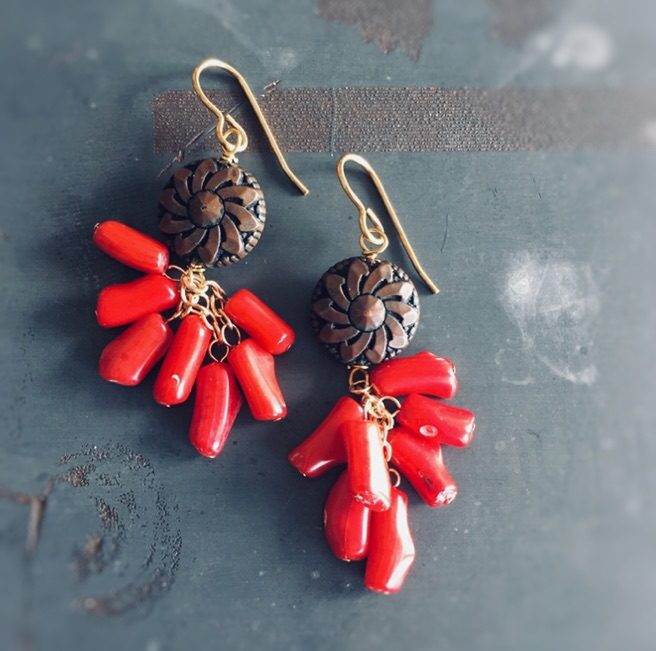 Old estate sale jewelry gives this mermaid set a cool richness, I think. The seashell charms on the bracelet came off of a charm bracelet and I wish I could recreate the metal's finish! The plating is completely worn off, revealing the bare, dark gray base metal. For the earrings I strung seven red coral nuggets on a short length of chain to make the firecracker effect I was looking for. The earrings' vintage copper beads match the vintage copper clasp on the bracelet, lending a russet warmth to each piece.
Happy Beading,
Anne