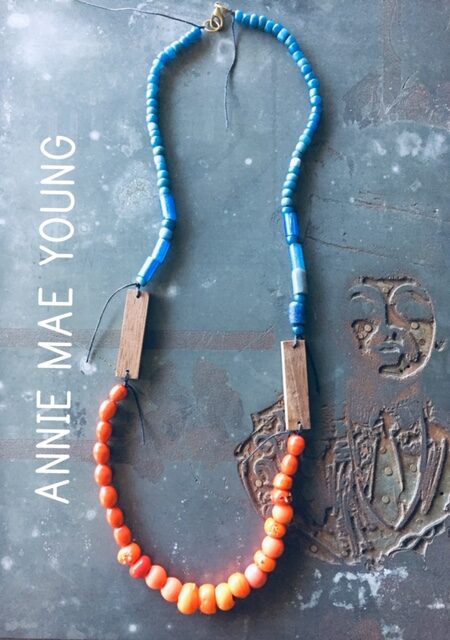 Quilters have a knack for starting with the practicality of need and available resource, and ending with art.
Quilts aren't just pretty things, they're pretty things made from fabric scraps – worn clothes, and old patches, fabric that remembers a family's history – and wrought with tired hands. One pioneer woman said it best: "I made quilts as fast as I could to keep my family warm, and as pretty as I could to keep my heart from breaking." Through this wonderfully American craft, quilters take hardship and adversity and transform it into art.
A testament of hope.
As I write this, my kids and I have been home together under quarantine for 50 days now. We miss the freedom of doing what we like, and we miss our friends. And we're making do. I'm cooking meals with staples from the back of the pantry and knitting sweaters from yarn bought long ago. So it seemed apt to work out of my bead stash for this Journey. Practical, yes, but I also wanted the extra challenge of trying to create something beautiful with what I had on hand. Like the Gee's Bend quilters did.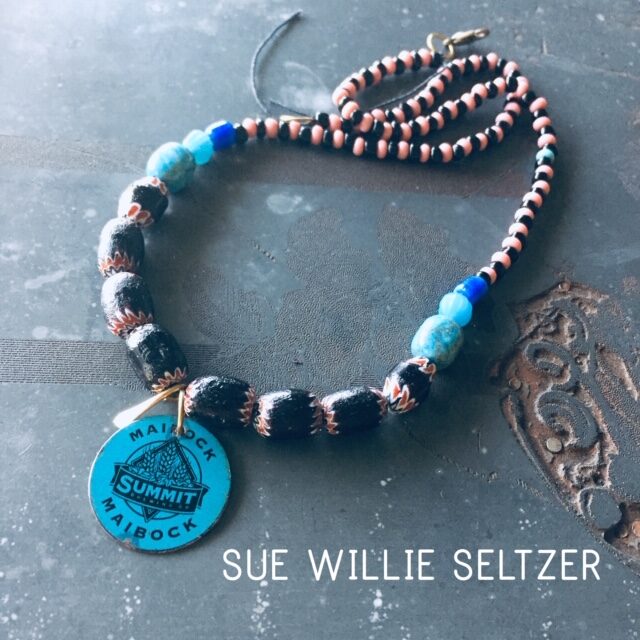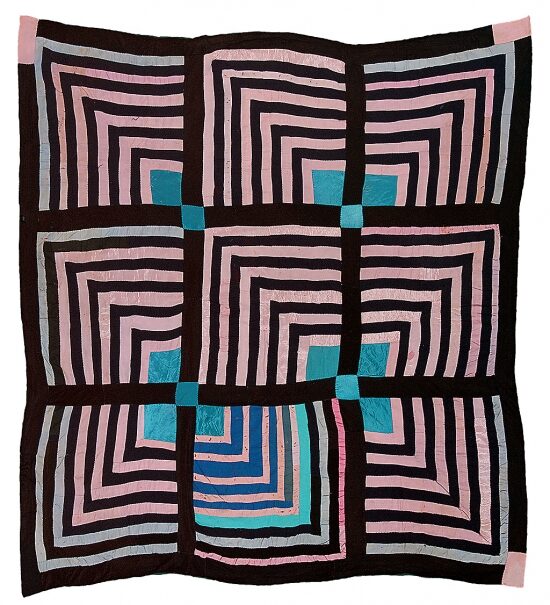 I loved the intrepid combination of petal pink and black in Sue Willie Seltzer's quilt. Using African cheyennes* and basic black seed beads, I tried for a similar checkerboard feel. Black African glass chevron beads help with the dizzying effect, and a beer cap pendant from Trinket Foundry picks up the quilt's lovely turquoise accent color.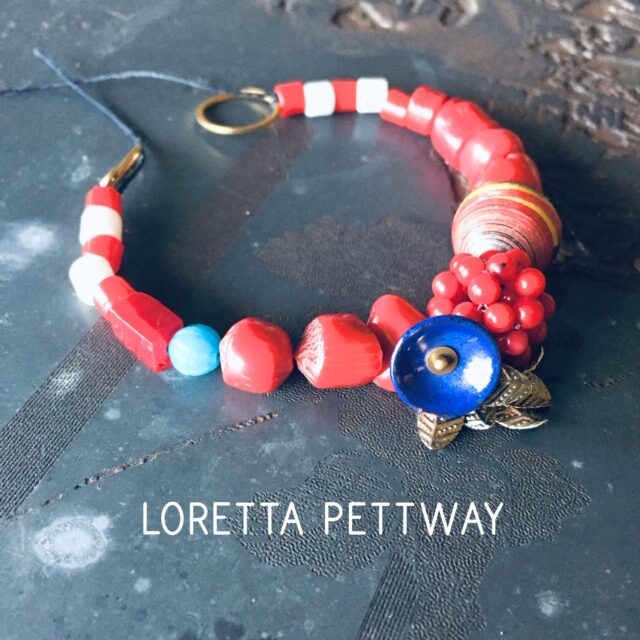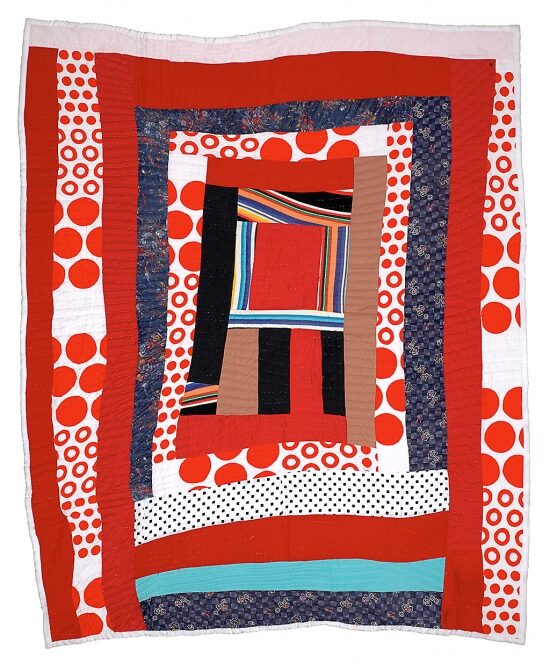 Inspired by Loretta Pettway's poppy, bubbly quilt, this bracelet was about four seconds away from becoming a charm bracelet, jingly, and bouncing all over the place. But I held back. Instead, I opted to capture the dynamic movement of this piece with an almost-gaudy collection of loud beads, set with a candy cane palette. Blue enameled bead cap (here, used as a charm) from C-Koop, along with a paper bead from Uganda, a red coral beaded bead, and vintage length of brass leaf chain all pop against a strand of red coral and vintage glass beads.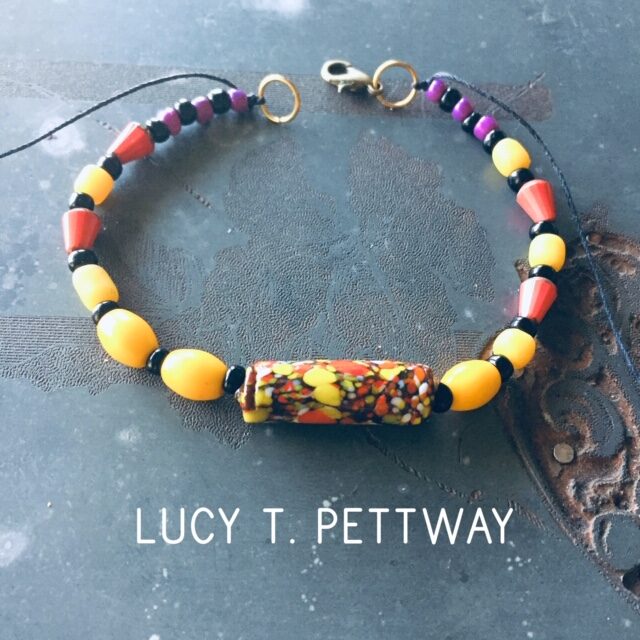 In her quilt, "Birds in the Air," Lucy T. Pettway uses a cool color palette that I don't think I've ever seen before. (Don't you love that about seeing other artists' work? Don't you love when some quilter from 100 years ago inspires a new, fresh idea in your creative brain?) To capture the look of this cool color combination, I started with a vintage tube-formed millefiori bead from The Bead Chest that picked up the black, orange, yellow and white from the quilt. Then I added in yellow Indonesian powder glass beads from Yuki Designs and yellow African barrels. Red Czech teardrops from Raven's Journey gave me some triangles while fuchsia seed beads remember the quilt's pop of purple.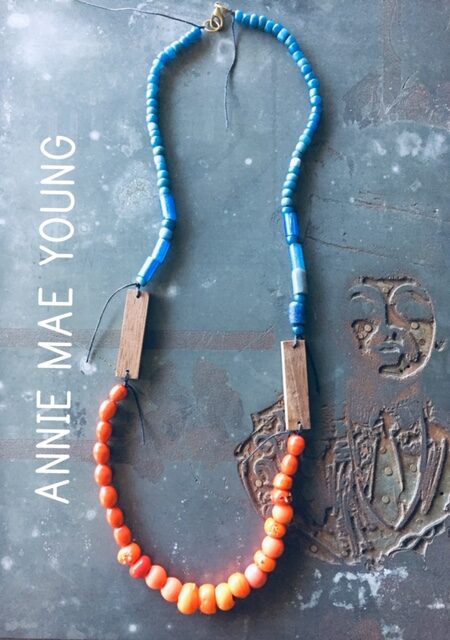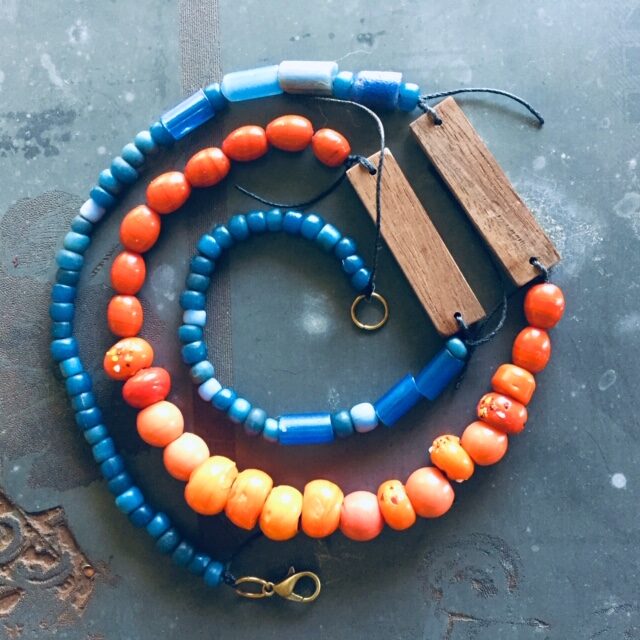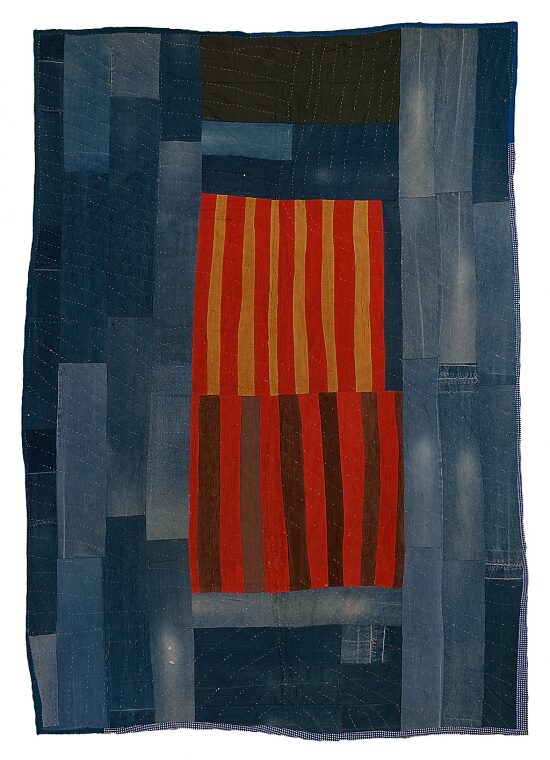 I love-love-love this quilt. This is my style, y'all. A rather straight-forward design, made rich by subtly zestful components. The bars of red and ochre absolutely sing as a focal point. While the blue jean background gets just as much attention from its varied indigo hues, and storytelling worn spots. Oh, I love this quilt! For my piece, I wanted to make a simple design from tonal beads, just as Annie Mae Young did in her quilt. I gathered every orange African glass rondelle I could find for the centerpiece. For the blue sections, I used African glass tubes, along with more Indonesian powder glass bead from Yuki Designs. And lastly, wooden rectangle links from Art Wooden Supply lend a strong linear component as in the rectangular focal of Young's design.
*all African beads from Bead Paradise.