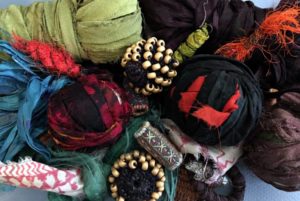 You can add so much interest and texture to your designs using textile beads!  There are numerous options, whether you make your own or purchase as finished artbeads.  Using sari silk ribbon is a favorite for many designers because of the vast variety of colors to choose from.  I purchased some of these wonderful rolled silk remnants from Artwear Elements on Etsy; they are a favorite of mine.  She sells a beautiful assortment of silks as well as unique silk tassels with her own handmade bead caps and hand oxidized wire.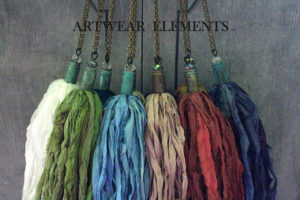 ♦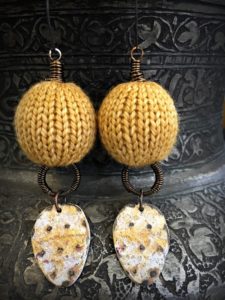 I found and purchased these great knitted beads on Facebook from artist Jenny Tabrum of KnittenJensBeads on Etsy.  I paired them with some hand finished pewter earring charms from Inviciti, which to me, although made of metal, have a textile feel unto themselves.
♦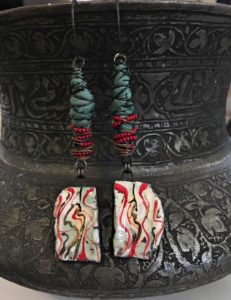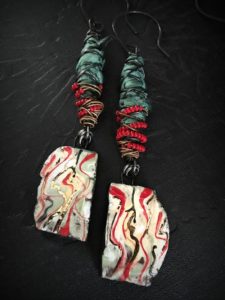 For this design I used fiber and wire wrapped "cocoons' by SagaHus in a muted dusty green.  I had these cool ceramic charms from JosephineBeads with a hint of that same green in the background.  I wanted to draw out more of the red so I added tiny Charlotte faceted beads and wire-wrapped them over the cocoons.  Along with the red and green there is also some brilliant streaks of bright gold which you can see a little better in the second photo.
♦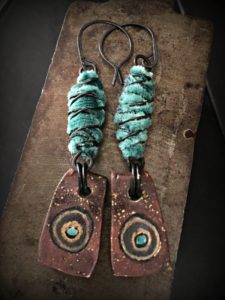 Anna of SagaHus surprised me with some fuzzy velvet teal cocoons!  I tried them with many options, but paired with Diane Hawkey charms with a rough texture, some gold and pop of bright teal, it was perfect!
♦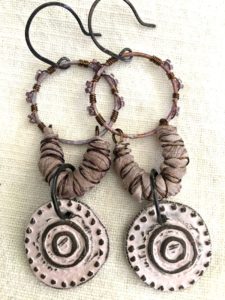 Fabric U shaped connectors, again by SagaHus, in bark…such a beautiful color!  The matte ceramic charms in an earthy pink are by NadiaTerra of Bulgaria.  I wired the top patinated copper rings and added tiny Charlotte vintage beads from the 30's.  I kept this pair monochromatic for the most part and it's very striking to me.
♦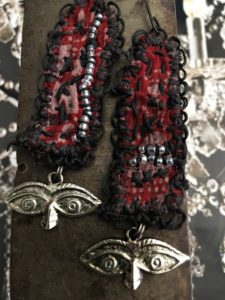 Eeeeeek, I'm so in love with these, I won't be able to part with them!  By chance I found these lovely fiber components by ShipwreckDandySupply.  They are constructed from new cotton fabric and vintage lace ribbon (on back) that's been flash-dyed, sewn with waxed black cord, black embroidery floss, clear glass seed beads.  Front fabric features stylized male and female folk people.  I simply added some milagros which kept with the folk inspired feel.  With so much amazing detail on the fabric it would have been a crime to touch them further.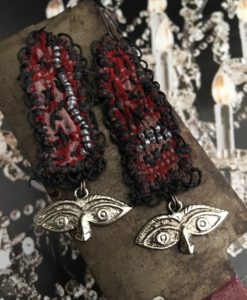 ♦
Next are a couple of earring pairs using artbeads with the impressions of fabric embedded in the crafting material.  The first pair I made last year but I thought it would be nice to show the possibilities.  Below, charms by PoppyBis, an artisan in France.  The faces are double sided and are made of bone.  Fabric wrapped Cocoon connectors by SagaHus.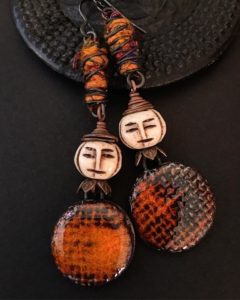 These wonderful polymer clay connectors below, were made by Jeni Houser Alasad of Auntie Moons.  One of the things I love about polymer is that even though these are sizable pieces, they are very light weight and the color variations are endless.  The lovely flowers are the work of Jana Vlckova of Efraim Ceramic Components in the Czech Republic.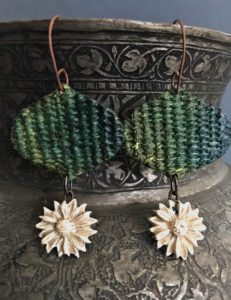 Hope you've been inspired to pull out some silk or give one of these fiber artists a try!
Thank you very much for stopping by today, and I'd love to hear your thoughts in the comment section if you have some time!
Loralee xo
Loralee Kolton ~ artful in beads