There seems to be a lot of cat-lovers in the beading world!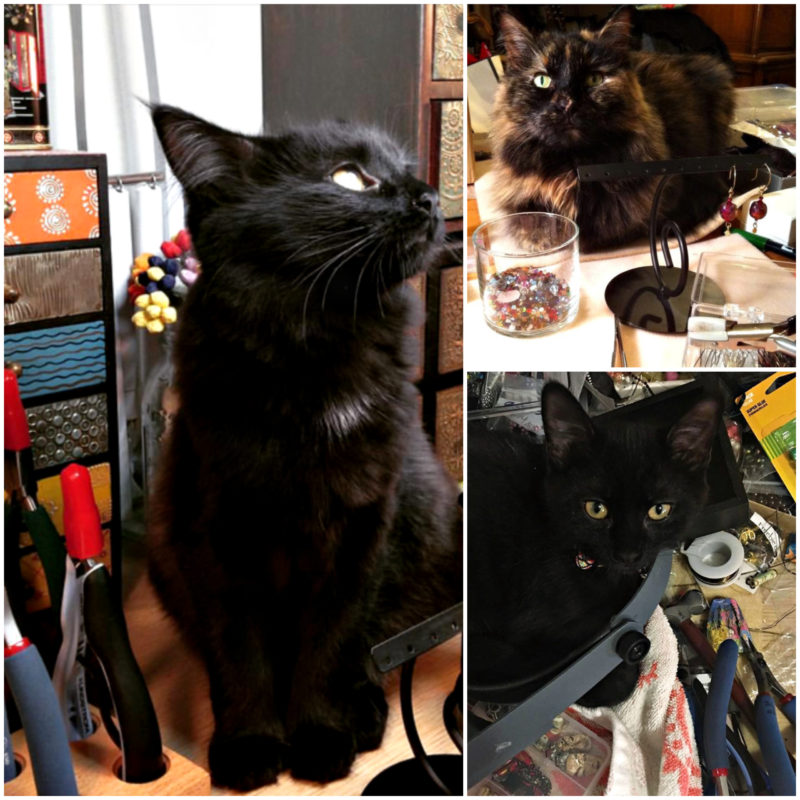 Our theme for Art Journey #7 will honor those bead-cats with art centered on the big cats: lions, leopards, panthers and tigers.
---
INSPIRATION 1 :: LION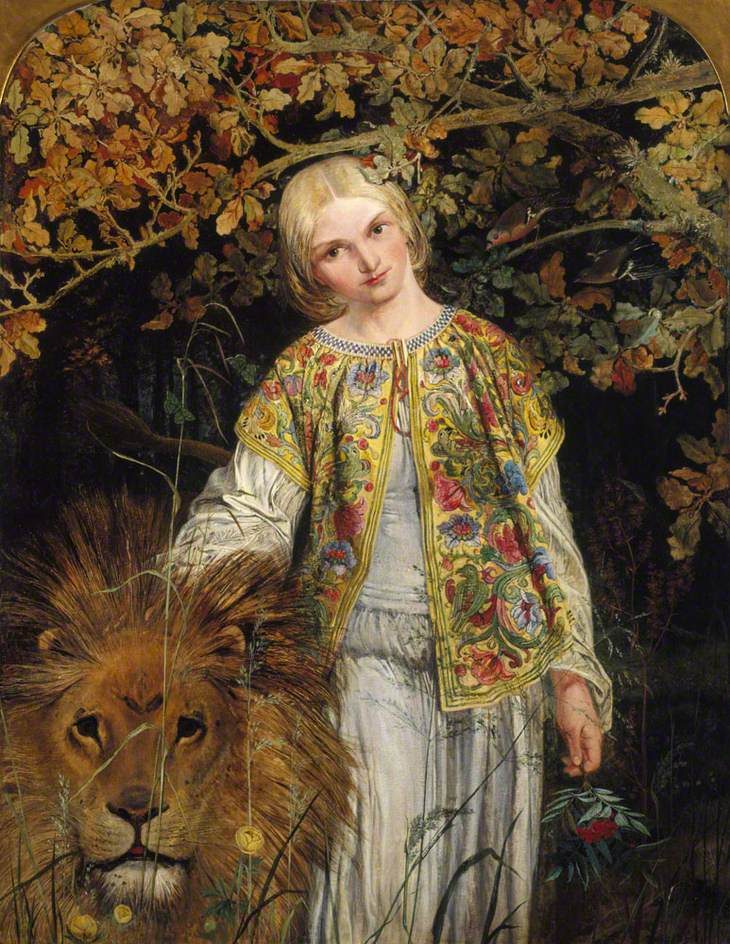 LAUNCH PAD: lion, tapestry, child/innocence, oak leaves/acorns, grasses, birds, butterflies/moths
When searching art for 2019, our resident cat-lady Loralee Kolton sent me this picture of Una and the Lion. I was immediately smitten with it… the leafy crown of oak leaves and acorns in rusty-hued glory, the charming and quietly confident face of Una, her brightly colored embroidered vest, the berries and leaves in one hand with the other resting casually in the mane of the wild-but-seemingly-tamed lion, the birds and butterflies flocking to this innocent. I wanted to know more.
This painting is inspired by an epic allegorical poem by Edmund Spenser entitled The Faerie Queene, specifically a tale by the same name as the painting. The fair princess Una was confronted by a lion who wished to eat her, but who was so struck by her beauty and innocence that he chose instead to walk with her as a faithful companion and protector, vanquishing evil that sought to harm her. The character of Una in this tale symbolizes Truth as she goes on her quest.
---
INSPIRATION 2 :: LEOPARD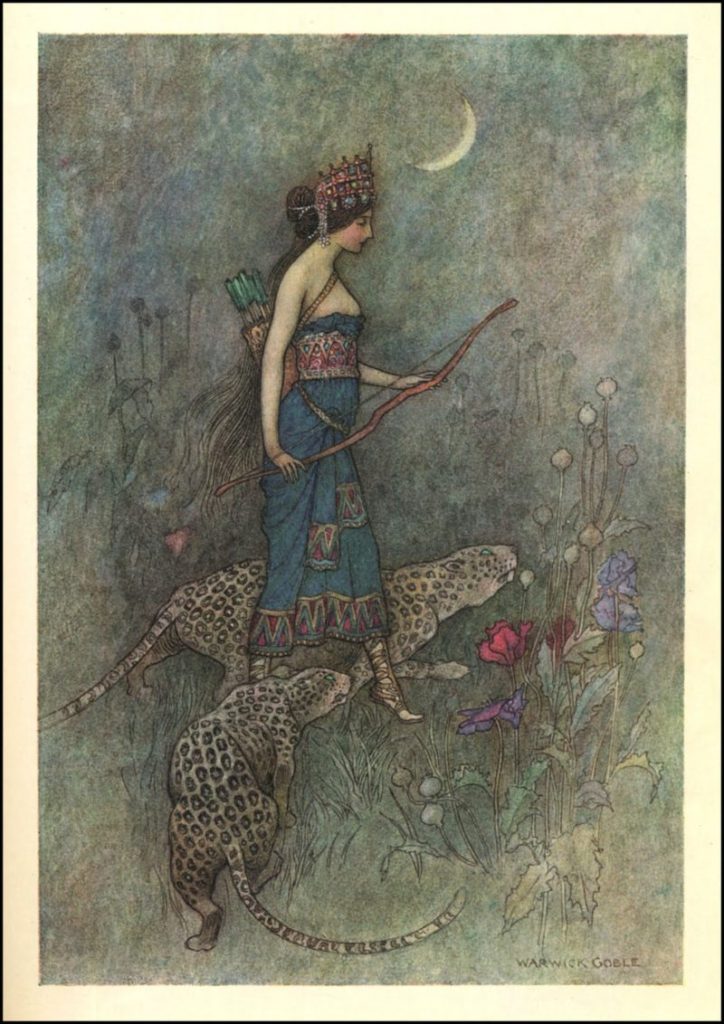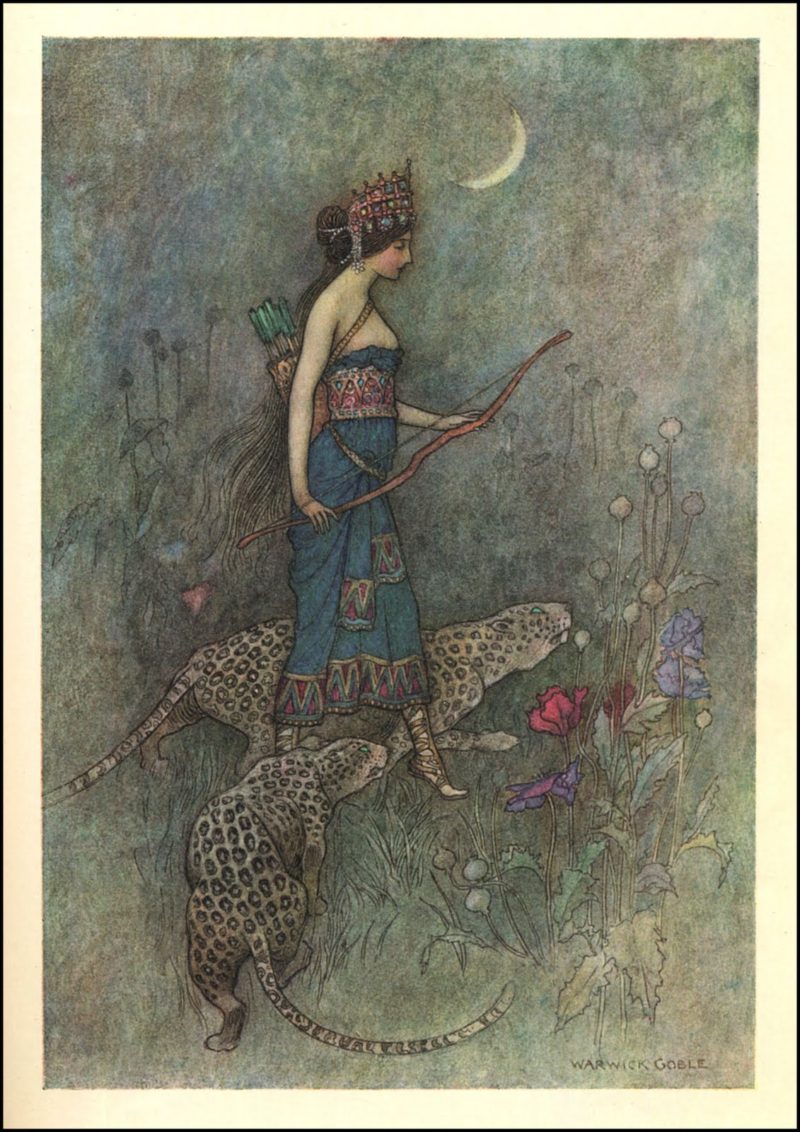 LAUNCH PAD: leopard, flowers, fabric patterns, bow/arrow, crescent moon, headdress
Another illustration based on an epic tale, Zenobia, Queen of Palmyria is based on one of seventeen stories in The Monk's Tale by Geoffrey Chaucer. Warwick Goble (1862-1943) was famous for his illustrations of fairy tale books and this one is from The Complete Poetic Works of Geoffrey Chaucer. These 17 short stories center on the theme of the tragic endings of historical figures.
Zenobia was a warrior queen of Palmyra, one of the grandest cities in the 1st century AD. After her husband died in battle, Zenobia ruled his empire from her Persian palace, eventually conquering lands in Egypt, Syria and beyond. In an era shaped by the male emperors of Rome, she created a Southern kingdom stretching from Syria all the way to Greece – entirely independent of Rome. She was legendarily terrifying in battle – Chaucer writes of how she tamed leopards, bears and other wild beasts to marching alongside her soldiers.

From A Woman to Know Tumblr blog
Zenobia was one FIERCE woman!
---
INSPIRATION 3 :: ALL OF THEM!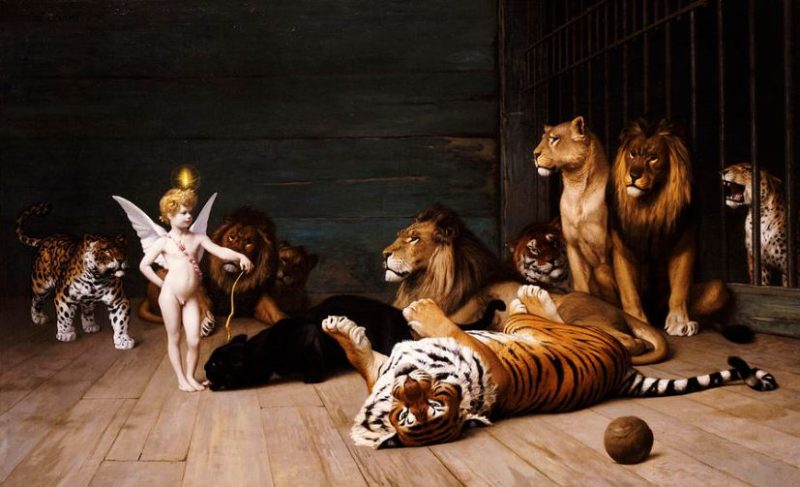 LAUNCH PAD: tiger, lion, panther, leopard, ball, cage, cherub/angel, wings, flame, light
I stumbled upon the work of French artist Jean-Leon Gerome (1824-1904). He painted in a hyper-realistic Neoclassical style, largely of exotic Eastern or Orientalist subjects. This painting obviously caught my attention because of the big cats lolling about, with the tiger in the center.
I am struck by the fact that all these wild beasts are seeming to get along together, without a fuss, actually looking as if having a good time, like all cats would, taking a nap, playing with a ball, rolling around on the floor. The "Master" of the picture appears to be a cherubic figure like Cupid or Eros with the bow and arrow. There is a tiny flame above his head and the big cats seem rather enamored of him with his feathery white wings. Perhaps he tamed them with his arrow, or mesmerized them with his angelic form.
---
Where will this Art Journey take you?
What is the Art Journey Challenge?
Every six weeks we will challenge our readers to create jewelry inspired by the featured artwork or collection of art or theme. You have until the end of the Art Journey period to share your work and then we pick one winner to receive beads and jewelry-making supplies from our sponsors that will work with our NEXT Art Journey to hopefully inspire you to continue joining the challenges. Our only rule? You must use at least one art bead in your piece!
Our prize for Art Journey #7 will be given away from a random draw of all entries on October 20th with our prize package donated by Sarajo Wentling that will be perfect for use with the Art Journey #8! We hope this will encourage you to play along!
How to Enter the Monthly Jewelry Challenge:
Create something using an art bead that fits within our monthly theme. This challenge is open to jewelry-makers, fiber artists, collage artist, etc. The art bead can be created by you or someone else. The challenge is to inspire those who use art beads and to see all the different ways art beads can be incorporated into your handiwork. An art bead must be used in your piece to qualify for the monthly challenge. Upload your photo to our photo gallery. Include a short description, who created the art beads and a link to your blog or shop, if you have one.
Deadline to enter is Saturday, October 19th.
You may upload as many entries as you like per Art Journey, as long as they follow the guidelines. (Please be patient as they are approved by one of our editors to post in the Gallery).
Click here to submit your entry.
Monthly Challenge Winners
• One prize winner will be selected at random from all pictures posted in our new gallery!
• The winner will be randomly chosen from all the qualifying entries on October 20th.
• Be sure to point out all the art bead artists in your work in the description of the photos when you upload to the new gallery. Links to their website or shop are appreciated. That way we can all find new art beads to love!
What is an Art Bead?
An art bead is a bead, charm, button or finding made by an independent artist. Art beads are the vision and handiwork of an individual artist.
***A bead that is handmade is not necessarily an art bead. Hill Tribe Silver, Kazuri ceramic beads or lampwork beads made in factories are examples of handmade beads that are not considered art beads. Beaded beads, stamped metal pendants or wire-wrapped components are not considered art beads for our challenge.***
Bead Artists
Feel free to share beads that you made inspired by our challenge in our gallery. You can enter multiple photos for each challenge. We love to promote new artists and share what you've created!