Is anyone else suffering from Corona-brain? I barely know what time it is let alone what day it is and the weeks are really starting to blend. Couple that with the fact that my Muse has completely abandoned me, and you get a severe case of Corona-brain (and I wish I could blame it on the bottled variety with a lime inserted in the top!)
So, since I am behind on wrapping up #4 Mucha's Gemstone ladies and starting #5, I am doing a sort of two-fer mash-up. Like Glee but with beads!
Here is a little slider of the beautiful things that were created inspired by Alphonse Mucha's fabulous gemstone quartet: Ruby, Emerald, Topaz and Amethyst.
[smartslider3 slider="13″]
CONGRATULATIONS JOOLZ JULIE!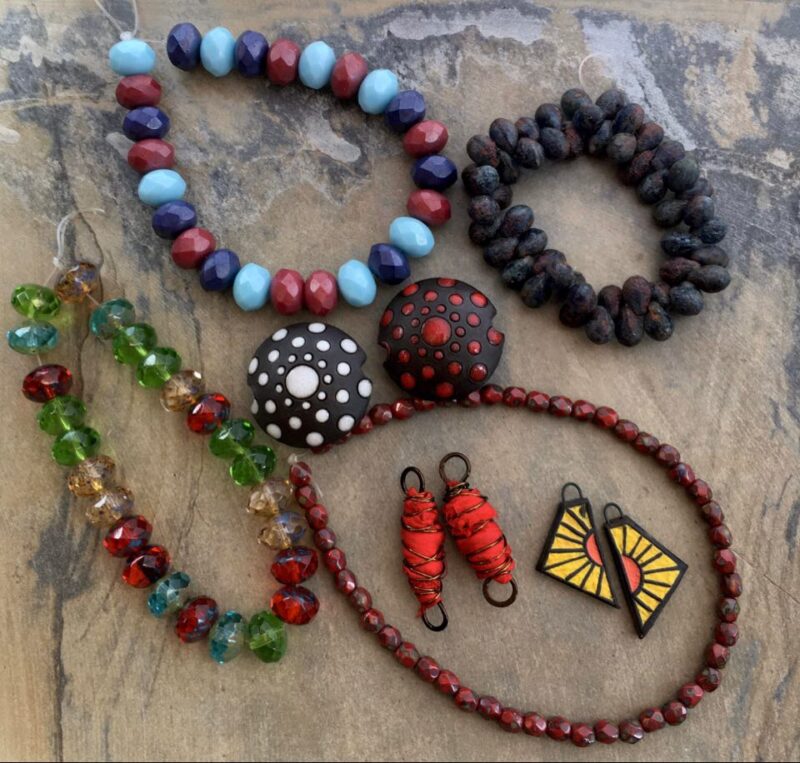 You are our winner of a fabulous prize package from our own Sarajo Wentling filled with art beads by Golem Design Studio, Saga Hus and Slate Studios along with some Czech glass that is PERFECT for playing along in our new challenge! JOOLZ JULIE – Please email me at [email protected] so that I can have your prize sent right out!
Art Journey #5 :: Fireworks Fragments
What are you planning to do for the upcoming July 4th holiday? If it were a normal year, I might be gathering with family and friends for a cookout or a firepit with s'mores, and attending a local weekend music festival at the Riverfront Rendezvous for tons of live music and good old-fashioned fun. Alas, that event has been cancelled and that means the fireworks display over the Wisconsin River is, too. I understand there are some localities still doing large displays, but I will not be venturing out into crowds. There has been a huge surge in private fireworks sales and I anticipate a few sleepless nights dealing with that in my neighborhood and city.
We chose this Art Journey theme way back in December 2019 before we knew about any of the disruptions to our lives. Something as simple as a beloved fireworks display on a balmy July night along the river that cannot be. So this is a perfect way to still spread the spirit and wear a little bit of the sparkling fun that we all know and love. Thanks to Miss Loralee for finding this really cool patriotic inspiration!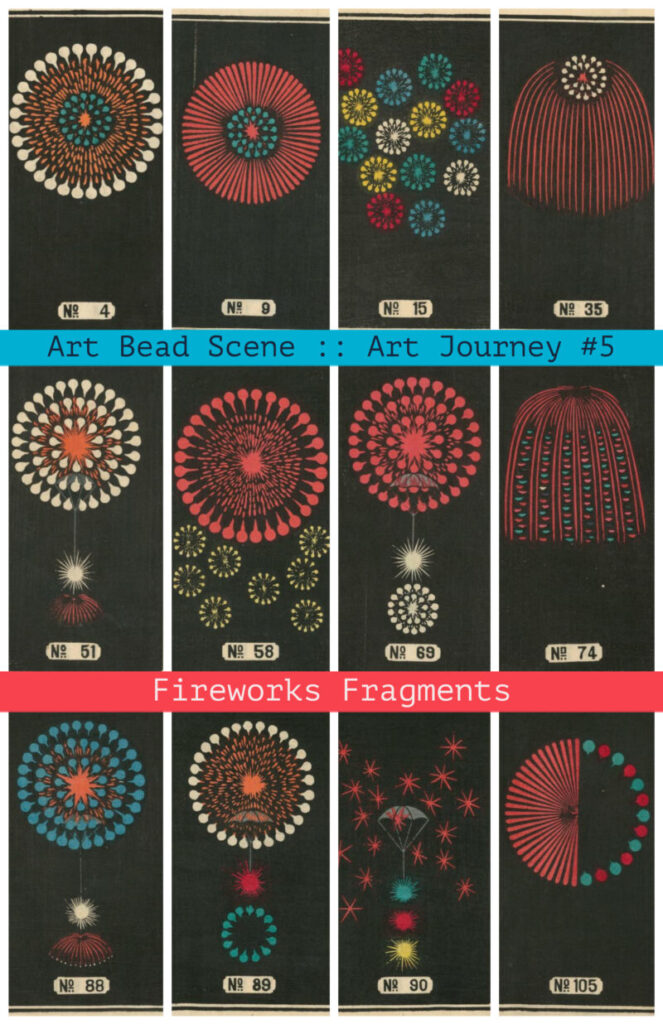 The following is excerpted from their website: http://brocksfireworks.com/our-history
The Brocks Fireworks Ltd is one of the oldest and most respected fireworks companies in the world. This company was founded by John Brock in 1698. They created fireworks displays for the public in London dating as far back as 1750.
In 1815 Brocks factory was located in a residential area in Baker's Row, Whitechapel, London. The factory was destroyed when a boy who was ramming gunpowder into a firework accidentally created a spark which ignited the firework, he threw it aside as he ran out in fright. Fifty pounds of gunpowder and a large amount of saltpetre exploded immediately, blowing the roof off the building, and setting fire to the factory.
After passing through the control of several generations of the Brock family the company became world famous for presenting what would become forever known as 'Brock's Benefits,' displays for the enjoyment of the public, the first of which was fired on July 10, 1826 and from 1865 onwards became a regular attraction at the site of the Crystal Palace. These Brock's displays continued regularly with just a decade long break between 1910 and 1920 until the Palace was completely destroyed by fire in 1936, an event which spelt the closure of this traditional and hugely popular firework institution. So connected with the palace was the company that it was renamed C.T. Brock & Co's 'Crystal Palace' Fireworks in 1865, a reference that would live on long after Paxton's famous glass and iron structure had cooled to the touch.
The original Brocks had been Royal Warrant holders for Edward VII, George V, Edward VIII and George VI and has also entertained many World leaders and has been appointed pyrotechnist to many of them, The Kings of Spain, Portugal, Denmark and Zululand, The Sultans of Morocco, Turkey and Zanzibar, The Shahs of Persia, The Czars and Czarinas of Russia, The Emperors and Empresses of Germany and Brazil were amongts those who were frequently entertained, both as hosts and guests by Brocks Fireworks.
Brock's Displays had been closely linked to great events and amongst the more memorable have been the Official Peace Displays in 1919 and 1946 to mark the end of World War I and World War II, The Coronation Displays of King Edward VII, King George V, Queen Elizabeth II
In the early 20th-century English fireworks company C.R. Brock and Company (now known as Brocks Fireworks) published colorful catalogs displaying designs from Japanese companies such as Hirayama Fireworks and Yokoi Fireworks. Six catalogs of diverse pyrotechnic diagrams have been digitized and made available for download thanks to the city of Yokohama's public library. If you don't read Japanese, you can download each publication's PDF by visiting their website, some of which you see above (but you can find others there that you might be inspired by!). We thought these would make really fun explorations in beads and jewelry! You can also watch some fun old newsreel-type videos showing the hands-on production of their pyrotechnics here. Fascinating!
This challenge will be a bit shorter than our normal Art Journeys so get ready for this Quick Fire! 3-2-1….GO!
Tell us….what do you love most about celebrating the 4th of July and how can you use that in your own artistic creations?
---
What is the Art Journey Challenge?
Every six weeks or so we will challenge our readers to create jewelry inspired by the featured artwork or collection of art or theme. Use any or all of the artworks as your guide to the challenge: color, theme, motif, style, etc. You have until the end of the Art Journey period to share your work and then we pick one winner to receive beads and jewelry-making supplies from our editors and sponsors that will work with our NEXT Art Journey to hopefully inspire you to continue joining the challenges. Our only rule?
You must use at least one art bead in your piece!
We need to emphasize that all art provided on the Art Bead Scene is for inspiration and education only. No art may be downloaded or replicated in your art. Please bear that in mind.
How to Enter the Monthly Jewelry Challenge:
Create something using an art bead that fits within our monthly theme. This challenge is open to jewelry-makers, fiber artists, collage artist, etc. The art bead can be created by you or someone else. The challenge is to inspire those who use art beads and to see all the different ways art beads can be incorporated into your handiwork. An art bead must be used in your piece to qualify for the monthly challenge. Upload your photo to our photo album. Include a short description, who created the art beads and a link to your blog or shop, if you have one.
NEW! Entries will now be posted at our Art Bead Scene Lounge page on Facebook! Go to the Albums, find the one corresponding to the current Art Journey challenge, and post your images there. Remember that each entry is a chance to win! Be sure to add the hashtag #artjourney5 to your post.
Deadline to enter is Friday, July 24th.
You may upload as many entries as you like per Art Journey, as long as they follow the guidelines. (Please be patient as they are approved by one of our editors to post in the Album). Our prize for Art Journey #5 will be given away from a random draw of all entries on July 24th with our prize package donated by Erin Prais-Hintz that will be perfect for use with the Art Journey #6! We hope this will encourage you to play along!
Monthly Challenge Winners
• One prize winner will be selected at random from all pictures posted in our new Facebook albums!
• The winner will be randomly chosen from all the qualifying entries on July 24th.
• Be sure to point out all the art bead artists in your work in the description of the photos when you upload to the new gallery. Links to their website or shop are appreciated. That way we can all find new art beads to love!
What is an Art Bead?
An art bead is a bead, charm, button or finding made by an independent artist. Art beads are the vision and handiwork of an individual artist.
***A bead that is handmade is not necessarily an art bead. Hill Tribe Silver, Kazuri ceramic beads or lampwork beads made in factories are examples of handmade beads that are not considered art beads. Beaded beads, stamped metal pendants or wire-wrapped components are not considered art beads for our challenge.***
Bead Artists
Feel free to share beads that you made inspired by our challenge in our gallery. You can enter multiple submissions for each challenge. We love to promote new artists and share what you've created! Be sure to add some links so that we can know where to find more of your art beads!