The inspiration for Art Journey 5 is a series of Japanese catalog fireworks illustrations. I like the graphic nature and limited yet striking color palette.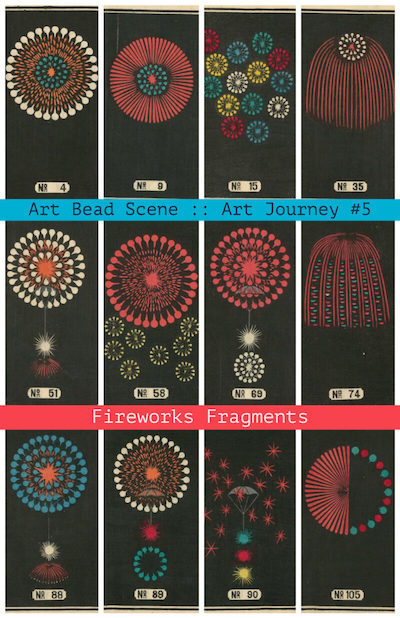 Still, in the beginning I was stuck. I had several art beads that fit, but I also had these vintage metal whirly pieces that I thought were cool for the challenge.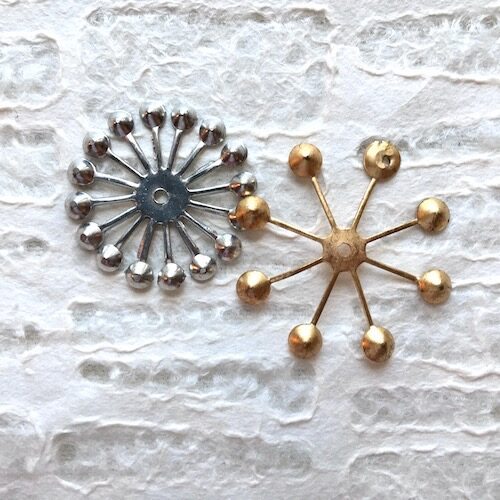 I was trying so hard to use these even though they were not working that I hit a creative block. After a long time of pursuing what I knew wasn't working, I had nothing finished and few ideas. Once I let go of the whirly pieces, I ended up with two pair of earrings, a necklace and a bracelet! Allowing ourselves to let go of something that isn't working is a great skill to develop.
The first art beads I thought of when seeing the inspiration were some polymer connectors from Ashley of Summer Wind Art who is known for her gorgeous wood burned and hand-painted pieces. The burst designs seemed perfect for fireworks.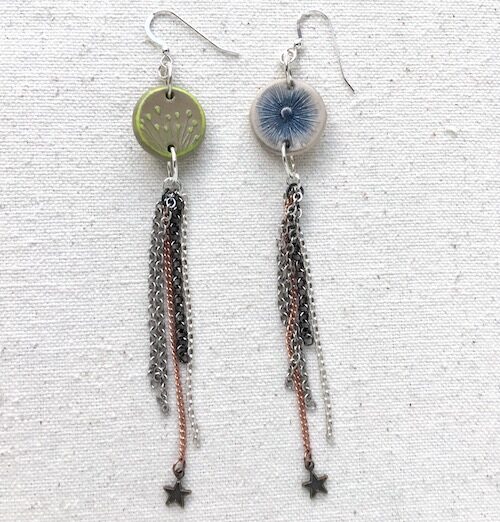 I originally wanted to do some things that didn't work construction-wise, but I'm super happy with this simpler version. I was thinking I needed to balance out the asymmetry of the different connectors with something the opposite color to go with the other earring, but I think the tassels do a good job of making them cohesive. Their shoulder-duster length makes them dramatic, just like fireworks.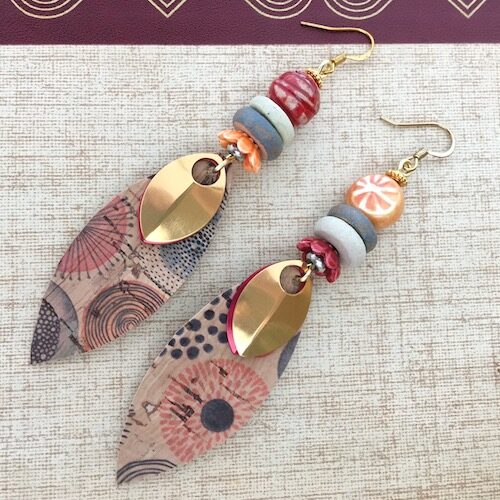 I made a second pair of earrings based on a tutorial that Heather shared using some cork fabric. When I ordered some, I got a pattern of round, bursty shapes that reminded me of the fireworks illustrations. I cut out a design and added a couple of anodized shield drops. After auditioning a variety of beads, I decided these ceramic beads by Natalie of Grubbi worked well with the little cairn stacks and the burst of orange and swirl of red to bring out those colors in the fabric. I got to resurrect my asymmetrical idea of using the opposite color on each earring to help bring them together with a sweet little floral bead cap.
On to a simple bracelet that lets the art bead be the star.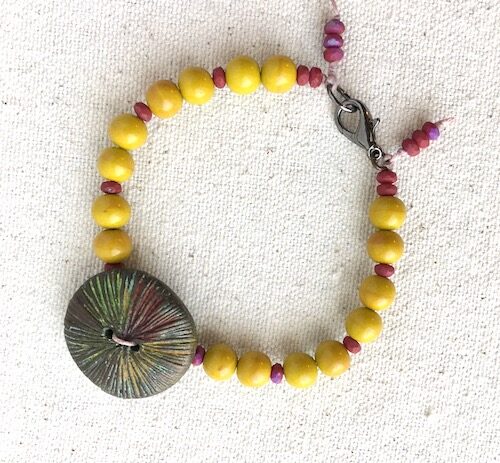 This button by Claire of Something to Do Beads with its color burst texture fit right in with the woodcuts. I chose mustard vintage German glass rounds with a mauve Czech glass accent bead to pick up a couple of the button colors. Just my kind of easy to wear jewelry.
When I was struggling, I thought about the types of things Sarajo might highlight in her muse post. They always get me thinking about the Journey in ways I hadn't before. That brought to mind donut beads and how that shape would be appropriate.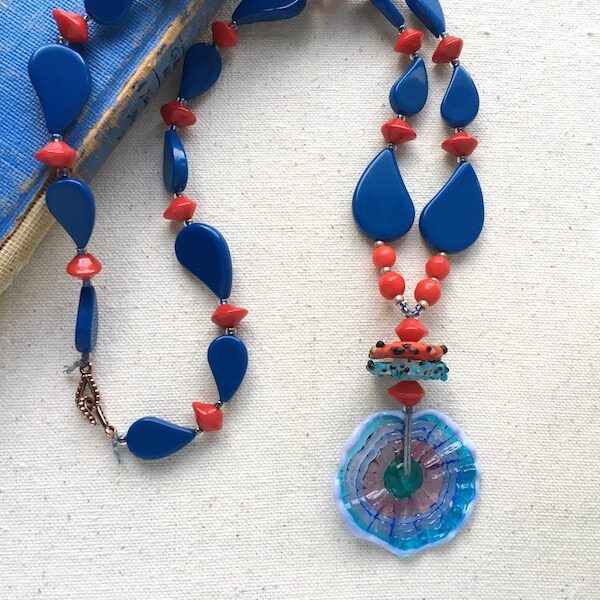 I had multiple strong contenders, but some beads given to me by Mary Redman won out in the end because I love them so much and was really anxious to use them together. The wavy glass donut is by Walter Gross of Wally G Beads, and the two smaller frit-edged donuts from my stash are by Tanya McGuire. I think that in addition to the donut shape, the frit-edge echoes a lot of the embellishments in the illustrations.
In addition to the large donut, Mary gave me the paisley shaped beads. I can't tell you how much I love these. The unusual shapes and the strong colors make a pretty dramatic pop.
I hope you play along! It is fun to see what everyone makes. Post your creations in the Journey #5 album on the Art Bead Scene Lounge Facebook page.