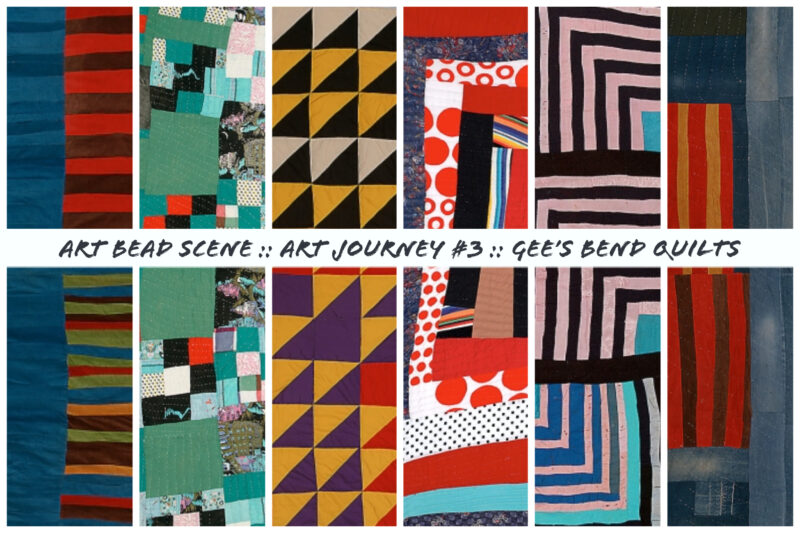 Happy Monday my friends! How is (what feels like day 189 of) stay-at-home going for you all? I can't say that I haven't had time to create or work on my blog posts, but I am apparently a procrastinator no matter what the situation! In all seriousness though, I hope that this post finds you all healthy and safe at home. If, like so many creative folks I know, you are having a hard time getting the inspiration to create in these uncertain times, I hope that this round of art bead picks will help get those artistic juices going for you.
Being from Alabama, I'm a little embarrassed to admit that I was unfamiliar with Gee's Bend or the quilts and folk art from the area. You learn something new everyday if you're not careful!
My brain really wasn't wanting to play nice with this Art Journey at first. I got stuck looking through a very literal lens and my design aesthetic just isn't all about the geometric, as I think I've mentioned before. Big thanks to my fellow Art Bead Scene team members Heather Powers and Ann Schroeder for inspiring met to shift mental gears a bit. Their creations for this Journey are incredible and completely swoon-worthy.
---
Before we dive into the beads, here's my standard caveat: This isn't in any way meant to be exhaustive or a shopping list… I realize that some of these makers are outside of the U.S. and that it's always possible that not all my picks will still be available by the time you see this post. That being said, I'm providing a link to each artist's shop in the photo captions for you.
---
Strips – "Nine Patch" Variation (1950s)
Emma Mae Hall Pettway
This quilt is one of my two favorites from the six inspiration pieces. There's something about the colors that reminds me of a family quilt that I have (made by my paternal grandmother and great grandmother) even though that one is a more traditional pattern. I love the teal/green colors mixed with the bright pops of red and the larger swaths of white. The pastel prints down the middle are an interesting addition although my art bead picks didn't play to that aspect. At least I chose one lovely white art bead from my friend Julie Nordine of Credit River Art Glass!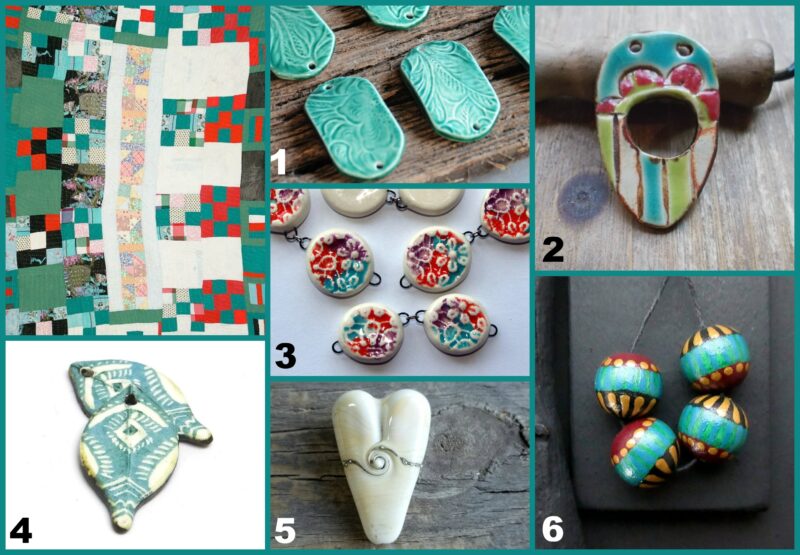 1) Captured Moments 2) Suzie Q Beads 3) Pajego Art House 4) Grubbi 5) Julie Nordine 6) Mystic Peasant Beads
---
Housetop Nine-Block Half Log Cabin variation (1955)
Sue Willie Seltzer
The pinky-lavender color in this Housetop Nine-Block Half Log Cabin quilt by Sue Willie Seltzer didn't initially do much for me. Of course I loved the teal/turquoise tones and the bold black stripes that give it great visual interest. As I was looking for art beads to share with you for this one, the pastel shade started growing on me. I think it was the fun hexagonal cabachon by Lisa Peters that helped me come around on this one! I don't know that I have anything fabulous in my stash for this quilt, but I'll give it another good look before I give up on this prompt now that I've warmed up to it!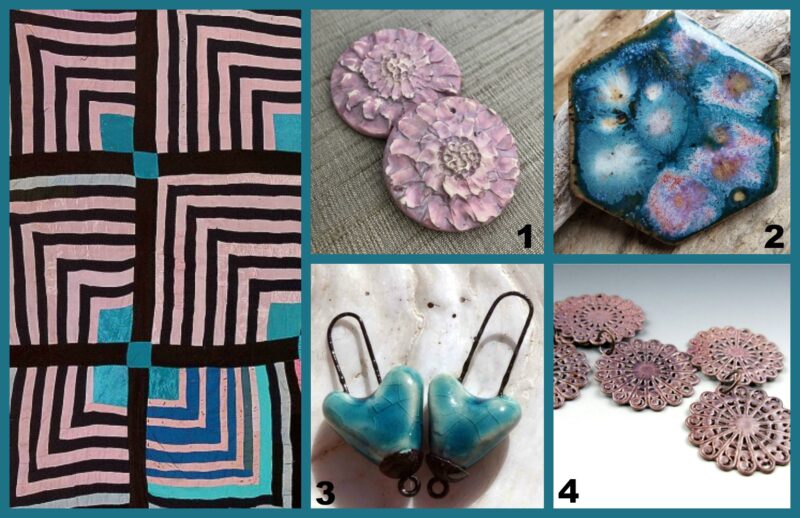 1) Humblebeads 2) Lisa Peters Art 3) Scorched Earth 4) Gardanne Beads
---
Housetop variation (2004)
Loretta Pettway
This Housetop variation quilt by Loretta Pettway is by far my favorite of the bunch! Perhaps it's not surprising that this piece from 2004 has a much more modern aesthetic than the other older quilts featured in this Art Journey. The graphic dots, bold stripes of color, and pops of turquoise just come together to make my little heart happy. Speaking of making me happy, I totally lucked out and spotted the fun polka dotted triangle shaped ceramic charms from Slate Studios during a Facebook show that was going on while I was working on this post. The timing couldn't have been more perfect! The circles and dots are going to be a lot of fun to play with here.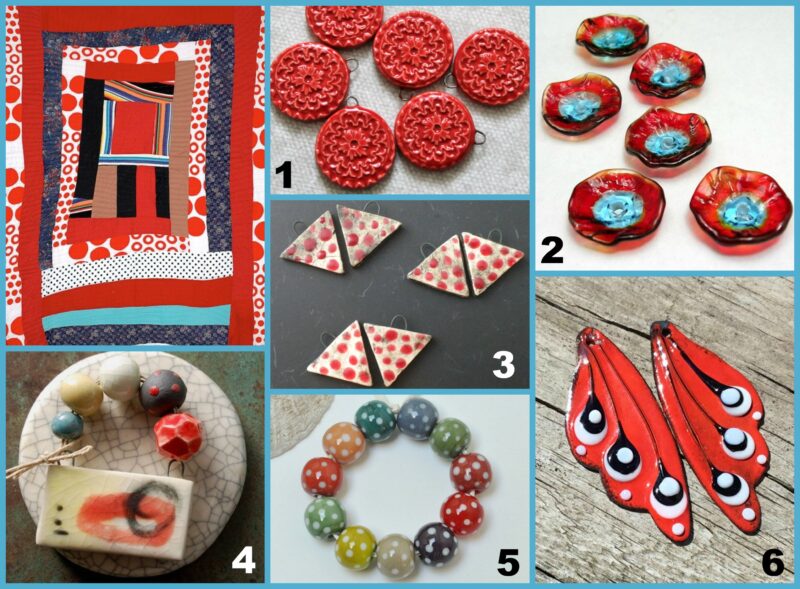 1) Pajego Art House 2) Mermaid Glass 3) Slate Studios 4) Gaea 5) Loupiac 6) Bluhealer
---
Birds in the Air (1981)
Lucy T. Pettway
Is it just me, or does Birds in the Air feel very 1980's to anyone else? I feel like Lucy T. Pettway's bold graphic pattern and clashing colors could be part of a Duran Duran album cover or something. Color combination and design wise this was the hardest of the quilts for me to find a connection to. The combination of the dark purple with mustard yellow is just jarring to me (sorry Vikings fans!), although the little house beads by Elukka did steal my heart even in those colors! I'm really looking forward to seeing what folks make in response to this one… I know that I will be amazed with what your creativity will bring to life!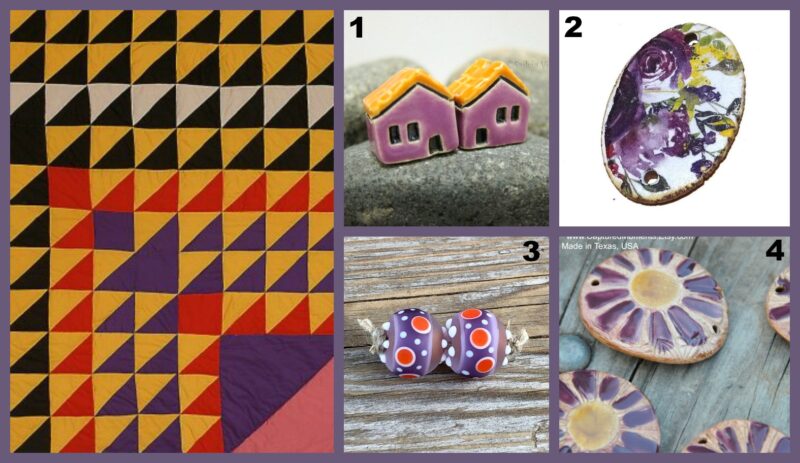 1) Elukka 2) Grubbi 3) Un Vent de Liberte 4) Captured Moments
---
Strips (1975)
Annie Mae Young
I really find the stripes of color, including all the shades of indigo, in this Strips quilt by Annie Mae Young to be very pleasing. I could just as easily imagine this as a larger scale painting hung in an expensive, modern home as I could see it draped across a cozy bed in a cabin. I don't know if it was because I was really focused on the stripes or what, but I found fewer art beads in my browsing for this quilt than I did for those designs that I liked far less. That being said, one of my favorite finds for this Art Journey are the painted polymer beads here from Mystic Peasant Beads. The colors and lines just really jumped out at me for this one.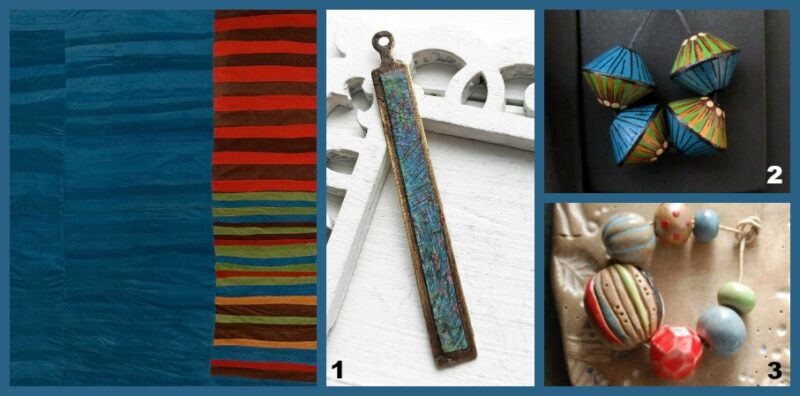 1) JLynn Jewels 2) Mystic Peasant Beads 3) Gaea
---
Work-Clothes Quilt with Center Medallion of Strips (1976)
Annie Mae Young
For me quilts aren't what you pull together with fancy coordinating fabrics purchased special from the fabric store. Quilts are all about the tradition of using your leftover scraps and useable pieces cut from worn out clothing. I think as jewelry makers we are often about saving all those bits and bobs to work into our own new creations… wasting nothing if we can help it. For that reason this Work-Clothes Quilt really speaks to me. I was really pleased to find the rust and tan charms by Lisa Boucher that reflected the center part of this quilt so well. I focused on the red and tan/brown tones instead of the denim when pulling art beads. That's just where my muse took me!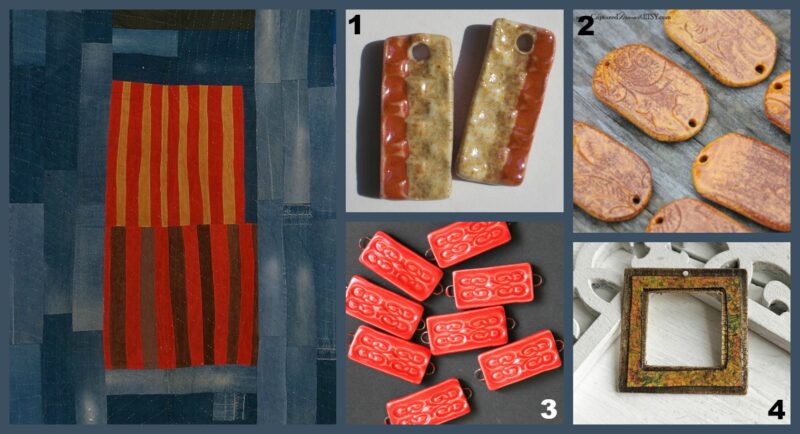 1) Clayworks by Lisa Boucher 2) Captured Moments 3) Pajego Art House 4) JLynn Jewels
---
I would be remiss if I didn't share with you all a great find from my fellow team member, Ann Schroeder. Me and My Stitches actually makes little quilted pendants!!! I couldn't decide on just one or two designs to share with you but you should totally check them out!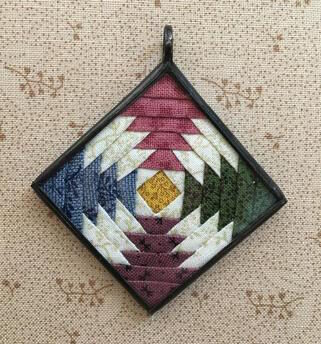 ---
I can't wrap this up with out giving you a little peek into my personal bead stash picks. I'm itching to get to sit down at my bead table and play with some of the ideas that have been percolating in my brain for Art Journey 3.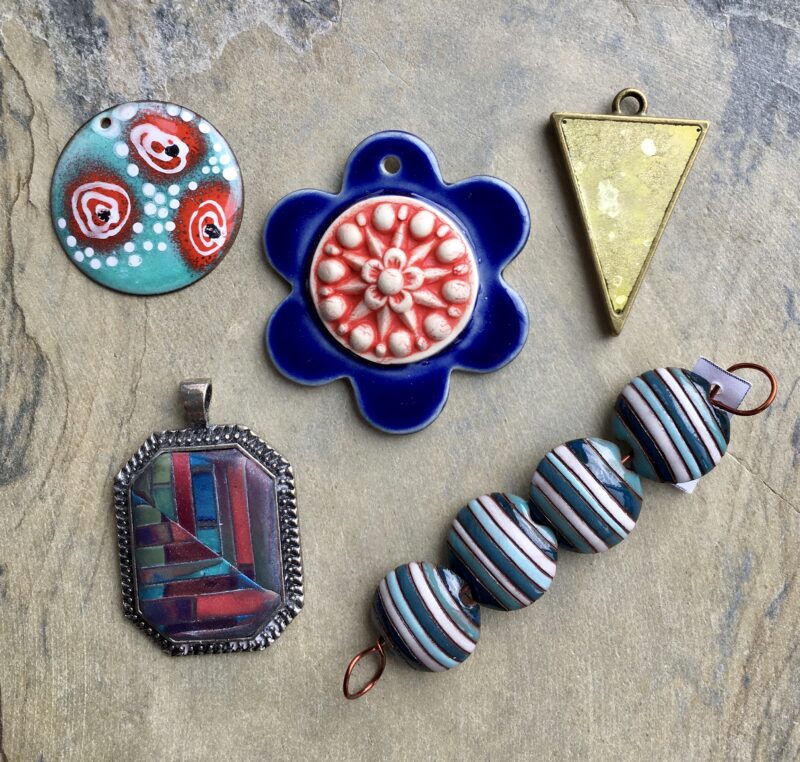 From left to right, top to bottom: Gardanne Beads, Round Rabbit, Sj Designs (me!), Tesori Trovati; Golem Design Studio
---
Thanks for stopping by to get some art bead inspiration! I hope that I've given you some ideas to get you going for our third Journey of the year… Go to our Art Bead Scene Lounge Facebook Group to submit your creations for this Art Journey HERE. Remember, you can enter as often as you like… the only rule is that you have to use at least one art bead or component. The deadline for entries is May 8th.
---
Sarajo Wentling, Your Monday Muse