Ok, true confession, actually there are three more things that I wanted to share with you for this Art Journey featuring the still life paintings of Rachel Ruysch today. I still have lots more art beads that will probably make their way back into their drawers, but that's how it often goes for me with these challenges. Always more ideas than time!
---
In my last post I shared a work in progress featuring a gorgeous porcelain moth pendant by fellow team member Terri DelSignore of Artisticaos that I wasn't happy with at all. (You can see that HERE if you missed it.) I stuck with it and ended up with a necklace that I truly love and am proud of! The danger of knotting a necklace is that if you don't like it, you pretty much have to cut it all apart and start over. I hate to do it, but sometimes it's just the right thing to do… this was one of those times!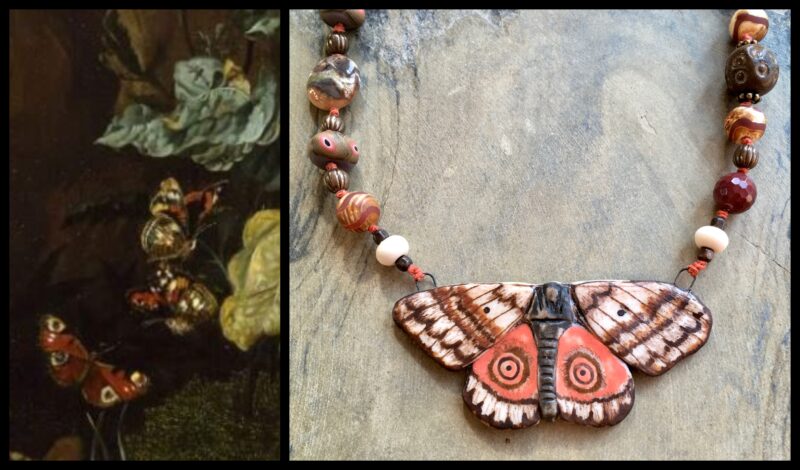 I totally switched out the metal beads that I was using and used a hand drill to make the holes in the Humblebeads polymer clay discs big enough to accommodate the two strands of waxed Irish linen. I used a mix of wood and gemstones in colors to compliment the amazing moth… there's mookaite, DZI agate, and peacock vista jasper in there along with some white wood beads. There's also an accent bead that came as part of the moth set. The chain and clasp are Vintaj natural brass. I chose the big round chain because I liked how the circular links echoed the round shapes of many of my beads.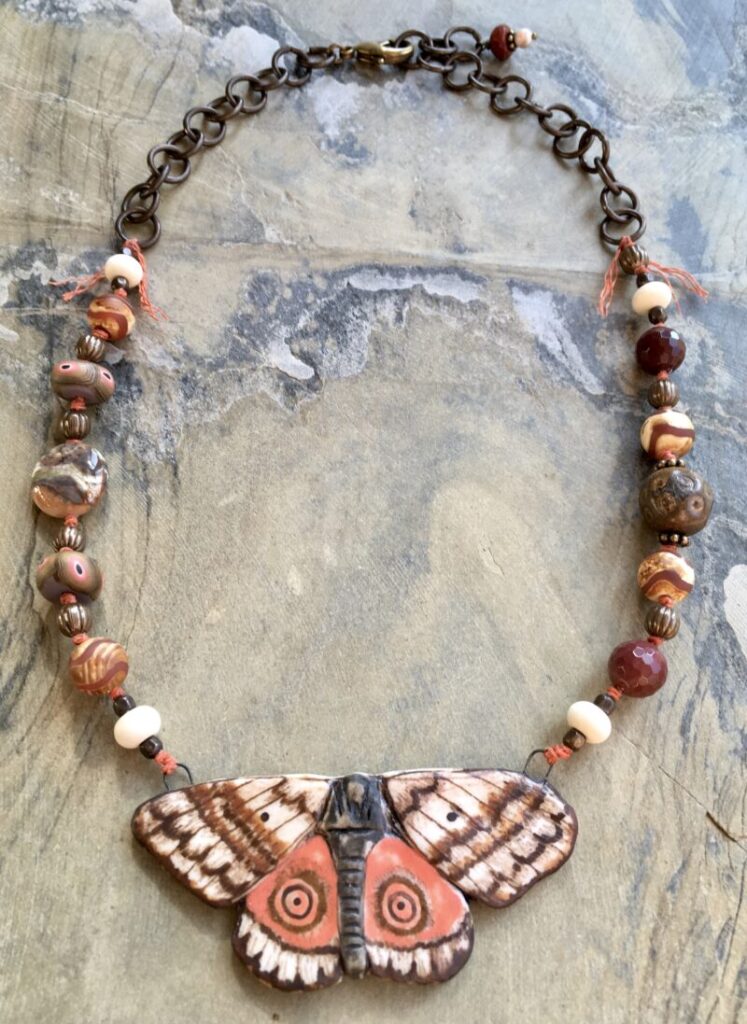 ---
Next up I've got a pair of earrings highlighting the work of our fearless leader, Heather Powers! I've had these stick charms for some time… honestly I find wire wrapping top drilled items intimidating so I have to be in the right frame of mind. I wanted to play more with the little blue flowers tucked away in a few of the paintings and these fit the bill. I paired the Humblebeads sticks with some Czech glass flowers and brass for a long but lightweight look.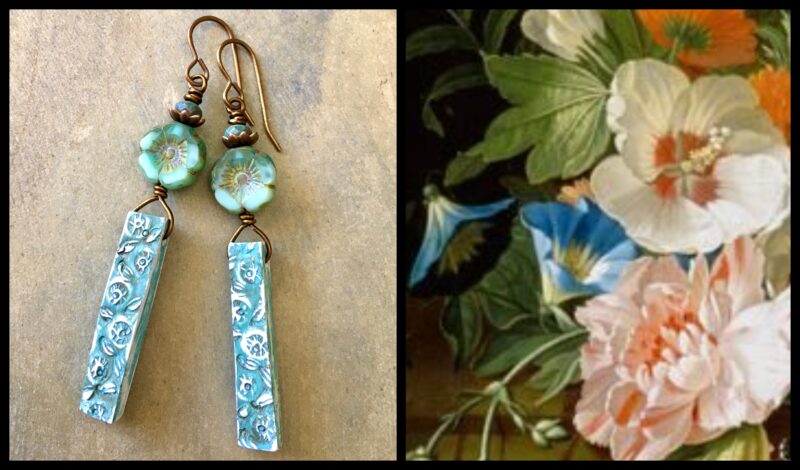 ---
I almost forgot that I had one more pair of earrings in mind for this Art Journey… luckily I remembered when I was putting away some recent art bead acquisitions and stumbled upon this little lampwork pair. Unfortunately, I don't know who made this pair of charms (I got them as a prize from a destash event with Allegory Gallery) but they made me think of the fruit in the painting Fruit, a Nest and Insects in a Wood. I hadn't yet created anything for this inspiration piece, so I got to work! To keep the design from becoming too heavy, I used some apple green moonglow lucite with orange Czech glass rondelles. Since the charms are fruit-like but not any identifiable (to me) real world fruit, I've named this pair of earrings "Strange Fruit."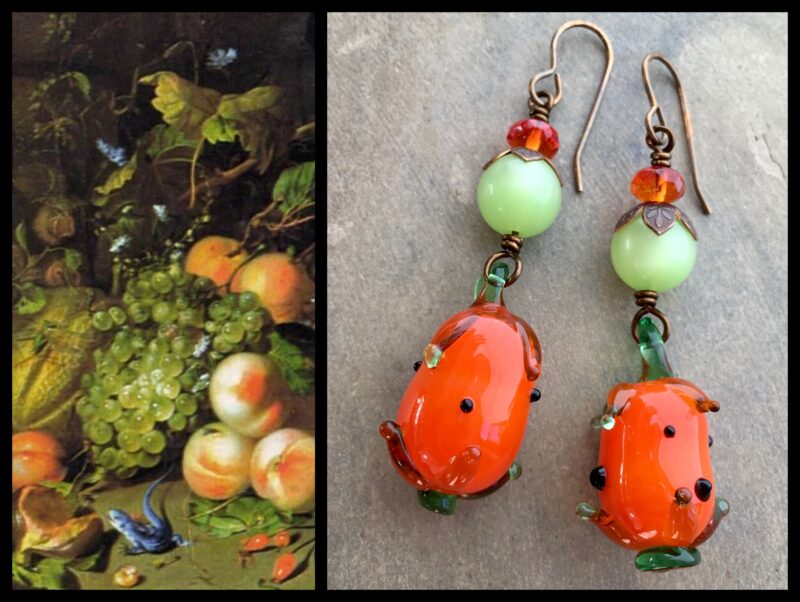 ---
Have you created something inspired by this Journey? If so, don't forget to share it with us. Just go to our Art Bead Scene Lounge Facebook Group to submit your creations for this Art Journey. Click HERE and then find the album for the current Journey to add your photo. Remember, you can enter as often as you like… the only rule is that you have to use at least one art bead or component. The deadline for entries is October 16th. Happy making!!
---
Sarajo Wentling, Your Monday Muse