I love both the simplicity and the complexity of the Japanese woodcuts from the Art Journey #9. The imagery of these very everyday scenes of a beautiful structure in the snow, taking a walk, and birds in the trees is rendered in a limited color palette that joins them together.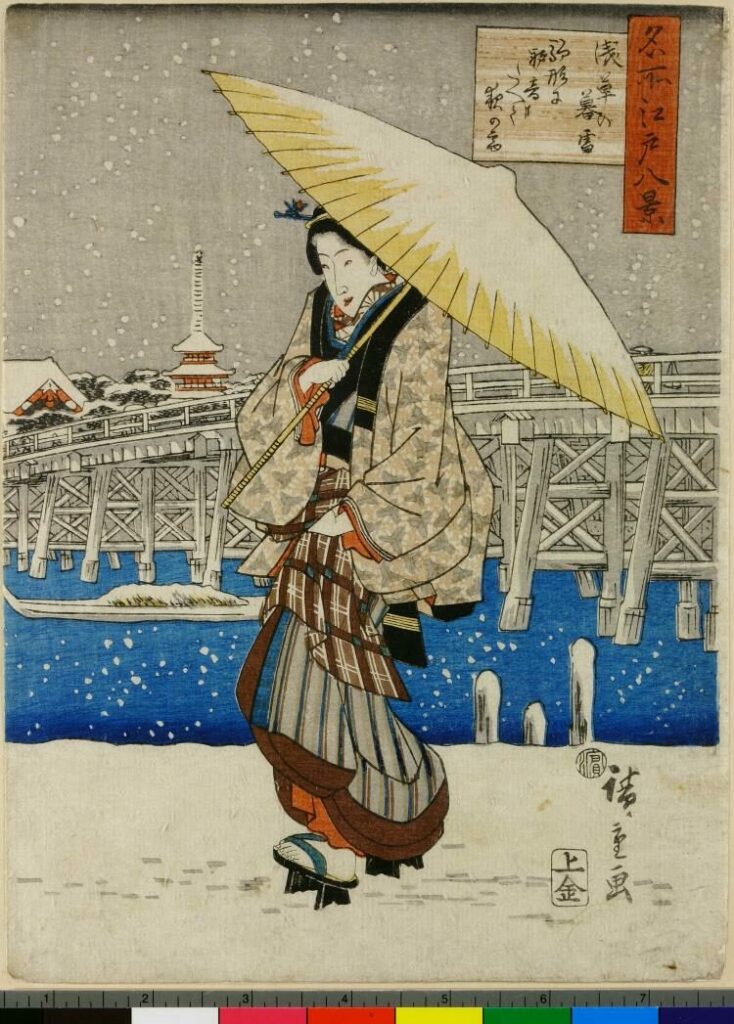 First, I wanted to recreate the beautiful melange of fabrics in the lovely maiden's winter kimono. She looks like she has multiple layers on to guard against the chilly air. I set out to make some polymer clay slab textures that I saw in the outfit.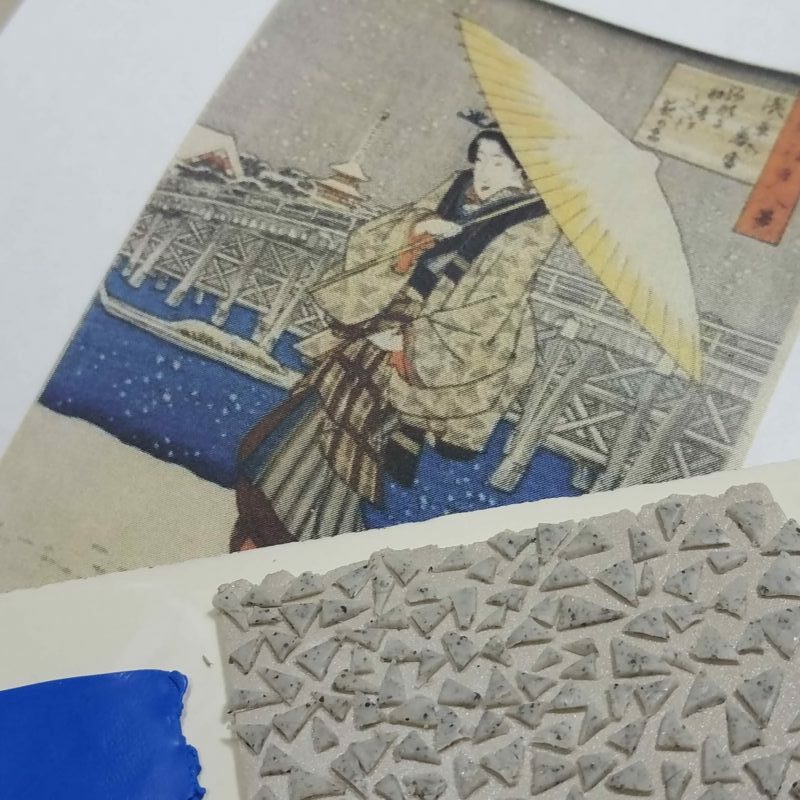 I had these small (1 1/4 x 3/4″) open bezels in a kimono shape that didn't get used for an old project, but I knew they would be perfect for this. I like that these bezels have almost an architectural quality because of the different geometric shapes. Next I created a stripe veneer and found a veneer from another project that had the muted reds and blues in it. I created a slab of these three random veneers on a bright blue background and impressed the bezel into it. After baking, I sanded from 400-2000 grit and buffed for a very soft feel, much like I envision her silky and well-loved kimono would feel.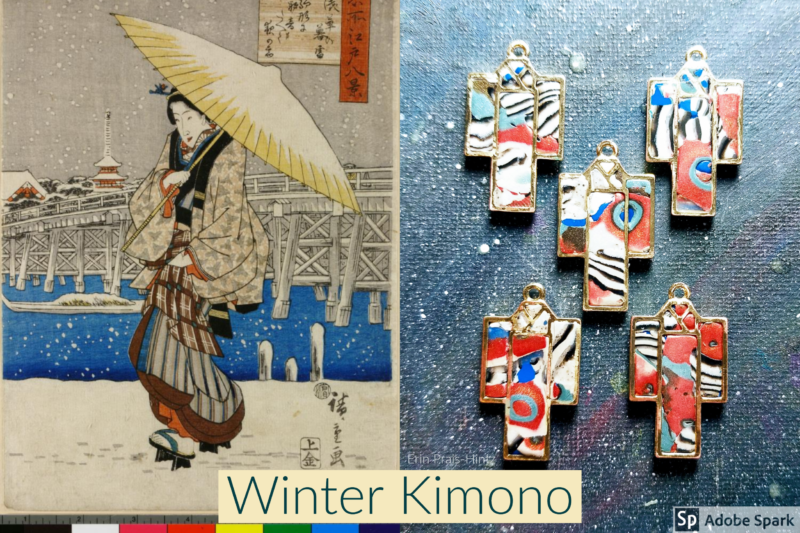 Next I wanted to recreate the pagoda shapes found in both of these images. I always enjoyed making stacks and towers with blocks as a kid. I like the way the pagodas look like building blocks.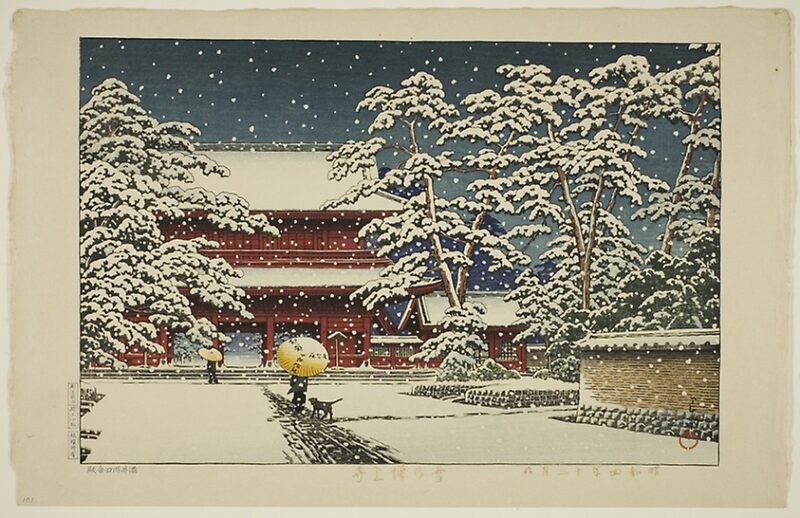 I tried to do something in red with white snow on the roof, but it was an epic fail. The colors were right, including the frost glitter white for the snow, but I really disliked the way that looked and I knew I could do better. Plus it was almost impossible to not turn the white pink just from contact with the deep red. See, not everything I create makes the cut!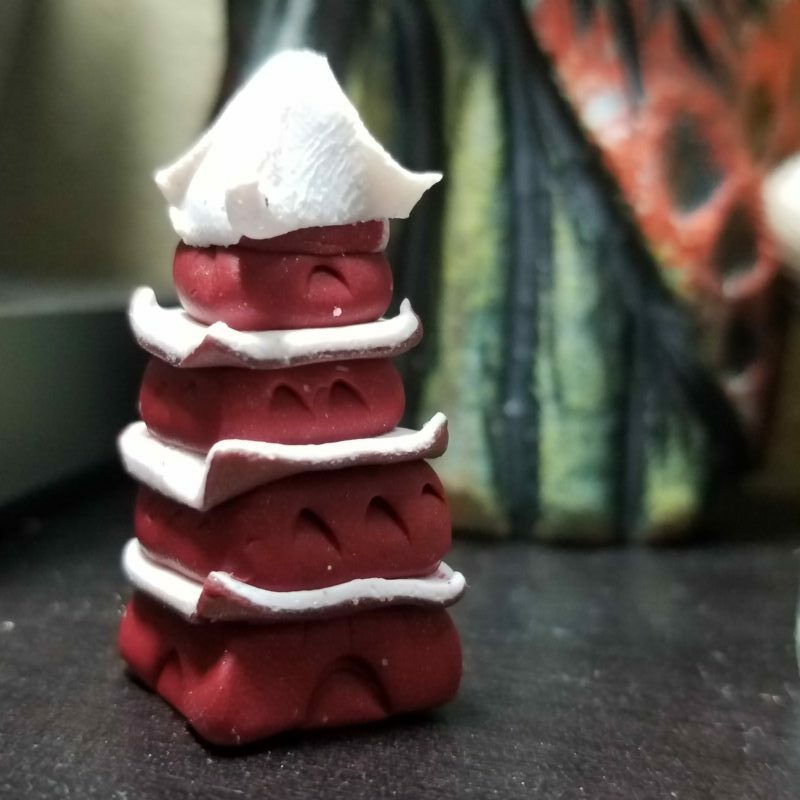 So then I set out to find some pagoda pictures that would inspire me and I came across both cement garden statues as well as the most intriguing set of what looks like building blocks from wood, but is actually the decorative sculpture work of a London-based designer named Rio Kobayashi.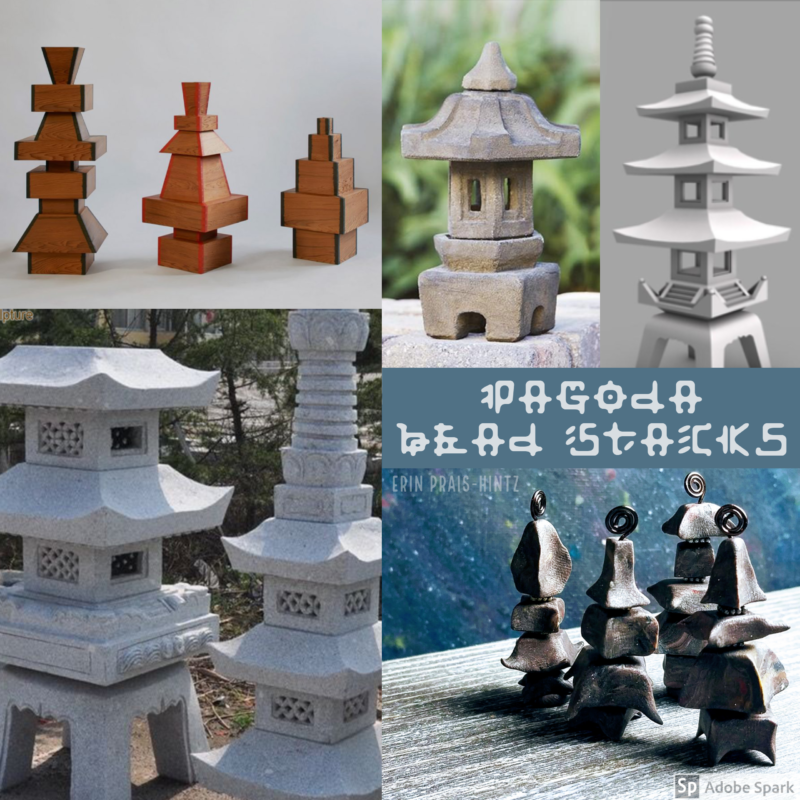 I made a custom blend of clay in colors like pewter, copper, bronze, and black, and fashioned these small shapes into some wonky shaped beads. I wanted each one to be independent, and modular, so that you can move them around, building a stack that is pleasing to you. Of course, these would be cute just sitting on your shelf, but I think they would make for a fun pendant. A Zen-like fidget spinner, if you will.
These will be winging their way to my Simple Truths Sampler Club members soon. What did you make inspired by the Japanese woodcuts for our final Art Journey of the year?
We hope that you have enjoyed the inspiration that we have provided during this year, discovering new artists and art mediums as well as interesting thematic elements. We have enjoyed providing these kick starts for your creativity in 2019! Here's to more inspiration in 2020!