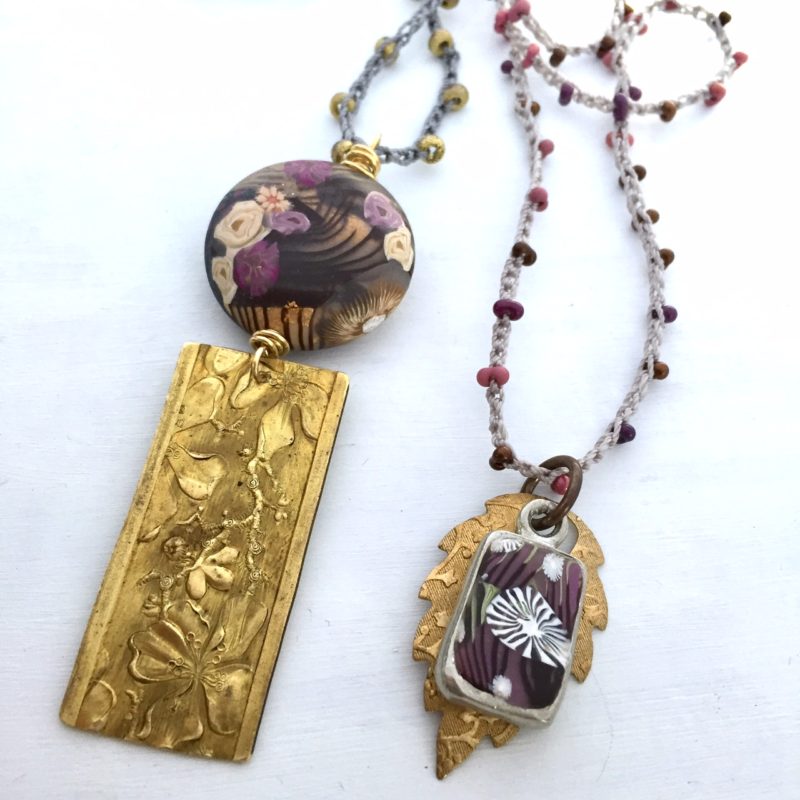 Today on Bead Table Wednesday, I'm sharing some recent creations inspired by this month's challenge. I love participating in the challenges along with you, I pick each painting because I find them inspiring!
This week I'm taking a break from making a video but I'll be back next Wednesday to show you how to crochet with beads, like on the necklaces above. I loved making them and I'm waiting on a new order of supplies to work up more samples and kits for next week.
The pendant on the right features a piece of stamped brass that I found at BeadFest. I hope I can source more of it, it's so lovely. I paired it with one of my lentil beads that I made inspired by woods and flowers on the dresses in the 12 Dancing Princesses illustration. I crocheted tiny glass beads in etched gold for the chain.
The second pendant I created to layer with the other one, so I used similar colors with a Vintaj raw brass pendant and a small bezel charm that I made with the my branch designs. I crocheted another chain adding in color with peanut seed beads.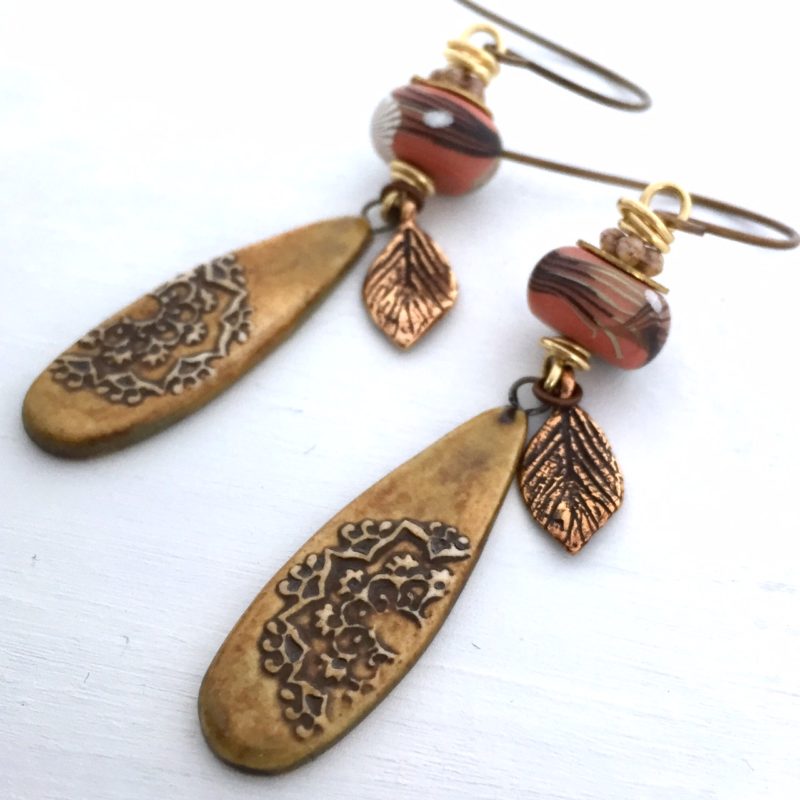 Earrings that showcase these lovely charms from Terra Rustica Studio and tiny copper leaves from Anna Bronze. Humblebeads disks in peach add a pop of color along with glass and brass spacers.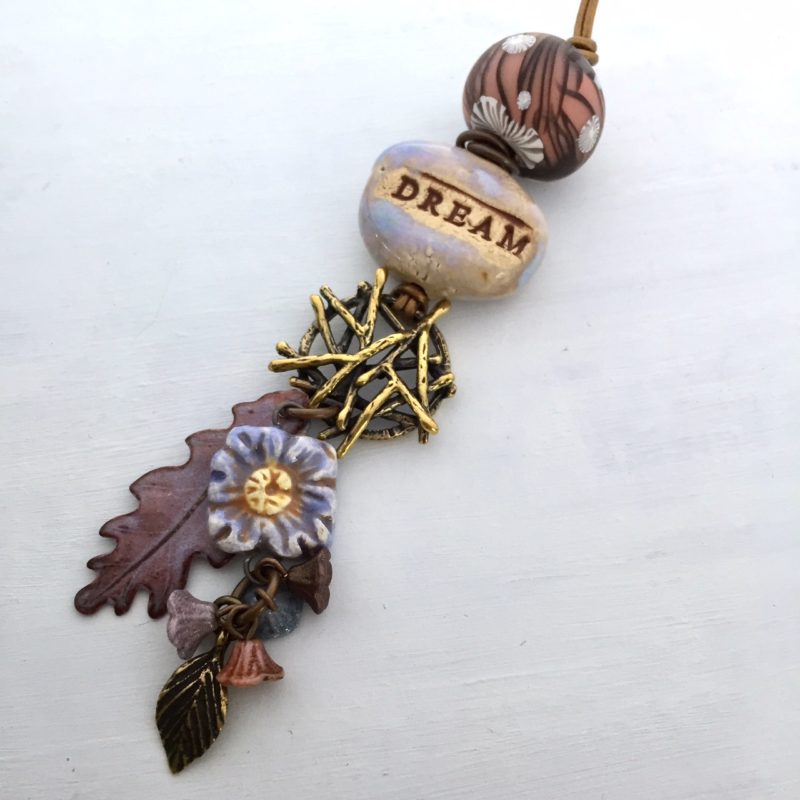 Since the princesses were going off in the middle of the night to dance I thought I'd pull in the dream word bead from Diane Hawkey to tell the story on this pendant along with a Humblebeads bead with branches wrapping around. Below sits a bramble of branches in bronze from Anna Bronze. And swaying below the branches is an enamel leaf from Gardanne Beads, a tiny ceramic flower connector from Creative Impressions in Clay, Czech glass flowers and a tiny leaf in bronze from Anna Bronze. I strung this necklace on 1.5mm leather cord.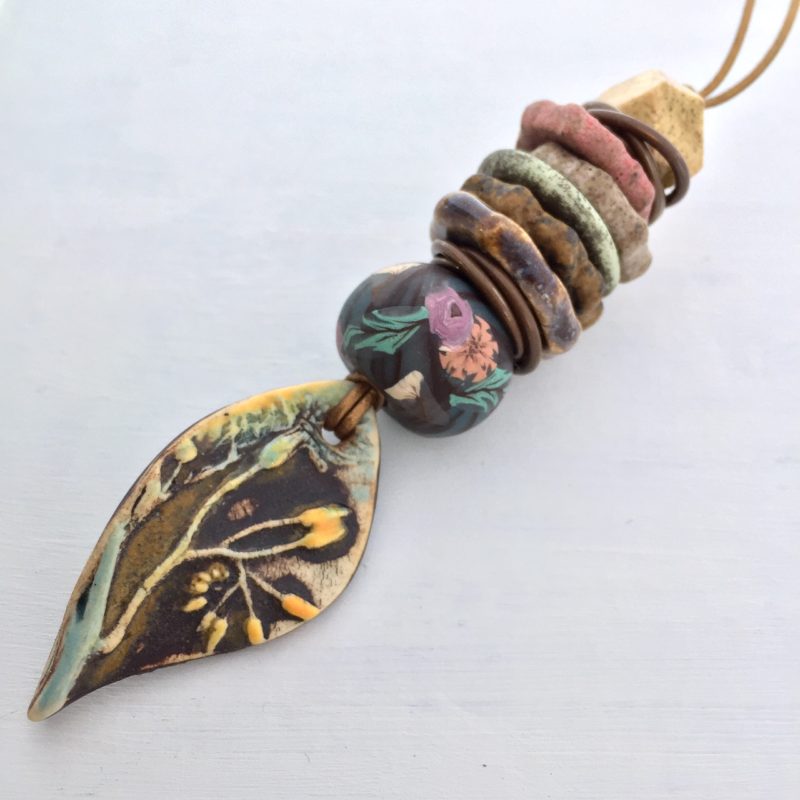 This last necklace is my favorite and one I'm keeping for myself. I bought this lovely ceramic pendant from fellow ABS editor, Mary Harding. I love the colors and shape! I stacked up a collection of art beads on bronze metallic leather. First a Humblebeads bead with branches and flowers, the ceramic disks are from Marsha Neal Studio and the green disk in there is actually a matte lampwork disk from Nikki Thornburg. The faceted ceramic bead on top is from Diane Hawkey. I used brass jump rings to created spacers in the bead stack. Sometimes it's hard to find spacers large enough and a jump ring rosette does the trick!
I'm loving all your monthly submissions in our new gallery! Don't forget tomorrow is the deadline.