Art Journey #6 is both right up my alley and a real challenge. I love the spare, modern sculptures – many of which make use of primary colors – that make up the inspiration for Art Journey #6. I looked at them and thought, "Ohh, 1970s." Nope. These are by Katarzyna Kobro, an avant-garde artist in 1920s/30s Poland. Wow! A woman ahead of her time. I love them.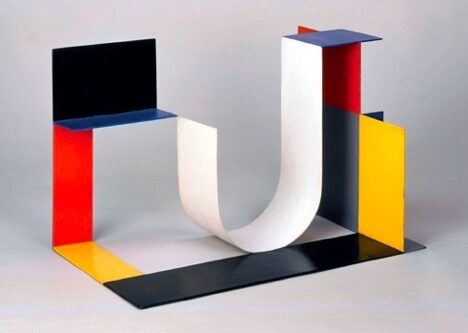 The first thing I thought about exploring was the use of metal. Most of my metal art beads are not really modern looking. But while exploring my stash, I found rolled, hammered metal beads with black patina by Abi Baxter. I got these so many years ago, I'm pretty sure they were the first purchase I made from Facebook!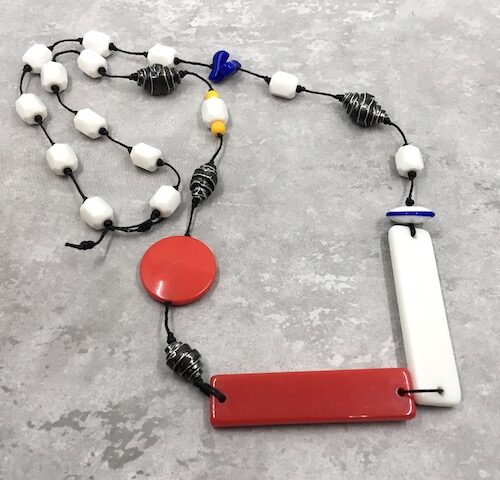 In addition to introducing metal, I wanted to reference the long rectangular shapes in the pieces. Years and years ago a former bead store owner was selling off her remaining stock, and I bought some plastic connectors. Who knew I would use them in two ABS Journeys this year? That's my main bead philosophy: buy what you like. They will come in handy someday.
I wanted to add just touches of yellow and blue. I used two yellow rounds, two unusual blue vintage squiggles and a Helen Chambers lampwork disc with a perfect blue rim. The white hex beads are vintage glass.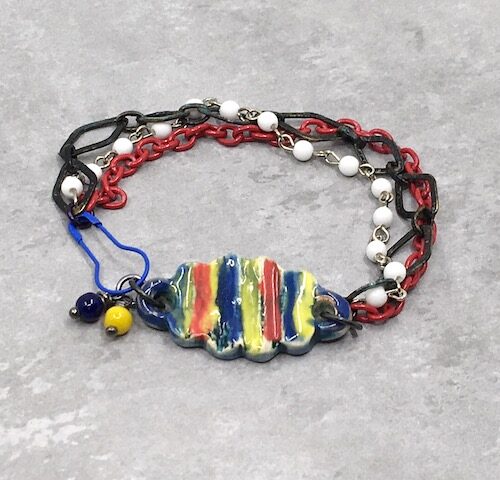 The primary colors that feature heavily in these pieces made me think of another early art bead purchase – a bracelet bar from Mary Harding in 2013. To me, the color palette in each piece really pops. That's what I've tried to do here. The metal black patina chain is by Miss Fickle Media. I used a couple more beads as dangles near the clasp. The sculptures deal with form and shape, so I used a unique shape for the clasp – a carabiner pin.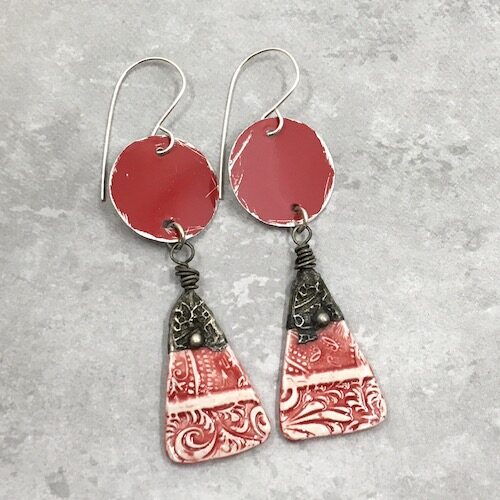 I had a totally different idea for a necklace using just one of these Sasha Crow headpins but that didn't work. Since first seeing the inspiration, I had in the back of my mind using some of the many, many (many) tins I have. I took a relatively easy way out by cutting out circles from a red piece, pairing those up with the headpins and adding my own handmade sterling ear wires. They are simple, but I sure love how they look!
What comes to mind for you when you look at these sculptures? Have a go and post your piece in the Art Journey #6 album in the Art Scene Bead Lounge on Facebook.