Today we are so excited to welcome former Art Bead Scene Editor Mary Harding for a guest post. Mary is sharing her ceramic art beads and her marvelously organic hand-stitched art jewelry that are inspired by the lush florals of Rachel Ruysch's still life paintings. Mary's work is perfect for this challenge because she is really connected to nature in all her work and the attention to the tiniest details always shines through in everything she does. Enjoy!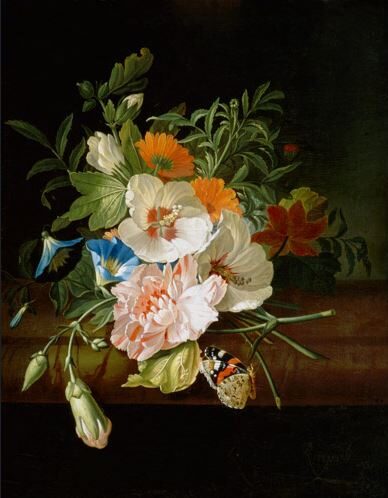 I am so pleased that last February, Heather Powers asked me to do a guest blog for Art Bead Scene. I am so happy to return as a Guest after being an editor for 5 years. I chose to do my post for Art Journey 7 that features the botanical still life painting of Rachel Ruysch because I love to make flower beads. I plan to share my collection of ceramic flower beads and talk about some challenges in using them.
 But first let me tell you why I like Rachel Ruysch's Still life Paintings:  it is their flow and grace that reaches out to me.  The buds cascading over the edge of the vase, the way the flowers are grouped; mixed with large and small leaves, stems, bugs and yucky insect corpses.  There are  textures both smooth and rough, (I've read she pressed butterfly wings into wet paint to get the texture of the scales) and colors that are heightened by her somber dark backgrounds. I admire her. In her daily life she was a remarkable woman: the mother of 10 children and a thriving and productive artist from age 15 to 86 at a time when women did not do such things. Her art work and her life are an inspiration.
I have a rather large collection so I have divided  it up into 3 pictures and then the final one of them all together.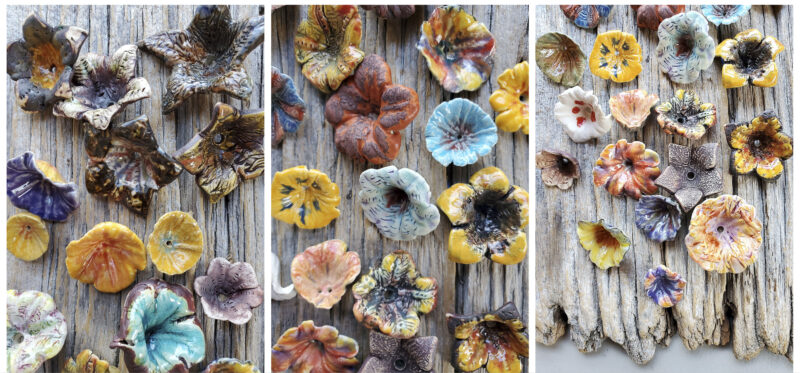 And here is the whole group.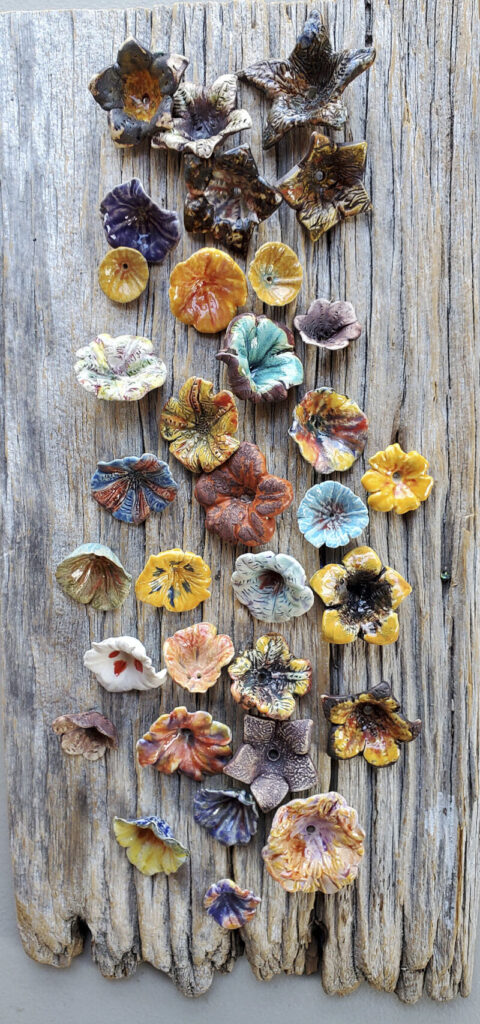 I designed these beads to be used in my free form peyote stitch bead work  I love the way their 3-dimensional quality adds interest and energy.  One of the challenges to using them is attaching them.
In the course of making these flower beads, I tried out different designs for attaching them.  Some have a single hole like the one below.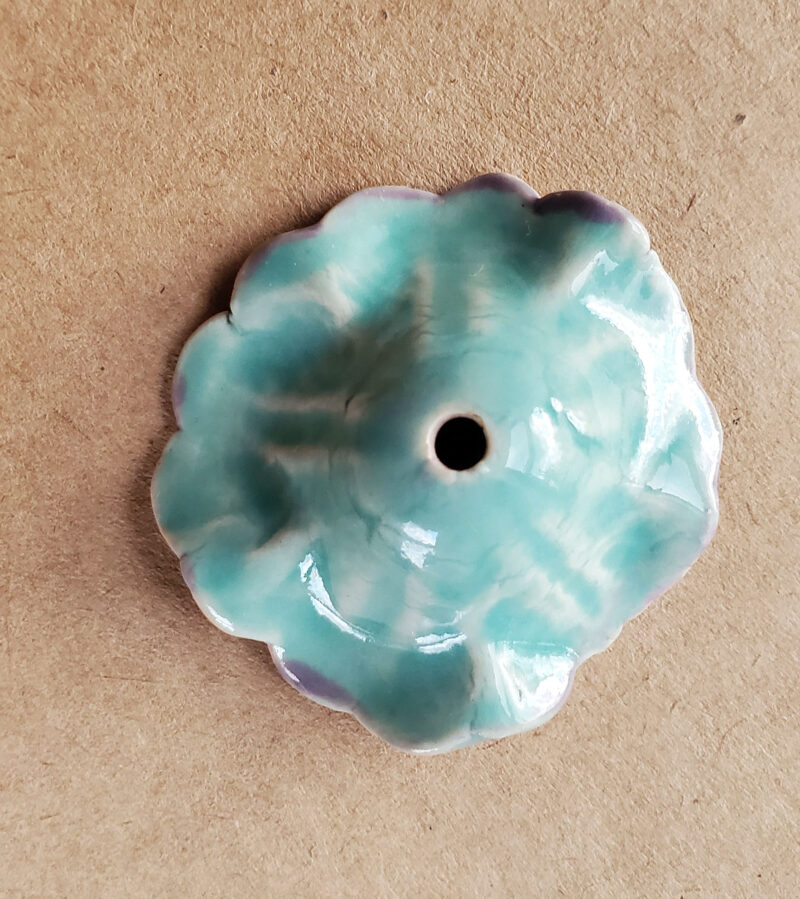 In order to attach it to the beaded substrate I used several stamen to fill the hole as seen in the necklace below.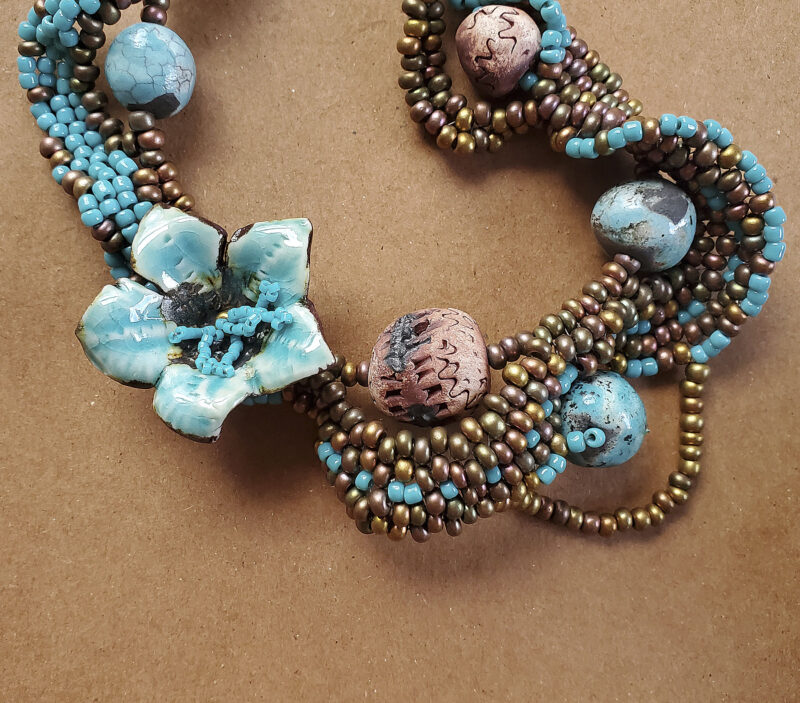 This kind of flower bead (see picture below) needs bigger beads to hold it onto their substrate, like a flat disk to fill the hole.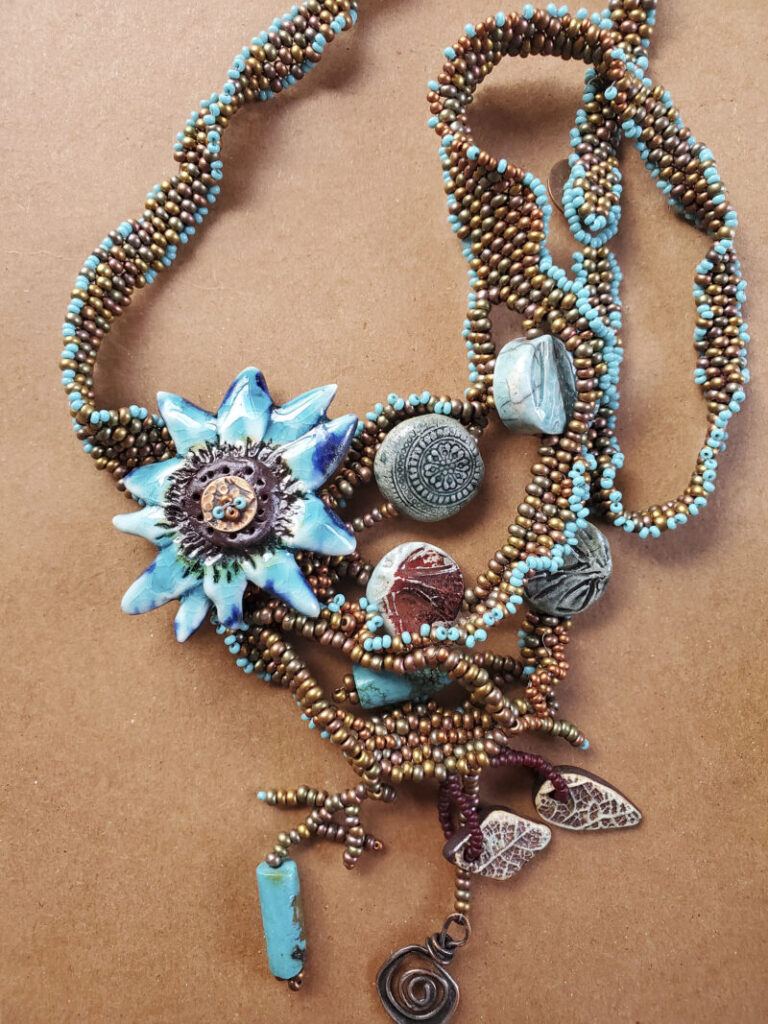 This bead below has a hole going through the back of the bead and it does not show in the front. This design is easier to string or attach to a substrate.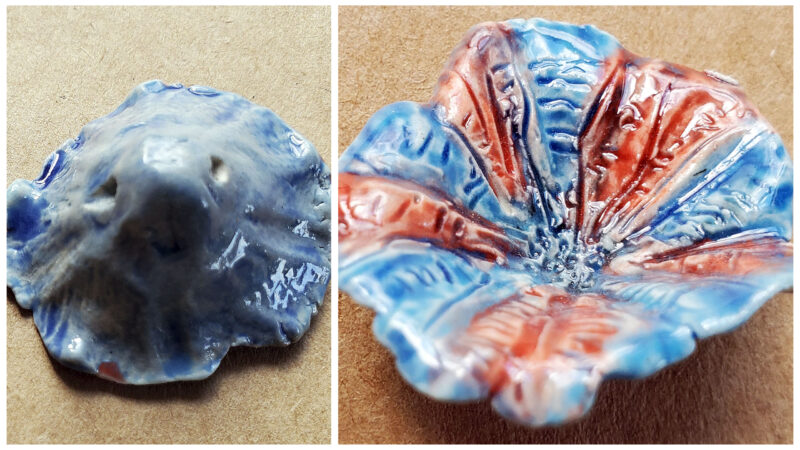 A more stable version for a bigger flower could have two parallel holes like this one. Front of the bead with the holes hidden underneath–offer variety as using stamen to attach all my flower beads could get tiresome.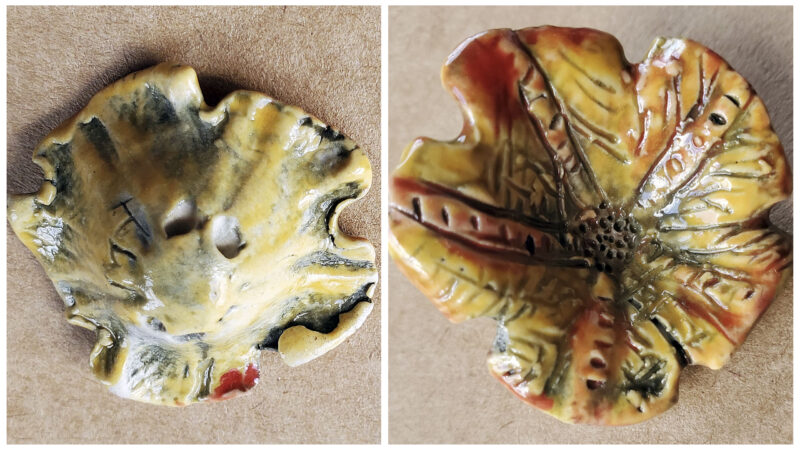 I know that the next time I set out to design a free form peyote stitch necklace with my flower beads, I will be hearing the whisper of a Rachel Ruysch still life telling me about grace, flow, variety, color and maybe even some bugs. What do you think?
Thanks so much for stopping by and reading my post. Take care and stay safe.
Mary 
Thanks for the fabulous tour through your ceramic garden goodies, Miss Mary! Find out more about what Mary is up to and snap up some of her one of a kind ceramic art beads at the following links.
www.maryhardingjewelrybeadblog.blogspot.com
www.maryhardingjewelry.etsy.com
www.facebook.com/MaryHardingJewelry
Click here to sign up for Mary Harding's newsletter.