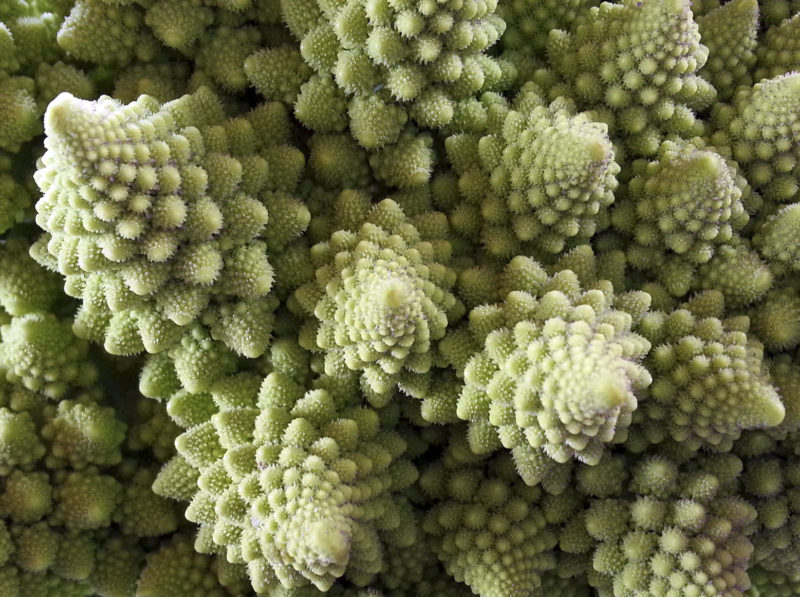 Can you believe that this is a close up photo of a vegetable?  I was blown away when I first saw this over the weekend on a trip to the Finger Lakes area.  We  had stopped at a roadside produce stand when I stumbled upon this magnificent set of spirals ( fibonacci).  I brought it home with me and have been making molds from these amazing formations.  This morning I looked it up on Wikipedia and found out that it is called Romanesco Broccoli and that it has been grown in Italy since the 16th Century.  What an  inspiration for devine jewelry components, I am thinking.
Last month in my post about Beautiful Decay, I promised to show you what I made from that inspiration.  I am working on those still but I will share some beginning photos.  I first made up color prints of the photos and then took them to UPS to have them turned into a laser/toner printed image ( I don't have a color laser printer)  which I need to transfer them onto polymer clay.  Below is a couple of pictures of the images I have been using so far: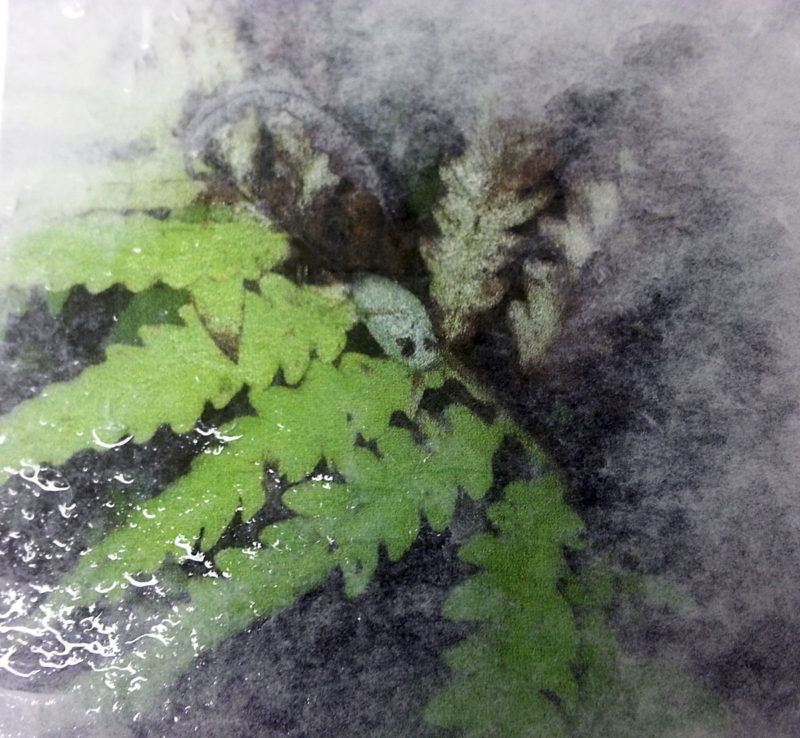 Photo being transfered to polymer clay.  The whiteness around the edges is paper that has not yet been rubbed off.  I took the picture to show how the image emerges.  I find it so exciting!!  Reminds me of when I used to develop pictures in a darkroom and the  image began to appear in the water bath.  I also just love how the transfer changes the image and makes the grain of the photo almost tactile, which is especially true of the following photo: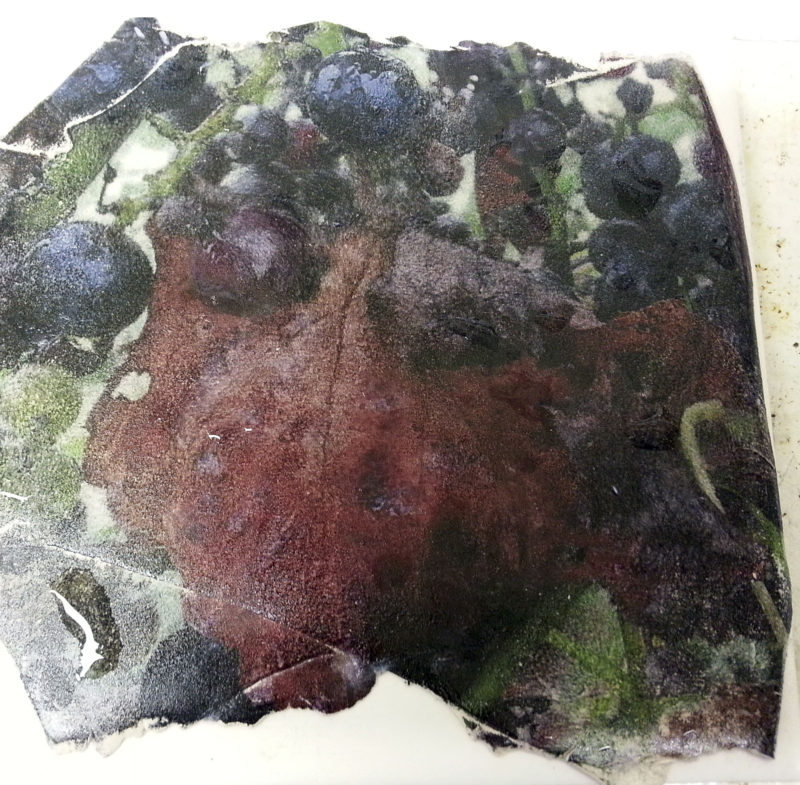 This picture of the grape leaf and grapes is quite wonderful on its own.  I actually cut it up into many leaf shapes and then worked them together to form a leaf that has parts of this image on both sides.  I also impressed a leaf pattern into the polymer before I cured it.  That piece is still in my Toaster Oven and needs a bit more curing.  I will update this post with it when it comes out.
UPDATE  I am now adding two photos of two leaves that I made from the image above.  I have not altered the colors  in any way.  Because the clay that I transfered the image  onto was a light beige, the areas  where there is no photo image are also beige.  Both sides of these leaves have some of this image transfered onto them.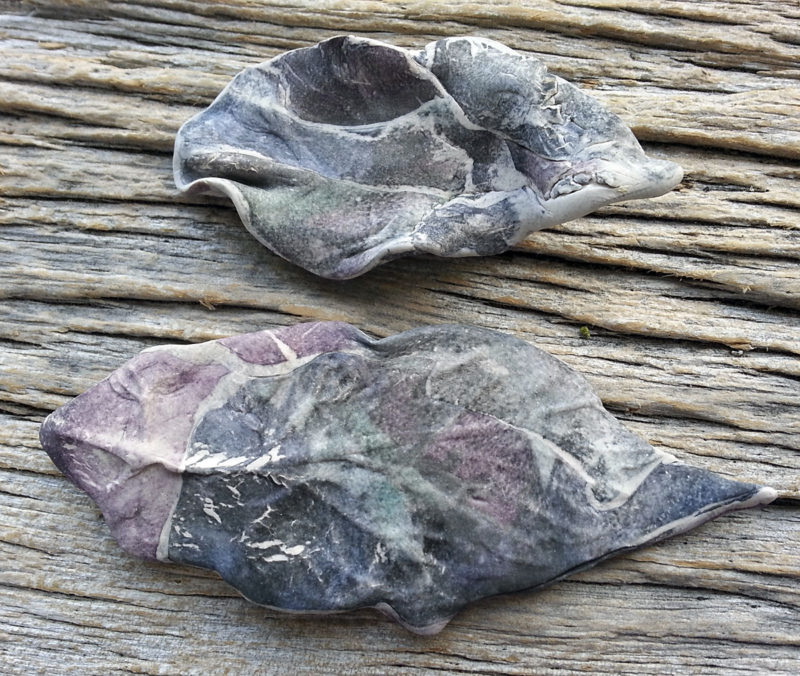 Handmade polymer clay leaf formed with photo transfere image by Mary Harding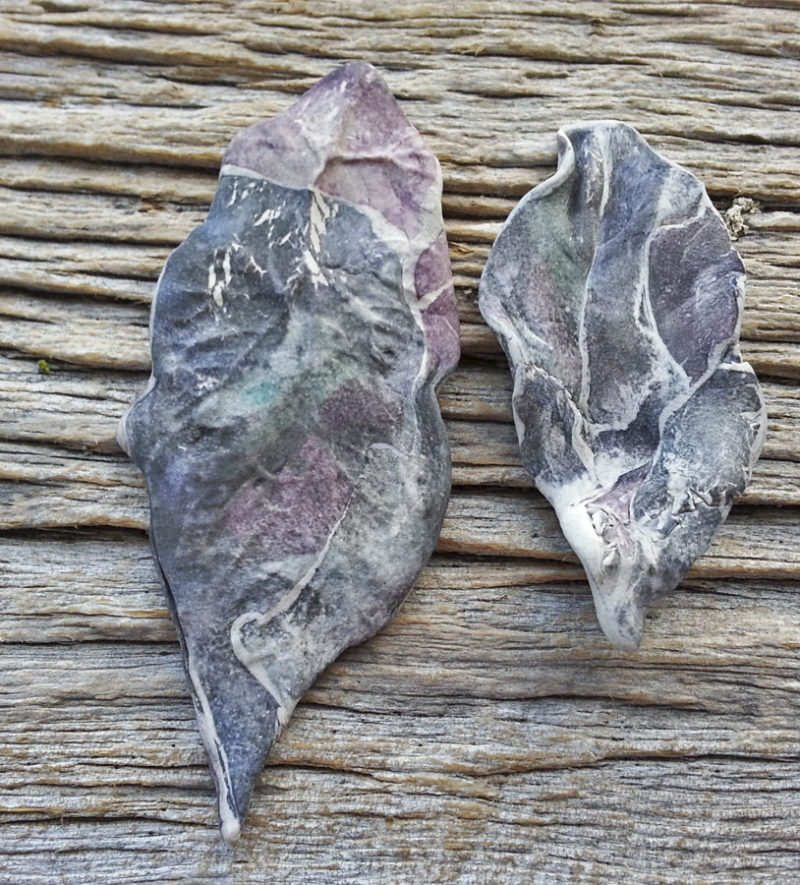 To me the leaves look a little pale so I will probably enhanced the color a bit by applying some wax to the surface after I fix the image with PYM II (Preserve Your Memories.)
This week Heather Powers put out a call for last minute entries to our challenge for this month's painting.  I had not thought I had anything to add and then I looked down at the free form peyote stitch bracelet I was working on  and thought Wow!! I must have internalized that palette because here  it is before my eyes.
Here is this bracelet as it is emerging from these beautiful seed beads and some of my art beads as well.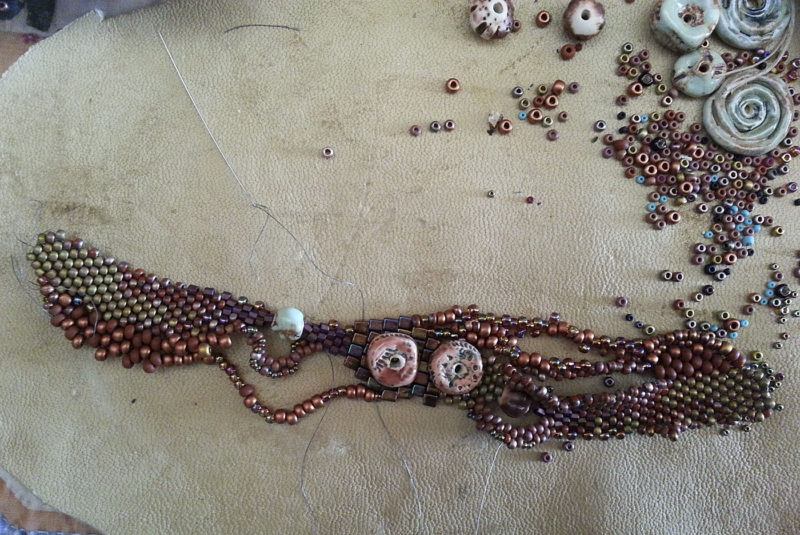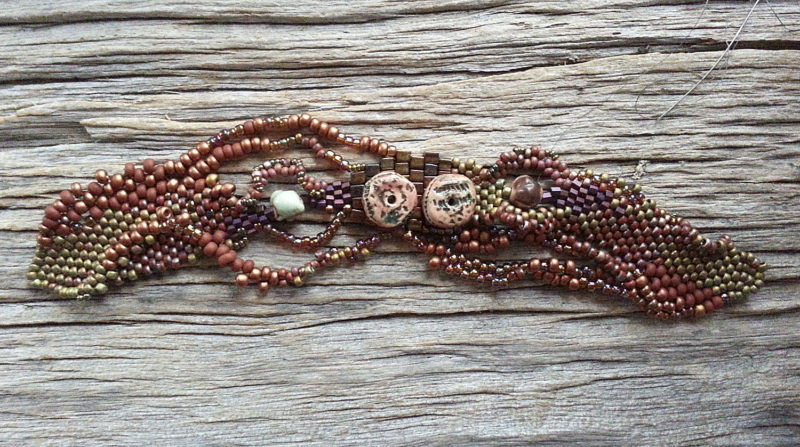 Work in progress:  Free form peyote stitch bracelet for the October Art Bead Scene Challenge
Last month we visited the birth place and home of Emily Dickinson in Amherst, Mass.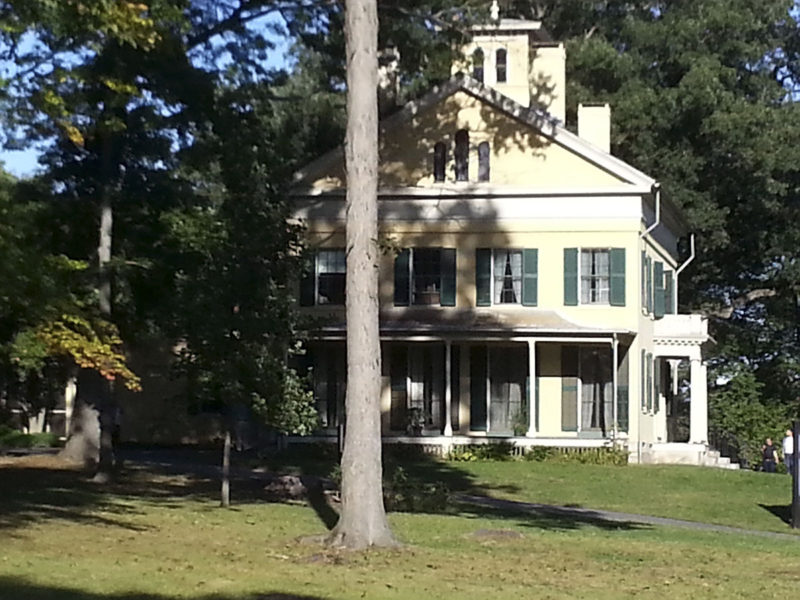 It was a moving experience to tour her home and stand in the room where she composed her poetry; to look out the windows from which she viewed the world( her windows are the last ones on the second story right and front) and saw who was coming and going, on the main road to Boston.  We saw a facsimile of her Fascicle poems (her handbound poems)  and afterwards toured the gardens she loved.   On the way back to our B&B I found a small branch of leaves that had blown on to the sidewalk from one of the oak trees in her garden.  I have since made an impression of them.  Below is a bracelet bar I made which I call Emily's leaves.  I am planning to make this into a piece of jewelry at a later date.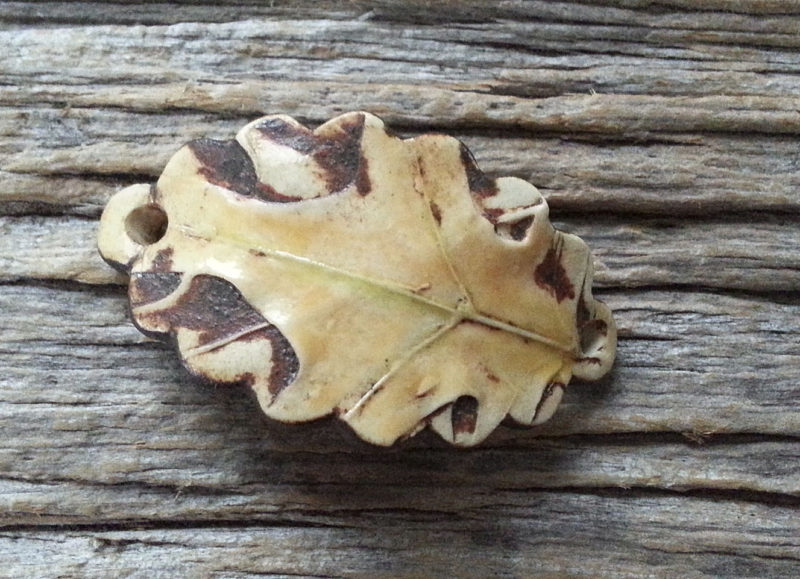 Other new work includes these 10 pieces I donated to the wonderful Artisans Create Together  group on Facebook.  Each component has been sent out by Janice Everett, the Group's  Administrator,  to the lucky winners of a random draw.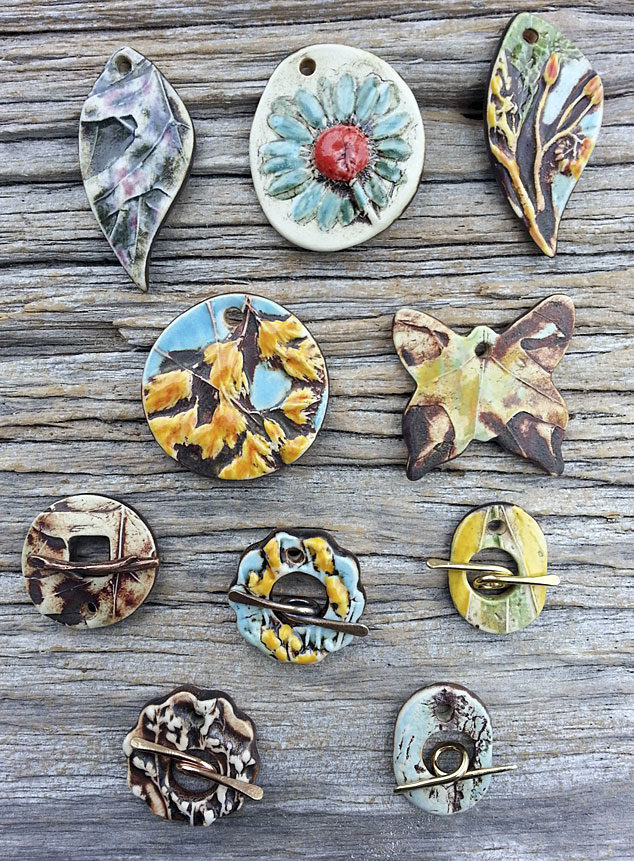 Ceramic Pendants and Toggle Clasps for Jewelry Designers
These 10 artists will then create a piece of jewelry with the art bead  they receive.  The reveal date is November 17 on the Artisans Create Together Group. I am so grateful to Janice and these wonderful artists for this opportunity to share my work. I hope you will check out what they make.  I will be sure to post a reminder on my Facebook page.
This week I am participating in the Artisans Create Together Alumni Trunk Show.  The pieces pictured below are available as I write this post.  I will be adding new pieces as the week goes on.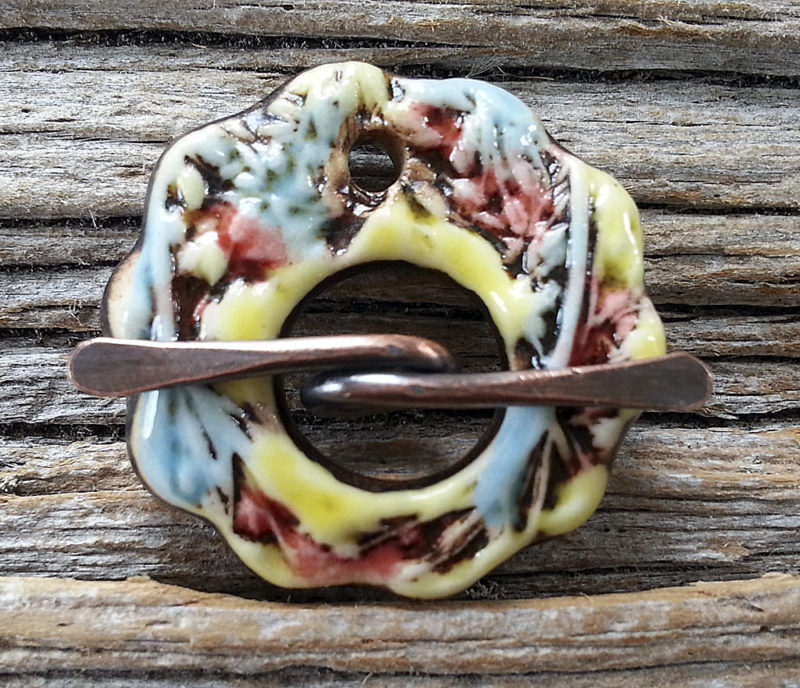 Porcelain Toggle Clasp by Mary Harding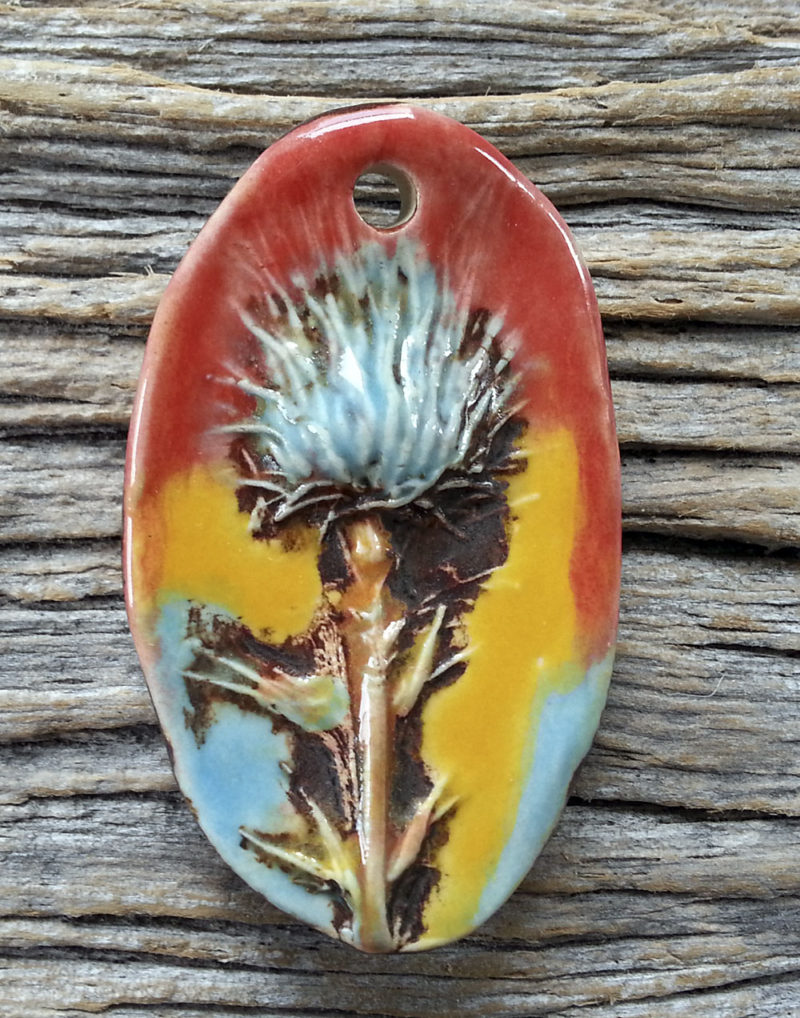 Porcelain Thistle Pendant by Mary Harding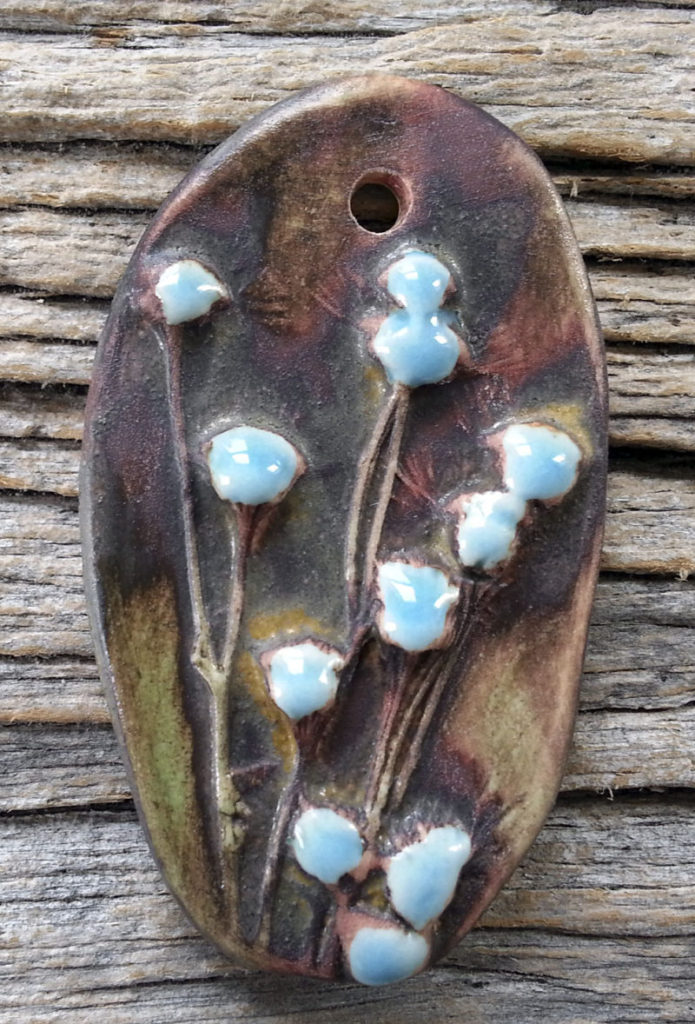 Blue Daisies Stoneware Pendant by Mary Harding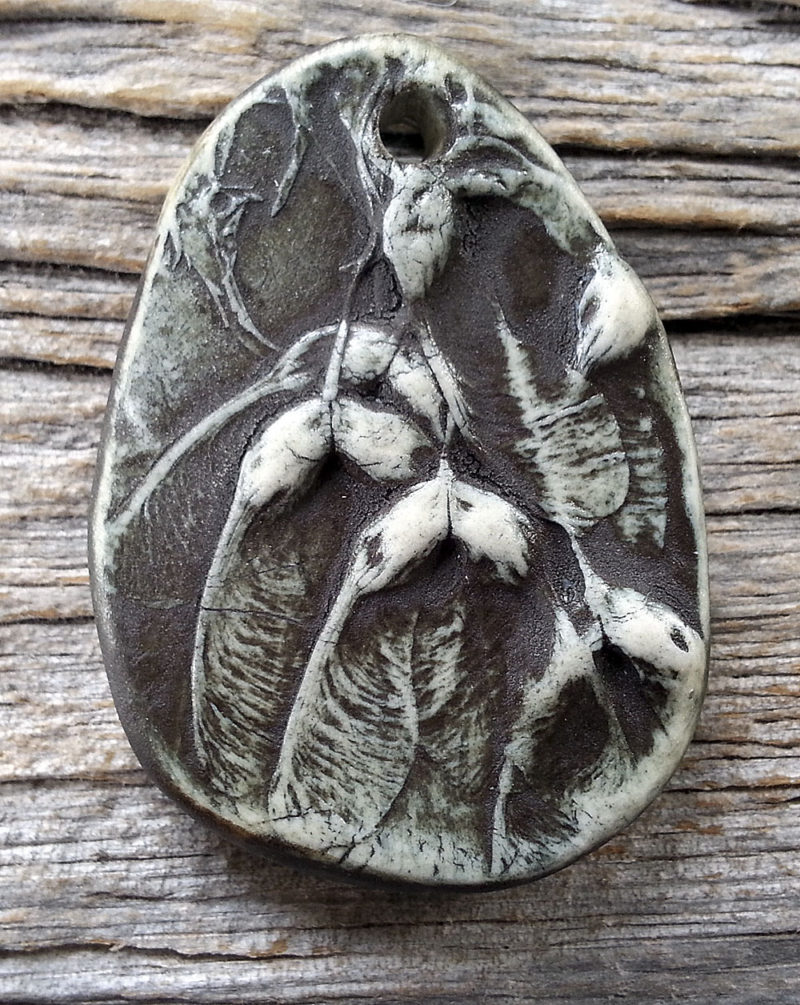 Stoneware Ceramic  Maple Seed Wings Pendant by Mary Harding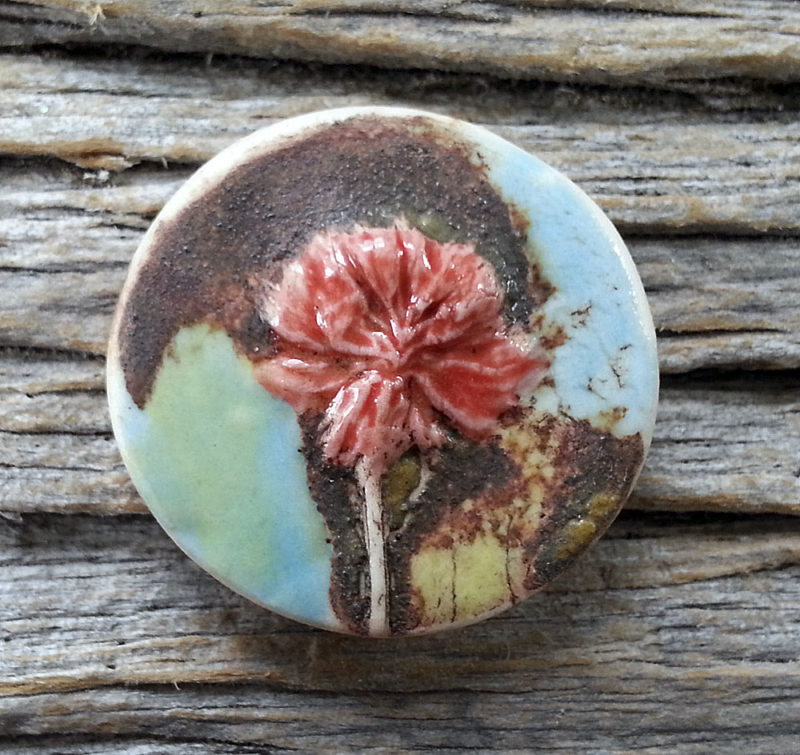 Red Clover Cabochon by Mary Harding   Stoneware Ceramic
And finally, we had a killing frost this week and I could not resist taking a few more Beautiful Decay photos.  Here are two of the graceful swan dance of our Zucchini.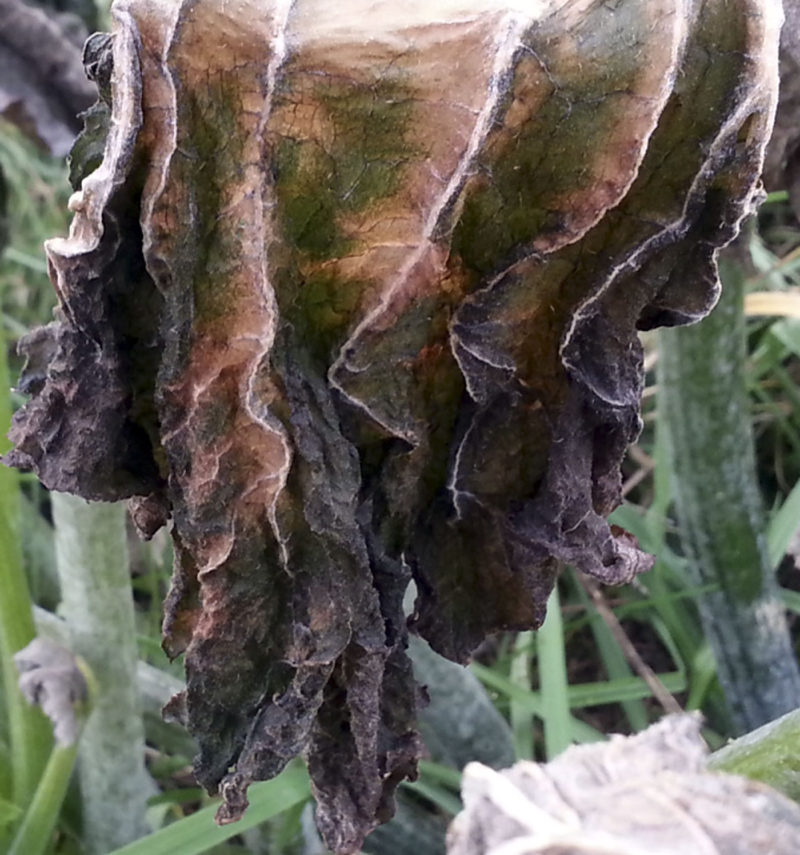 Zucchini Squash leaves after a killing frost  Photo by Mary Harding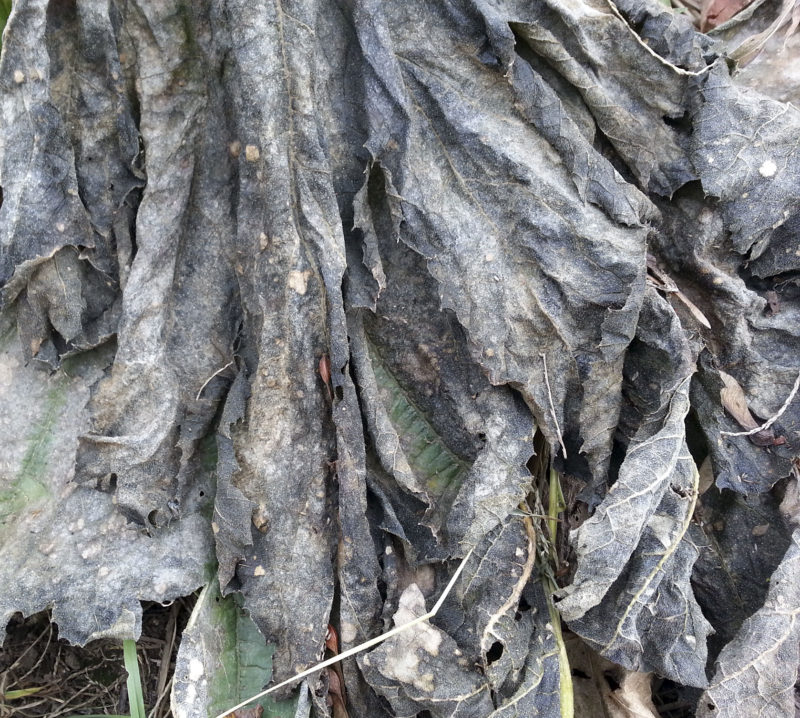 Zucchini Squash Leaves   Photo by Mary Harding
Thanks so much for stopping by.  I so appreciate it.
Mary