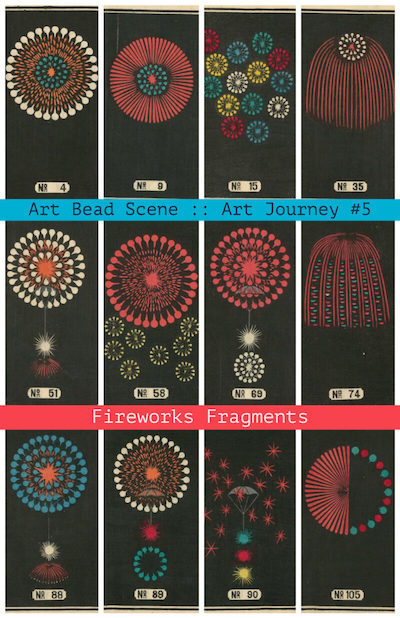 ---
Sorry to be a little later into the new Journey than I intended… life and time have kind of gotten away from me lately. I don't understand how that happens since I'm at home all the time now, lol. Anyway… better late than never?
I really like the graphic nature of this Journey's fireworks inspired artwork. I'm not overly saddened by the lack of community fireworks this year as I'm not a huge fan of the noise (I know, I know… grumpy lady here) but I do love the way they look exploding and twinkling in the night sky.
---
Before we dive into the beads, here's my standard caveat: This isn't in any way meant to be exhaustive or a shopping list… I realize that some of these makers are outside of the U.S. and that it's always possible that not all my picks will still be available by the time you see this post. That being said, I'm providing a link to each artist's shop in the photo captions for you.
---
As I look at the collage of art bead picks that I found to inspire you, I realize that I totally ignored the yellow. Perhaps my bias is showing a bit here as yellow isn't high on my list of favorite colors to design with! Overall, I focused on the red and blue colors and the idea of the big bursts of the fireworks that are reminiscent of flowers in full bloom.
Enameled and lampwork beads may be a great place to look for appropriate art beads for this Art Journey. The murrini often used in these two mediums can have that great burst pattern that makes you think fireworks like in the charm pair from Spurwink River Arts below. I found some fabulous paper beads with firework patterns on them that almost look like they came from the inspiration artwork. I'm not 100% sure that these count as art beads, but I had to include this fun set from Violet Vox.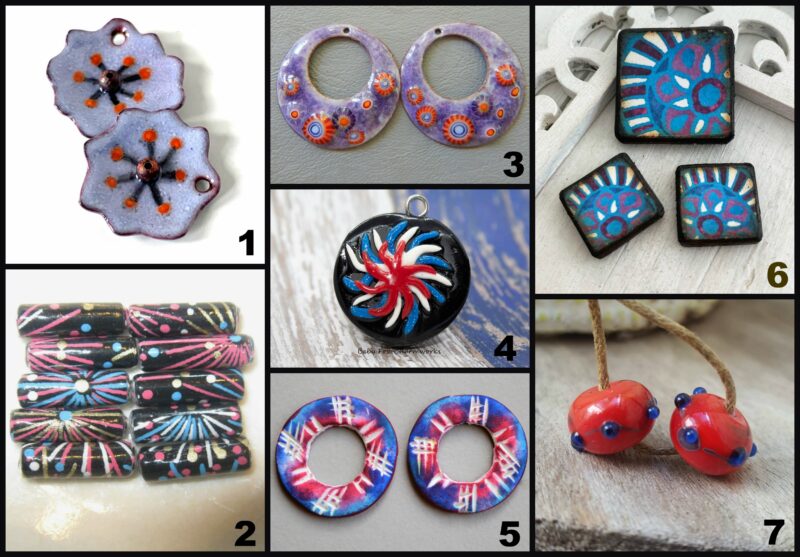 1) Alison Page Studios, 2) Violet Vox, 3) Spurwink River Arts, 4) Baby Fox Charmworks, 5) ARETO Beads, 6) Creative Life and Home, 7) Brume De Terre
---
I have to say that of all the bead makers represented in my stash, Golem Design Studio takes the cake for having the most designs perfectly suited to Art Journey 5! I had to share my little collection with you… I couldn't narrow it down!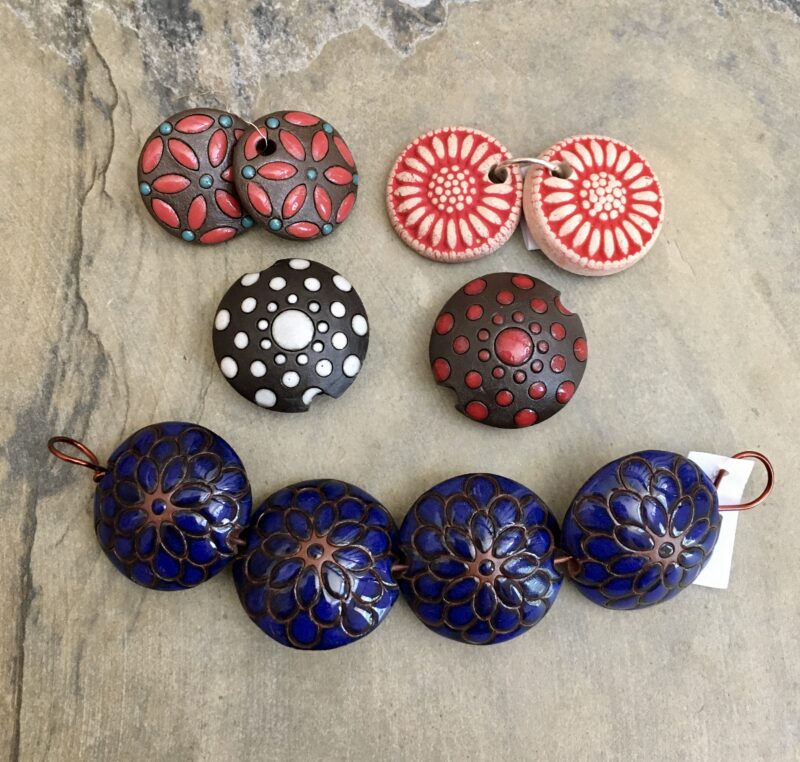 I had some other fun ceramic components in my collection just waiting patiently for their turns. For some picks, I went for color and shape, and others were all about the geometric burst patterns. The starburst focal and accent discs by Tracee Dock of The Classic Bead feel particularly spot on for this Journey. Sadly, neither Lesley Watt nor Round Rabbit are still in the bead making business. I may have to hoard these guys a little longer…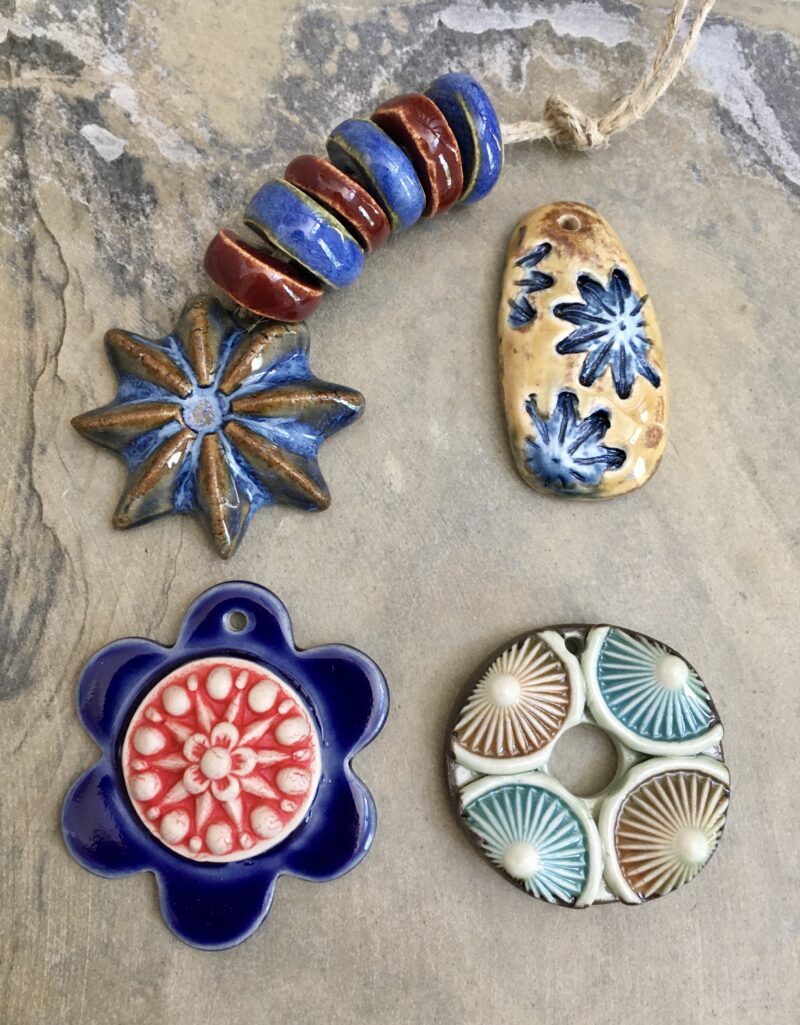 In this last batch I have a little more enameled beady fun to share. I love the charms from Blue Hare Art Wear that I picked up in a destash event. This was a style that I hadn't seen from Cathleen Zaring before. The lampwork beads look like 3-D fireworks to me… I picked them up in a bead store in Prague when we were there two summers ago. (God, I miss travel!) Last but certainly not least some colored pewter charms from Inviciti… remember how I connected full bloom flowers to fireworks? I think I've got some good stuff to choose from for this Journey… now to find some time to make something!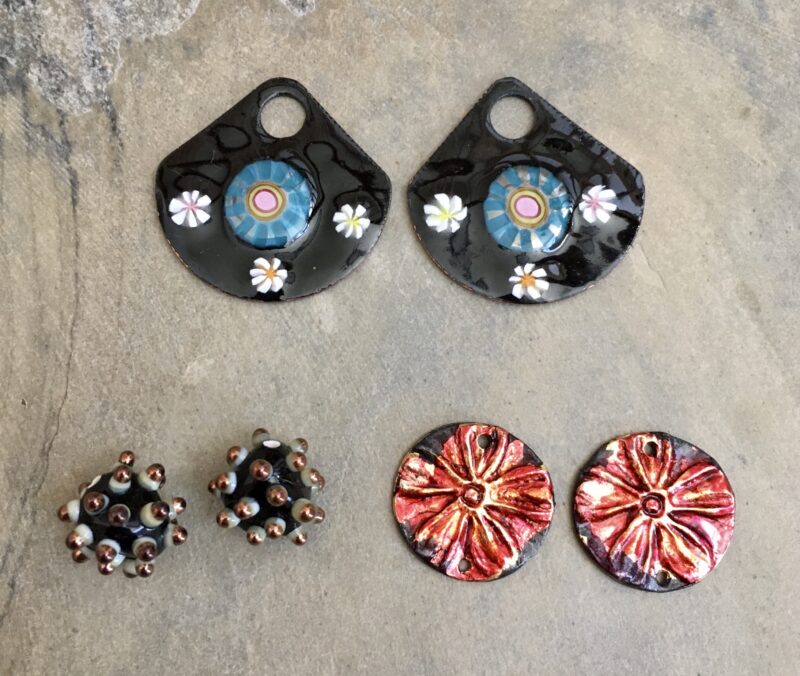 ---
Thanks so much for stopping by to get some art bead inspiration! I hope that I've given you some ideas to get you going for our fifth Journey of the year… I hope you break out your red, white, and blue (and yellow!) beads and get creative! If you do, go to our Art Bead Scene Lounge Facebook Group to submit your creations for this Art Journey. Click HERE and then find the album for the current Journey to add your photo. Remember, you can enter as often as you like… the only rule is that you have to use at least one art bead or component. The deadline for entries is July 24th.
---
Sarajo Wentling, Your Monday Muse